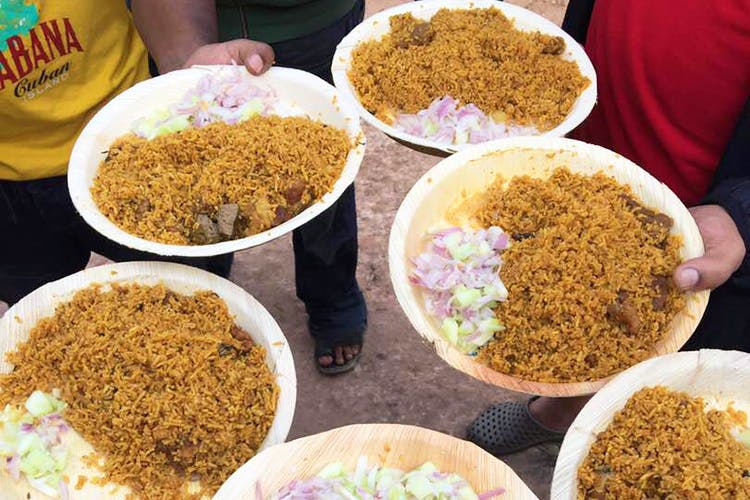 This Place Makes 200 Kgs Of Dum Biryani A Day And You Can Have It Only For Breakfast
Shortcut
Discovered on one of my jaunts with the Bangaluru Biryani Club, the Anand Dum Biryani place is heaven for those who like old-school mutton biryani made on charcoal.
What Makes It Awesome
Started in Hoskote over a decade ago by Anand Singh to cater to the local residents and workers, Anand Dum Biryani was originally a make-shift set up. Over the years, this place grew into a hub for biryani, especially since Anand, and his family, still use the old charcoal earthen ovens to cook it. Serving it for breakfast only, on three days of the week — Tuesdays, Fridays and Sundays, it's well-worth the drive. I am told that they serve up to 1,400 plates of it a day, on an average. That's about 200 kilos of biryani, my friends! Rice, Mutton, and magical Indian spices are all cooked together slowly in wood fire and a heap of charcoal is put on the top. It is this slow cooking what makes this biryani ace. Priced at INR 160 per plate, the biryani is served in an eco-friendly plate and has about 3-4 mutton pieces. Needless to say, it's a steal for the price.
The taste and aroma of the biryani has attracted students, bikers, travelers, foodies from all around. So make sure you go here to count yourself as one among them. The set up hasn't changed much since it began all those years ago. But now it has a permanent roof and a larger cooking area. All the staff wear head caps and hand gloves, hygiene is all taken care here.