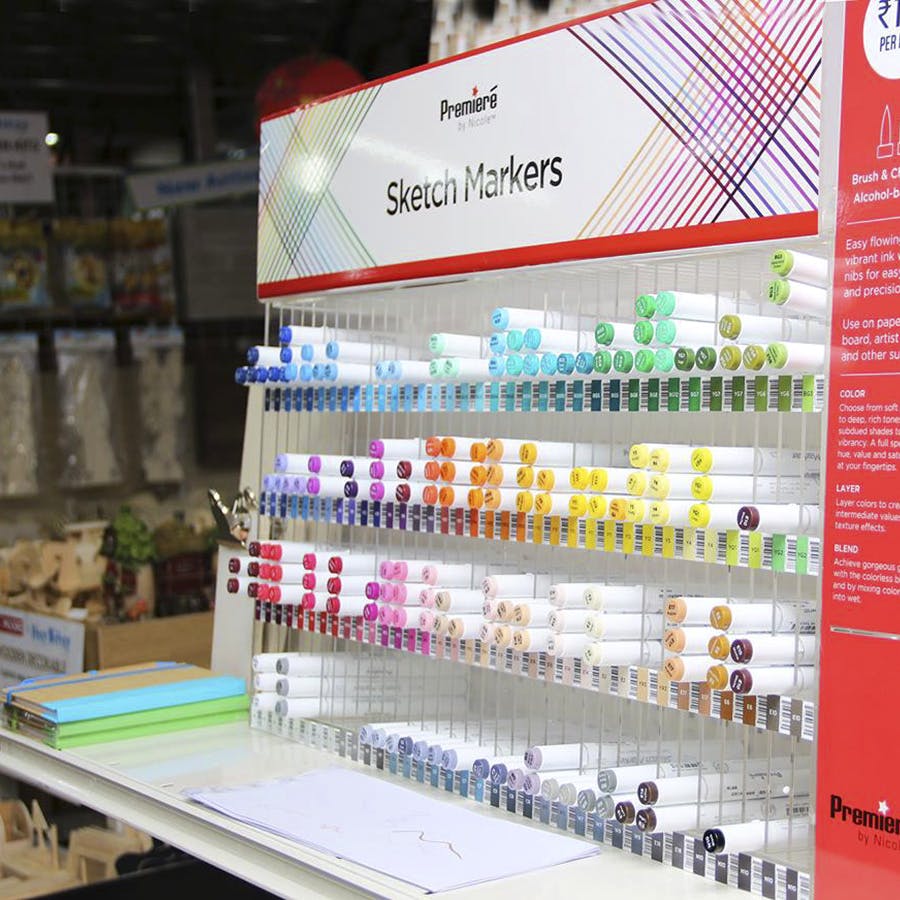 Weavers, Sculptors, And Painters - Here's Where You Can Stock Up On Craft Supplies
Have a knack for crafting and creating as a form of self-expression, or blowing off steam? While most stationery stores do carry the basic equipment and materials to pick up, or hone your skills as a crafter, the more specialised ones (especially tools) aren't as easily available offline. Worry not, we've scoured the city for craft stores that stock everything from metallic paint cans to sculpting tools!
Art Cave
Art Cave is a charming space dedicated to all things art. The artist in you will be begging to pick up paintbrushes, easels, oil paints and more! If you're picky about your brands; they sell the likes of Camlin and Staedtler. Their Sarjapur outlet hosts art classes and workshops but don't let that stop you from checking out their HSR branch, because you get the same material at both.

Itsy Bitsy
Thinking of your next DIY project? At Itsy Bitsy, you can get adorable and affordable supplies. Decoupage papers, handmade sheets, quilling sets, to fun stickers, clay and pottery tools, this store's got it all. Their DIY jewellery section has different kinds of beads, wires and hooks. If you're into baking, they also stock up on a wide range of baking supplies, from fondant rolling pins to cupcake cups and brushes. So go pick up a few supplies and finally turn that saved Pinterest project of yours to reality.

Art Materials
Right outside Chitrakala Parishath, Bangalore's art hub, Art Materials is the treasure house for artists in the city. They stock up on everything and anything artsy, from canvas boards and paints to crafting scissors and washi tape. Catering quality supplies for artists, crafters, sculptors, designers for over 20 years old now, this art supplies store has become a one-stop-shop for all, from beginners and students to professionals. They stock international as well as local brands, covering a huge range of supplies from INR 1 to INR 18,000.

Bhaskar Art Centre
Located within the CKP campus (with another outlet at Chikpete), this wholesale store has become a go to destination for art supplies and stationery with its vast range of art materials and stationery. Bhaskar Art Centre stocks up on anything and everything artsy, from different kinds of paper materials and paints to art tools and drawing equipment. Visit this store to grab some quality art supplies at discounted rates.

Crafteria
Located in far flung Kasavanahalli, this colorful little store stocks up on a huge range of art, craft and hobby supplies at affordable prices. Crafteria has an especially wide range of craft and hobby supplies, catering to different and unique hobbies like Needle Craft, quilling, decoupage, flower making, chocolate making, mixed media, and clay modelling. If these hobby crafts interest you, go pick up some quality materials at Crafteria and indulge the crafter in you.

Reliance Stationery Mart
One of the oldest art supplies stores in the city, Reliance Stationery Mart is known as an artists' heaven. Whether you want twenty different shades of a colour, night glow paints or different varnishes and mediums, you can always trust this store for quality art supplies. They also have an array of stationery supplies, and that too at reasonable rates.

Pony Craft Store
Pony Craft Store is considered a paradise for crafters. They have all sorts of craft supplies, from beads, knitting yarns, to DIY kits. Each section has different categories of craft supplies. The well designed and colourful ambience adds to the charm of the place, and definitely makes us want to want to say "Shut up and take all my money"!

Comments