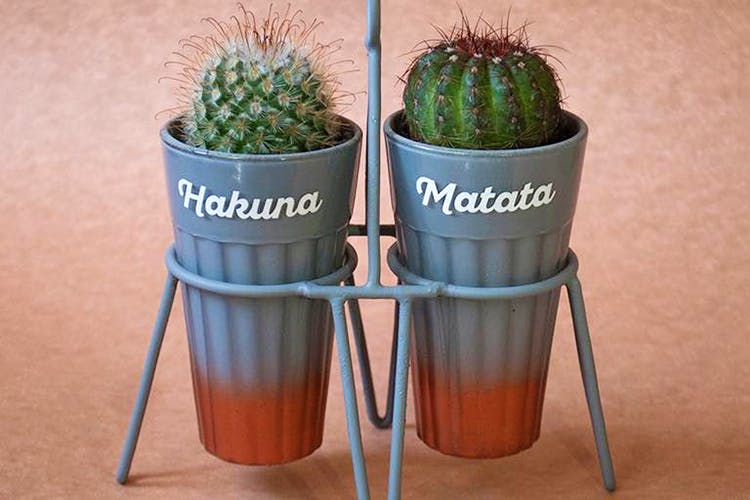 Fairy Lights To Floral Ottomans: Give Your Bedroom A Pinterest-y Makeover With These Decor Hacks
From cuddling under the covers of your bed to Netflix and chilling, your bedroom holds a special place in your home. If you think your nap station could use a bit of sprucing up, as usual LBB is here to help out. Here's a list of six decor ideas that'll turn every part of your bedroom into a Pinterest-y dream.

Bring In Hipster Furniture
Offbeat furniture is the quickest way to make your bedroom stand out. From a light blue bookcase cum wardrobe with vintage ads painted onto it to old-school writing desks. Jodhpuri is hipster central when it comes to furniture. Or score antique pieces from Bamboo Bazaar for a steal. We spotted plenty of bedside tables at Natural Living in bright hues and in vintage designs too. If you want to turn up the quirk quotient even further, Boho Studio will definitely have something for you.
This brand will transform anything from tractors parts to egg holders and we found conversation starters like tables made from sewing machines and stools made out of cycle parts in their collection. Our old favourite for funky decor is Purple Pony for the whimsical style they offer — be it the multi-hued ottomans and toadstool tables to an endless number of cushion covers for that splash of colour or the ladder-style showcase.

Light It Up
Bedroom lighting is key, so make sure your bedroom has got its mood lighting in check. With so many ways to go, you can either take the college dorm look route and opt for fairy lights with a twist from The String Theory, The Urban Flower Project or Floral Conceptz which sells birdcages intertwined with fairy lights. Or you can skip past the cliche and opt for cool hipster lighting like geometric lamps and mason jar lights from Untold Homes or nautical lamps and rope lights from Fos Lighting.

Go Green With These Indoor Plants
Plants are a surefire way to cheer up any space. So we recommend bringing them into your bedroom too. Hop on the trend wagon and score some cute succulents from 220V Of Love that come in quirky and colourful planters. Or head down to Unearth on New BEL Road and pick up terrariums, plants in terracotta pots and cacti is glass capsules that can be hung up. Want to squeeze a whole garden into your room? The check out the mini gardens from Muddy Waters and Chiguru that can be entirely customised, just how you want. Check out our full list of where to score indoor plants from.

Get It Framed
Say bye bye to dull and drab walls by giving them a decor boost too. We recommend putting up framed posters and photographs that are bound to add some character to your space. If you're a pop culture nerd we got some leads for you on your search for posters. The Entertainment Store will have the comic book freak in you screaming with glee as this place has an abundance of posters that you'll want on your walls right away.
Poster Gully is another option for pop-culture posters. If you're a bit too mature for all this, put up some framed art and even photographs on the wall. For all your framing needs, we recommend hitting up Murthy Frame Works and Sree Balaji Frame Works in Thippasandra. Another hidden gem in the framing department is Rainbird Art and Framing in Shivaji Nagar, from where you can get framed art and even mirrors on a budget.

A Touch Of Exotic Charm
Bring in a bit of Turkish charm to your bedroom with pretty and brightly-coloured decor straight from the streets of Turkey. From ceramic wall plates to lovely glass lamps, score them in a multitude of colours from Turkish Home Decor, an online label or House Of Ruh in Safina Plaza. If you're not digging the previous idea of framed photos and posters on your wall, then opt for the wall plates from these brands instead, that are sure to liven up the plainest of walls.

Roll Out The Carpets
Every star deserves their own red carpet and so do you. It doesn't have to be red, or a even carpet for that matter. Just a pretty rug that really ties the room together ought to do the trick. Pick one up from the many cheerful handmade rugs available at Pomegranate Fabrics that come in a range of colourful and monochromatic patterns. Or take your pick at The Rug Republic, and keep an eye out for the cutesy poufs and stools while you're at it.

Comments