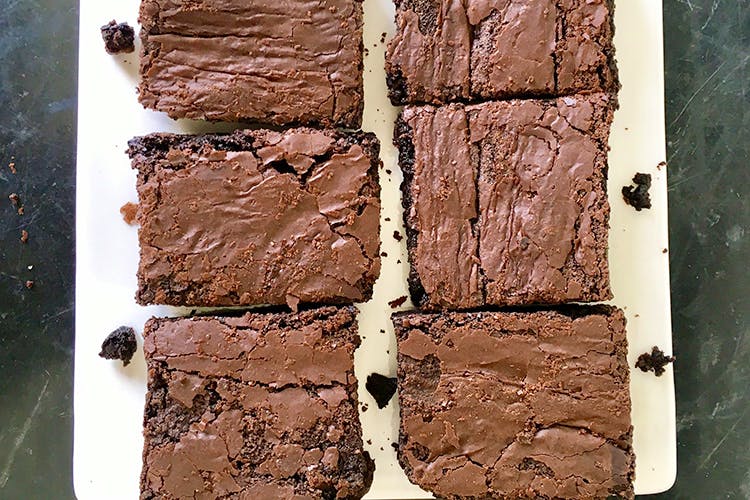 Get Dark Chocolate Brownies Straight From The Oven, At Your Doorstep
Shortcut
Love brownies but too lazy or unskilled to make them? Fear not! Zahan Gafoor's home baking enterprise, Bread & Batter will fix you up with warm, gooey brownies.
What Makes It Awesome
Don't pretend you don't love a chocolatey, gooey, warm, yummy brownie. You do. Everyone does. And Zahan Gafoor's creations will tick off all the boxes when it comes to the perfect brownie. At just 17 years, this young chef has started his own enterprise, Bread & Batter, and going by his family's skill at baking (his Mum and grandmother make outstanding Christmas cake), we naturally wanted to give his brownies a taste. The apple does not fall far from the tree, people!
Not too large, but filling enough, the brownies are soft, gooey and luckily, not too sweet. What we really enjoyed was that they didn't taste commercial. You'd know they're homemade, and that exactly how brownies should be, right? Currently, doing dark chocolate fudge brownies, these are best had slightly warm, perhaps with a scoop of vanilla ice cream. Or ditch the ice cream in favour of a cup of piping hot coffee, to balance out the sweet. Then, order two boxes more -- one for yourself, and one for us, of course! Bank transfers or PayTM is accepted, and you can either get them delivered via Dunzo, or just go pick them up yourself. Don't trust anyone else with such divine goods!
Pro Tip
You get them in packs of 8 (INR 399), 12 (INR 499) and 20 for just INR 699. All you need to do is order via text or WhatsApp on 81050 72529. Just make sure to give Zahan 48 hours notice.
Comments