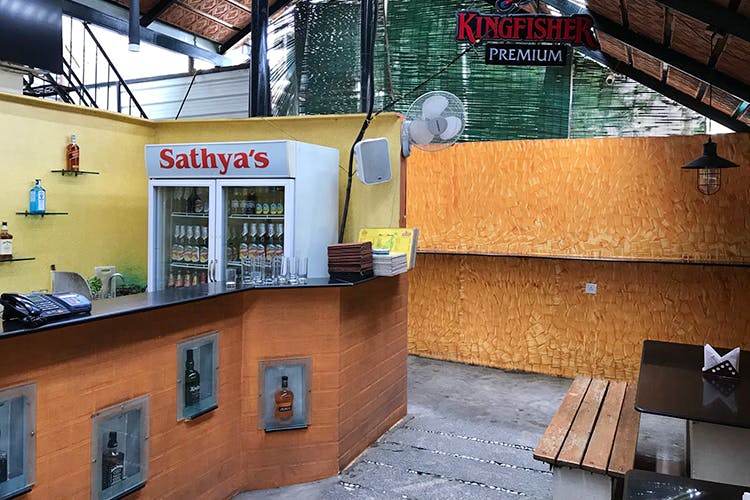 Best Budget Bars In The City That Won't Take A Toll On Your Wallet
Skint? And in need of the sauce? We've got you covered – Bangalore's teeming with nightspots that offer you a comfortable night out with little damages to your wallet. Here is a list of our favourite budget and affordable bars in Bangalore.
Ujwal
They try to brand themselves, bashfully, as a "family restaurant", but the unpretentiousness and the polite prices make us categorize this as a dive bar all the way through. There's some excellent Mangalorean fare (crab masala, neer dosas) and alcohol at rock-bottom prices to make the visit worth your while. Try their Coconut Prawns, Coconut Chicken both served in a coconut and the ultimate comfort food, Dal Kichdi while you are at Ujwal. Here's what you must pair with your drinkies when at Ujwal.
Just BLR
Amidst the hustle bustle of the streets, head to Just BLR on Brigade Road and grab a drink or two while you are tired of shopping and recuperating. With budget-friendly prices of INR 110 for a glass of beer, Just BLR is a bar that everyone who is broke or just looking to save some cash would go to. With good music and affordable booze, it is a perfect bar to head to when broke-ish in Bangalore.

Sathya's
This one's a bit of a legend – and, therefore, a landmark – in the Koramangala area; if you're ever lost, just ask for directions from Sathya's onwards, even though it's a bit hidden away. Sathya's has been around for a good while now, weathering the onslaught of new lounges and microbreweries in its own steady way. It's a good pick for an after-work booze session when it's the end of the month and that cheque hasn't come in yet.
Johnny Fox
Johnny Fox is the place you go when you are on a budget and just want to have a drink to ease out the long day at college or work. With super affordable prices and decent food, it is a go-to place for most students from Christ (since it is located close to Christ University) and anyone else with the month end woes. Make sure you're over 18 years of age though!

Noon Wines
They keep things short and simple here: there's beer and house "bulk" wine for the taking. Here, at last, is cheap wine that you can swill without worrying about tannins and terroir. Oh! and their pineapple chunks served with Amul cheese strung on toothpicks is our favourite bar snack here.
Night Booze Bar
Night Booze Bar is not for the faint-hearted. Neither, for that matter, is Thippasandra itself. Don't let the grubby curtain it operates behind dissuade you: dive right in and make the most of its no-nonsense alcoholic offerings.
White Horse Resto-Bar
The owners have branched out into more upmarket pursuits – their sister concern 1522 now has outlets in Koramangala and Rajajinagar – but White Horse carries an enduring charm all its own. That's because, evidently, they have an expansive beer and spirits list and a stream of North Bangalore regulars who swear by the place. But that said, this is more on the list because it is a proper dive bar, prices unfortunately are not as dive as they once were!
Chin Lung
Chin Lung is a famous name in the Bangalore bar scene. Everybody is part of that WhatsApp group called Chin Lung, for sure. If not, make the group. One of the most popular dive bars in the city, it went through a grand transformation and is now not so dive as you'd hope. But when you've got your crew with you, it's just as good. Why? Because prices are still old school! Come on, you can get a peg of Old Monk for INR 25 and mug of beer for INR 60. What more do you need? Well, except for Masala Peanuts and fries, of course.
Avon Restaurant
A true Koramangala homie will swear by this place that's shady, dingy, and got an "atmosphere" unlike any other. On a good day, the place is bright enough for you to see who's sitting at the next table. Probably your workmate from another floor! It's happy hours here always — from morning to night, so relax, sip your favourite drink at MRP price. Pair your drink with some greasy but yummy starters like the Deep Fried Pepper Chicken or Baby Corn Chilly, you've got yourself a 'scene da'.
Ginger Green Bar & Restaurant
We are really clueless as to why a dive bar should have murals of Tom & Jerry. But hey, as long as they keep serving us Old Monk & Coke, we are pretty much okay even if they have Teletubbies on the walls. Folks in Kalyan Nagar swear by this place and its plastic tables and chair. And how it's a rite of passage. Chilli Chicken, Butter Chicken, and Chicken Kebabs at this place come highly recommended.
Viceroy's Sarathi
Another bar that's "family friendly". But we are thinking the family they are catering to are the fams and the squads who don't have the greens for Toit or resto-bars on Indiranagar's 12th Main. The ambience is very much like a family restaurant but once the drinks are on the table, feel free to squabble and cheer your team during live screenings. Also, the food is spicy, so you have been warned.
Davis Bar
We hear the folks of Kamnahattan always puts a scene here during broke times and when they just want some 'family restaurant and bar' ambiance. Order the masala pappads, your rum, and a side of egg burji and you have got yourself a scene. For a dive bar, the service is quirk prompt. So, make sure you tip your waiter once you are done for the night (or day).
Comments