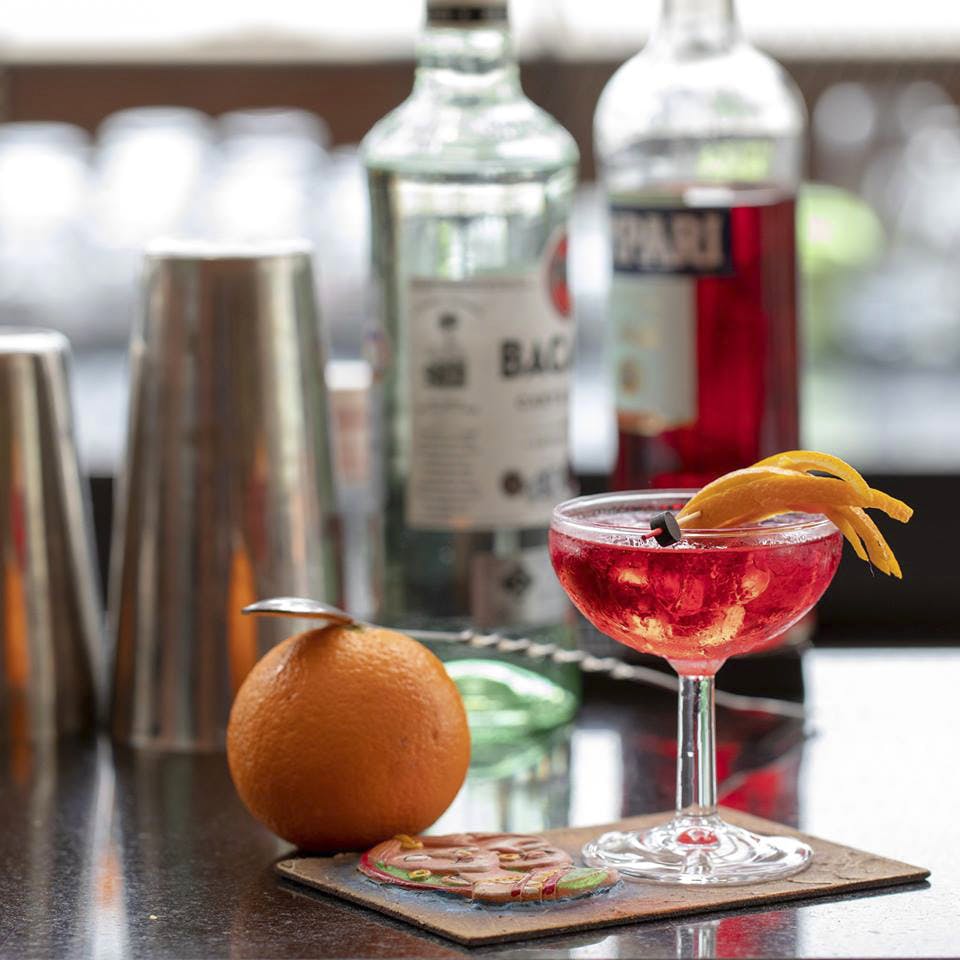 Cosy Date Or Post-Work Drinks: Hit Up Our Pick Of The Best Bars
Whether it's to get over a rough day, celebrate a good one, or just catch up with friends over a quick drink, Bangalore has her fair share of places to go to. No, we're not talking about the chill pubs (for once), or the eternal go-to breweries. We're talking proper bars that James Bond would go to. Of course, within that too, the best bars in Bangalore will differ. So we're giving you a range -- from quirky and cool for a party with the crew to swish and chic for date night. You pick, which would you say are the best bars in Bangalore?
Nevermind Bar & Social
Like a hidden paradise on 12th Main, Indiranagar, Nevermind Bar & Social place is done up with plenty of greens, vintage-esque mirrors, hidden caves for couples, and a dominating bar in the centre. Perfect for after work drinks, or a first date, load up tipple especially cocktails such as The Good Wife, Smoking Violets, Cane Sangria and Jaggery Mojito. Food includes modern Indian and bar bites to keep your drink company.
The Permit Room
Paati's Magic Rassam, Ammachi's Kashayam, Jhum Jhum Tiger Balm and Hyper Monk. Nope, they're not cool names of hackers, these are some killer cocktails at the quirky bar, The Permit Room. Paati's Magic Rassam – a whiskey-based cocktail with ginger, green chili and rasam powder, was super spicy but with a great kick. The Hyper Monk, lots of Old Monk and espresso (oh hello insomnia), was strong and smooth but it was the Kashayam which blew us away. With brandy, cinnamon, cardamom, jaggery, hot water and ginger, this concoction will kick out a flu in one shot!
Chin Lung
Far more fancy than its original avatar of being a dive bar, Chin Lung retains some of its charm. Mostly in the form of cheap booze prices. So when you order Chilli Chicken, Masala Papad and peanuts, make sure to go old-school and order Old Monk and coke. Or vodka with OJ, and whiskey with ice. No fancy cocktails here, and we're thankful this one stays true to itself.
The Old Fashioned
Hit up this bar for some on-point cocktails. With Bangalore's top-notch mixologist, Balakrishnan Subramanyan, at the helm, you know your drink is in safe hands. Happy Hours here means drinks at about INR 150, and 2+1 offers, while Tuesdays, you get all your spirits at MRP. But you came for the cocktails, and you must not leave without having 1881 Old Fashioned, like it's straight from Louisville, or the Tiramisu version with a hit of coffee. In fact, there's a whole page just for The Old Fashion variations. Daiquiris, Whiskey Sours and Martinis all get a modern makeover here as well.

Hype At Shangri La
For the Happy Hours and a stellar view of the city during sunset, Hype is THE place to go. Between 6pm and 9pm every evening, you get 1+1, and we're happy to have Bloody Mary's, Martinis, and Bangalore Bramble, a muddle of gin, pomegranate and tamarind syrup. Champagne and wine for the fancy night out is also on offer here.
House Of Commons
If you're lurking in the HSR or Koramangala area, pop into House Of Commons for some cheap drinkies, and food to go with it. We're still convinced it's more a pub, but we won't argue it if they call themselves a bar! You get Kingfisher Premium for INR 120 and a mug for INR 69, and if you order their masala peanuts or their HOC chip and dip basket, it's a guaranteed good night. Tequila is always 2+1 and they have some decent deals for Happy Hours until 7pm too. LIIT pitchers, Cosmopolitans, Mai Tais and Whiskey Sours are all popular cocktails here too.
Sly Granny
Skip the wines, whiskeys and vodkas for house special cocktails at the vibrant Sly Granny. Planter's Punch is a tribute to Coorg planters and their love for rum. This one is spiced rum with tea and berries. Chase & Status (named for the English EDM duo) is another interesting drink which blends scotch, lemon juice, honey and Laphroaig. Queen's Park Sizzle, Brixton Smash and Strider are other prime picks. Granny clearly knows her drinks well, eh?
1131
Apart from the fruity drinks that 1131 offers, there are also the classic cocktails at this place. Plus, a page-full of signature cocktails that pack a punch and of course, creativity. Our picks from the signature section would be the Curry Patta, a curry-leaf-infused vodka cocktails, and the gin-based Bangalore Sunset that is ideal for the summer, and one to knock back as it's mild. Just FYI, they have the longer nacho platter in town here too!
Alfresco By Bene - Sheraton Grand Bangalore
Looking to impress a date, or woo your significant other? Alfresco By Bene is our top pick for a romantic night out that is paired with Peachtinis, Havanas and our favourite here, the Alfresco Signature made from gin, elderflower and cranberry juice. They also have a fine collection of whiskey, gin and other spirits too. Plus some champagne and Indian bubbly to celebrate your appraisal. Or promotion. Or just to pamper yourself!
13th Floor
Perfect for an evening together, 13th Floor has one of the best views of the city you might ever get. Get there a little early and enjoy watching the sunset with your partner beside you, while you sip on one of their amazing cocktails. Divided into classic which include mojitos and martinis, fruity cocktails like the Daiquiri made from the fruit of the season, floral concoctions (yup, the Mylapore-Tini and Madame Butterfly are noteworthy!) and mellow options such as Pornstar Martini, Midnight Oil and Summer & Fall, there is plenty to enjoy as the sun goes down.
Ask Aakanksha a question