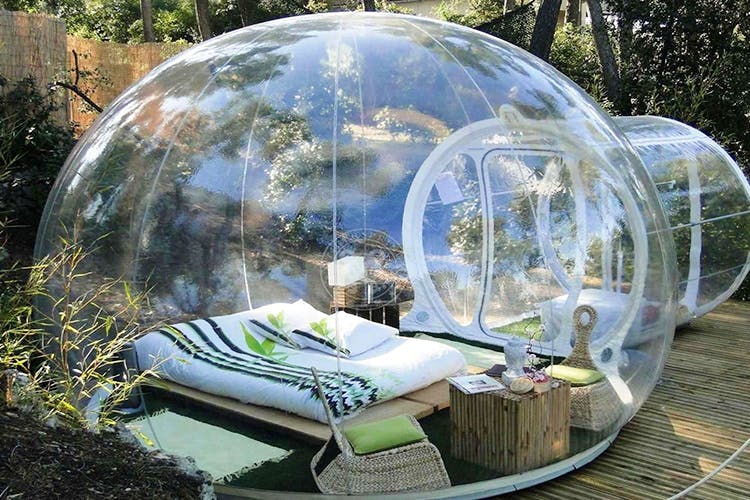 Stay In A Private Transparent Balloon Tent That Looks Like An Igloo On Misty Hills Of Ooty!
Shortcut
Crest Valley is a hotel and activity provider in Ooty that features a unique tenting experience for those of you looking to embrace the outdoors.
What Makes It Awesome
In addition to being a hotel, Crest Valley has a camping area to themselves in a private location. The campsite is in the middle of the woods, just like every children's novel you've ever read. There are grassy knolls and tall trees all around, along with a space for campfires right in the middle. There's plenty of lighting once the sun sets in the form of cute little lanterns all across the walkways.
Moving to more important questions, like will we have to squat in the wild? Nope, there are well-maintained restrooms that all the campers can use (it has hot showers too, in case you were wondering). The tents and sleeping bags will be provided, so you really don't have to worry about any extra packing. Just probably an extra layer of clothing because you'll be outdoors quite a bit. Of all the tents they have, we loved seeing their transparent balloon tent, because it is quite literally that.
The tiny igloo-shaped tent has a comfortably sized double bed, seating in the form of couches and even a cute little bedside table. Living in a bubble where you can see the rain fall from the sky sounds amazing and we can't wait to check it out. Privacy-wise you're covered because each transparent balloon tent is located in a separate clearing, so you won't have to worry about being intruded upon by other guests.
While the camping is definitely the highlight of this story, it would behoove us to point out that there are a bunch of activities that Crest Valley organises during the day for its guests. There's hiking, trekking, safari rides and cycling on request. Crest Valley will provide you with tour guides, equipment (cycles too!) and food for all of these adventures. The campsite itself has other activities for you to take part in like archery and a few other outdoor games. Prices for a night start at INR 2,500 for a two-person tent (INR 1,250/person), INR 3,200 for a three-person tent and INR 4,500 for the transparent balloon tent. Now that the summer is upon us, do yourself a favour and book your stay here now.

Comments