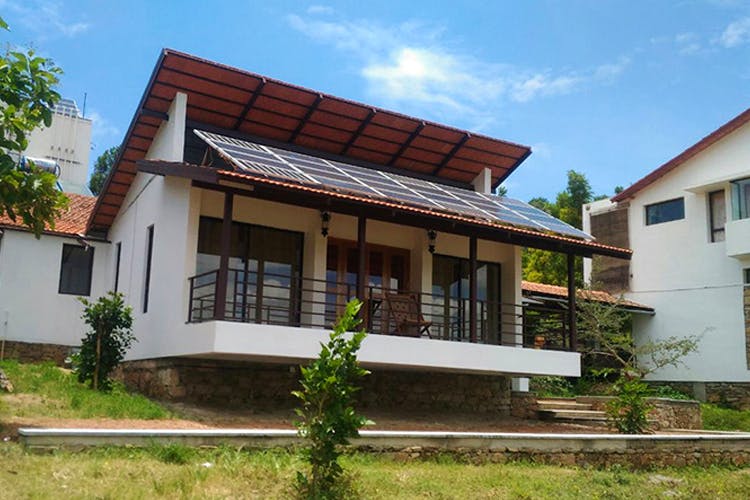 Coffee, Boutique Stay & Wandering Deer For Company: This Bandipur Homestay Is Lovely
Shortcut
A homestay that's more like a boutique hotel, Dhole's Den is just outside the boundaries of the Bandipur National Park. Wildlife lovers will heart it, and those who just want to unwind, you'll love it just as much.
Edge Of The Woods
There's something to be said for having a home in the jungles. How we'd all love that. And I don't know about you, but I sure don't have something like this. Which is why, you take advantage of Karthik and Ingrid Davey, who's home it is, and them pretend they said, "Mi casa, su casa." That's my house is yours, in Spanish.
Named after the ubiquitous wild dog, Dhole, this homestay is a modern structure that is edgy, and made up with ceiling to floor glass windows on one side, to give you the feeling of being outdoors while inside. The open floor plans in the common areas reflects the same airy and breezy concept — perfect to mingle with other guests, swapping stories, chatting to your hosts, and of course, looking at the great outdoors at all times. And over meals that are homely, mostly organic and tasty, conversations can last all night. So much to love about this place, and I haven't even gotten to the rooms yet!
Rooms With Views
Each room here, be it part of the main house or the separate mansions, have glass doors and windows to let you wake up to the sight of the looming Nilgiris. If you're travelling with family or friends, pick the Habitat — two massive rooms with all wood furniture, bright curtains and a little nook near the windows to curl up with a book or bae, they're cosy at night and breezy by day.
For some privacy and fancier digs, book one of the garden mansions. Minimalist with as few walls and doors as possible, they each have a master bedroom and a living room with a queen-sized bed. Marble seats by the window, open to the sky showers and large patios and balconies mean all-round access to stellar views. And if you're lucky, then herds of elephants, sometimes bears and wild boars, will swing by at night. But, wait, there's more and it's called Mountain Paradise. This one is all about the views. With the best vantage point in all of Dhole's Den, this on is ideal for couples looking for some alone time.
Into The Wild
When you're done gawking at the mountains, and passing wildlife, head off on a nature walk for a completely immersive experience. You'll spot pug marks of animals traipsing past your cottage all night — yup, tigers, leopards, deer and elephants. Then, since it's Bandipur, you need to head off on a safari. Who knows, you might even spot the elusive tiger. And if you don't Dhole's Den has plenty of cute dogs to make up for it!
#LBBTip
All meals are included. But you'll have to leave kids under eight years behind, as for safety they're not allowed at Dhole's Den.
Comments