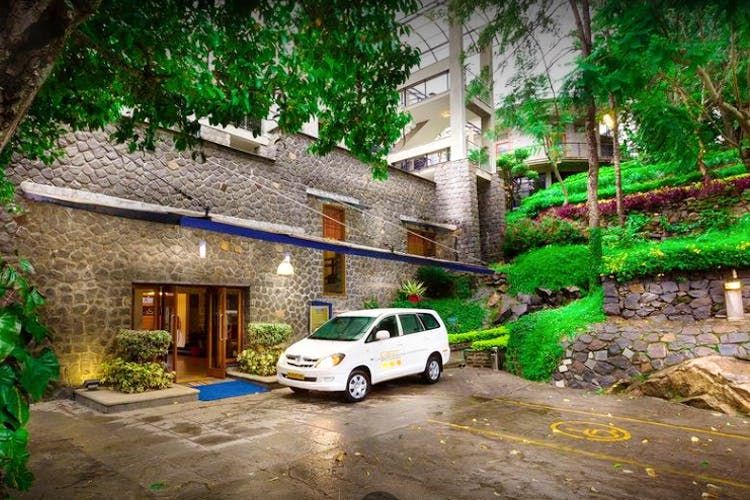 Soak In The Mountain Air, Coffee Aroma And Chill At This Hill Resort In Yercaud
Shortcut
Around four hours from Bangalore, Yercaud is a beautiful weekend getaway. And with a view of the hills and valley, GRT Nature Trails – Sky Rocca is the perfect place to stay while there.
What Is It?
Located on the Shevaroy Hills, Yercaud is home to a beautiful lake surrounded by a forest. GRT has an amazing hillside resort that is surrounded by coffee plantations. It provides the ultimate nature filled experience. With a breath taking view and all modern comforts, GRT is a sanctuary.
Who Is It For?
It is for anyone who wants a break to chill and enjoy the beauty of nature. Due to the host of natural products produced here, those of you who are crazy about natural, no chemical products will have a ball of a time too! With a sky bridge as a part of their in house restaurant they take things to a new level. They have a range of Penthouse Suits, Pool Side Rooms, Panorama View Rooms and Valley View Rooms for you to choose from.
What Can I Do Here?
Once you indulge in the resort's complimentary breakfast, head up to the hills with buddies up the numerous trekking trails that are there. You can also visit the waterfalls that are close by, enjoy a boat ride on the lake and purchase fresh, chemical free natural extracts from the shops nearby. The best-sellers are coconut oil, almond oil, aloe vera and medicated oil among others.
How Do I Get There?
The resort is 30 kilometers from the Salem railway station and 45 kilometers from the Salem airport. Direct trains and buses are available from Bangalore. Or just jump in a car and drive on NH44 until you get there.
Comments