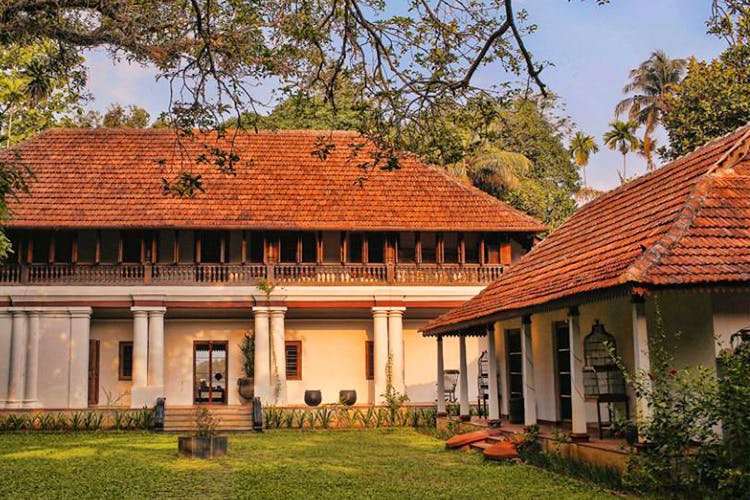 Live The Royal Life With Your Fam Like The King Of Kochi, At The Gorgeous Heritage Hotel
Shortcut
Chittoor Kottaram is a former palace that is now a full fledged, eco conscious hotel you can book a stay in. Spend your holiday within a piece of history, set beside the backwaters of Kochi.
Fit For A King
A stone's throw away from the Chittoor temple, this Heritage hotel is where the then Raja of Kochi, Rama Verma was hosted during his visits to pray. Like the King himself, you too shall be welcomed like royalty as soon as you arrive here. With a caretaker and butler that caters to your every request and a cook that will be whipping up some delicious Kerala sadhya on a banana leaf for you, live like a royal while you're here. This place gives King-size beds a whole new meaning with their beautiful wooden beds complete with majestic wood posts. The rooms are kept impeccably neat, with sheets perfectly folded and plenty of pillows to make sure you're comfy enough. And we also spotted a wood swing bed that we can't wait to cosy up in.
A Piece Of History
Bearing quite a bit of cultural and historical significance, this 200 year-old palace boasts of splendid architecture and old-world interiors with vintage dining tables, antique furniture and elegant wooden windows along it's corridors. CGH Earth, the hoteliers to whom this property now belongs, have made sure to keep all of it intact and unspoiled to give it's guests an authentic old-world Kerala experience. There are a few ground rules here though. You have to enter the palace bare foot and the menu is rather sparse, with a fixed Kerala meal for breakfast, lunch and dinner.
God's Own Kerala
Surrounded by lush green and crystal clear waters, this place is a little slice of heaven on earth. We suggest you take a boat from the Varappuzha boat jetty, just a few kms from the Kochi airport and ferry your way to the palace to soak in all of the lovely scenery around. If you're looking for a super exclusive and private spot to chill with the fam or your better half, this is probably it. With a single master bed room, two smaller bed rooms and a living room, Chittoor Kottaram can host a maximum of six people at a time. The property is a 'one-key hotel', exclusively for the use of one group only. As you're probably expecting, the tariff here is quite steep. A night of royalty will cost you INR 35,000 and upwards. But a King's life is always worth it, no?
Comments