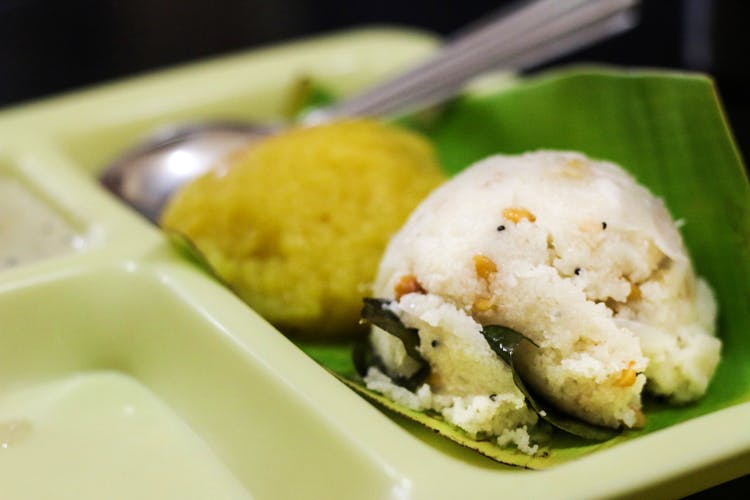 If You Haven't Tried These 10 Dishes In Bangalore, Are You Even Bangalorean?
With its burgeoning restaurant scene, endless foodie forums, and its bunch of creative chefs – Bangalore is worth a food pilgrimage. Of course, there's no dearth of plush restaurants that serve everything from South Indian and Italian to Japanese and whatnot. But if you are looking for the humble dishes that have been enjoyed and passed on through generations and are quintessentially Bangalore, every item on this list is a must-try.
LBB's Pick
Albert Bakery's Mutton Samosa
Reader's Vote
Masala Dosa
By 2 Coffee
That Bangalore runs on coffee is a well-known fact. And if you'd like to spread the love the best route is to go 'by two'. Morning, noon, and night, you'll spot everyone from old uncles to the young guns splitting cups of steaming coffee at roadside stalls and iconic establishments. It's not just a great way to save a few precious bucks but also to form an everlasting bond with the person you by two with. Plus, we think the coffee tastes better this way. Not convinced? Well, we recommend you try it out before passing judgement.
Check out our list of places for filter coffee.
Chow Chow Bath
Not to get all philosophical and all but a plate of Chow Chow Bath is truly representative of life. You get the spicy with the sweet. In budget-friendly darshinis and in South Indian restaurants across the city, you can dig into this 'two for the price of one' breakfast dish. On one end, you have upma which is dry roasted semolina peppered generously with spices and vegetables. On the other, you can slurp up Kesari Bath – a glistening yellow dish made again from semolina but is cooked in ghee and sugar. CTR, Vidyarthi Bhavan and Hotel Janatha are some of our top picks. 
Congress Kadlekai
You can be called a true-blue Bangalorean only once you have enjoyed many a mini-feast at an Iyengar Bakery. It's a land of honey cakes, potato buns, and flaky puffs. But when you are hankering after a crunchy and punchy snack, take home packets of the Congress Kadlekai – peanuts tossed about in a melange of spices and garnished with fried up curry leaves. For maximum pleasure, munch on these while sipping on a glass of your favourite tipple.
Koshy's Appam & Stew
Sunday mornings can only mean one thing for Bangaloreans, the appam and stew at the legendary Koshy's. One the city's iconic food establishments, Koshy's has served the likes of Jawaharlal Nehru and you can be on their guest list too. Arrive on a Sunday and you dig into their downy appams that are infused with the sweetness of coconut milk. You can slurp these up with helpings of their vegetable or meat stews that come with mellow flavours.
Albert Bakery's Mutton Samosas
Said to be the city's oldest bakery, Albert Bakery in Frazer Town is a wonderland for baked goodies and snacks. What tops the charts are their deep-fried mutton samosas that come stuffed with spiced-up kheema. Perfect for those 4pm cravings or even when your heart is hankering after something delicious. They serve cocktail versions as well if you are looking to impress guests at a party.
Masala Dosa
Trust us when we say that discussions on food in Bangalore would be much less exciting if the masala dosa wasn't around. From Chickpet to Jayanagar to Malleswaram and beyond, the masala dosa is everywhere and yet we can't get enough of it. If you'd like to try, here's a list that'll help you sink your teeth into crispy, golden dosas that are soaked in ghee for maximum pleasure.
Rava Idli
A world-altering event changed the Bangalore food scene forever. Scarcity of rice during World War II led the ingenious cooks at Mavalli Tiffin Rooms to invent the Rava Idli. Made with semolina and loaded with spices, this surely is, we think, an upgrade on the regular idli. You can order up plates of rava idli in plenty of places in the city but why not return to the eatery where it all started – MTR?
Hot Chocolate Fudge
Before Death by Chocolate and, way before, all the hipster desserts, there was the Hot Chocolate Fudge. Bangaloreans love it best at the famed Corner House. And you too can order up cups filled with vanilla ice cream topped with a molten chocolate sauce and finished off with a sprinkling of nuts.
Ragi Mudde
The quintessential farmer's and lay man's meal – Ragi Mudde has been a favourite with us even before millets became the buzzword everyone swore by. A staple at the city's Military Hotels, the soft balls of ragi are best dunked in a rich and spicy mutton gravy or had with the bas saaru – a lentil and spinach curry.
Pulav
Another military hotel staple is the pulav – Karnataka's version of the biryani. Ushered into Bangalore from the farms and homes in and around the Mandya region, the Pulav dons a greenish tinge, featured short-grained rice and is studded with chunks of meat. Check out the iconic SGS Gundu Pulav for this. You can even eat it at 8am for breakfast. 
Comments