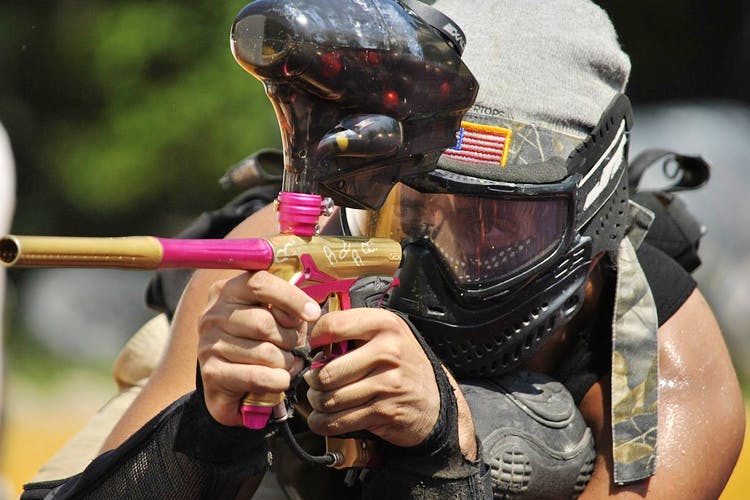 Hit Up These Paintball Arenas In Bangalore For Some Fun Shooting
The best way to let out some steam? How about a game of paintball? Nothing like loading up on paint pellets, suiting up in somewhat army attire, and plotting against your enemy, eh? So gather your troops, shoot and try not to get shot at, at these paintball arenas across Bangalore. 
Paintball X
Paintball X was one of the first places that introduced Bangalore to paintball and thank god for that. Along with making sure that everyone is having a blast they also make sure that your safety is their first priority. It's open to anyone from beginners to more experienced paintballers. The prices start at INR 250 per person for 50 pellets, and may vary with different packages
Play Arena
This arena in Sarjapur has whopping a 30 plus activities. So don't mind the drive cause it's completely worth it. Paintball just being one of their actives. Head down to their paintball arena and have a day full of fun. They kit you out with anti-fog, complete periphery masks so you don't get injured. And their guns are lightweight and easy to grip, making it good for beginners too. If you're planning to have an office get together, this is a great option. The prices start at INR 250.
Dirt Mania
Although they're known for their quad biking, don't miss out on their paintball adventures as well. Since it's a vast space, the area you get to play around is also large, making it tougher than other more confined spaces. While it's not specifically for advanced players, it certainly is for people who are more experienced with paintball and don't mind getting a bit of dirt on their hands. And hard-hitting pellets. The prices start at INR 450 per person for 35 pellets, and INR 600 for 50 shots.
XtremeZone Sports
Plan a day out or a weekend, 50 km away from Bangalore. It's the perfect occasion to take a road trip and spend the weekend camping and adventure sports like paintball and other activities. If you're looking for something closer to home, they also have a paintball arena in Angsana. Pick from different levels depending on your needs. The Trial Pack gives you the paintball equipment, plus 30 pellets for INR 300. If that interests you, then come back for the Starter Pack that gives you 60 paintballs, or even the Trigger Happy pack which lets you fire 100 pellets per game!
Neon Factory
You will love that Neon Factory has no time limit on how long you can play paintball in their arena. The arena is filled with all sorts of obstacles that double up as cover, they've got a neon graffiti paint job going all over the place that gives it a very street, edgy look. Gather the squad and strategise a day of shooting people, because it's INR 250 per person and extra pellets start at an easy INR 100.

Gamerzloop
It's the indoor paintball arena that's the highlight here at Gamerzloop. They have three modes including a glow-in-the-dark mode, where unlike regular paintball, where you know who's your target, this one will have you literally shooting in the dark. It's pretty fun if you consider that there's a possibility of taking out your own team member. Per head, the charges start at INR 200 for a 15-minute game that includes 25 pellets.

Comments