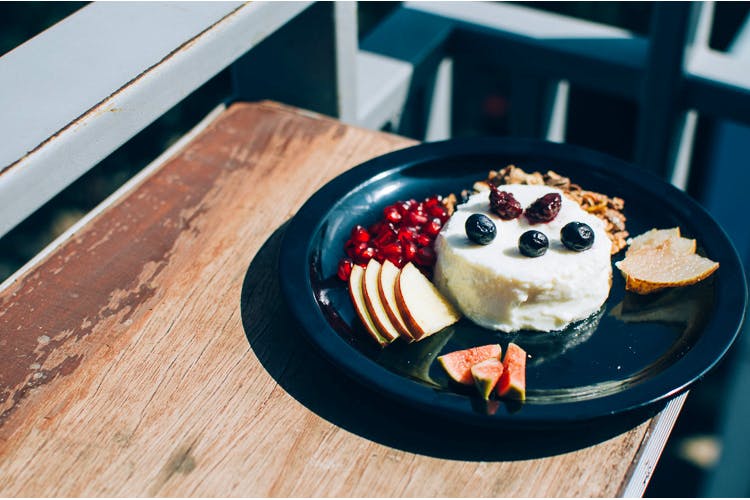 The Cheat's Guide To Snacking Healthy Post-Workouts, At These Restaurants In Indiranagar
If you're anything like me, your first thought after a hard workout is what you're going to eat! And if you're even more like me, you'll head straight to KFC. Emerging as one of Bangalore's top food locales, Indiranagar is filled with restaurants that can offer food that's more healthy and substantial, so check out our list of best places to hit up for a post-workout bite. Whether you're craving a mid-day breakfast, a leafy salad, hardcore proteins or a yummy smoothie, we've got you covered!
The Yogisthaan Cafe
Tapioca kichdi, summer salads, almond pesto pasta, quinoa vegetable soup — it doesn't get healthier than this at Yogisthaan Cafe. They also have a yummy selection of smoothies and juices, as well as some healthy fruit-based desserts like honey-roasted banana!
Chefkraft Cafe
We're big fans of the Chefkraft Cafe, and with homemade granola, baked yoghurt with fruits and grilled chicken, it's the perfect breakfast spot. Located on the fourth floor of Volt Energy Club, you can head here straight after a high-intensity workout. The cafe is only open until 11am, so maybe it'll motivate you to get to the gym earlier!
Red Fork
We're big fans of Red Fork — it's definitely no secret! Indulge in their delectable breakfast menu until 3pm, with dishes like Spring Onion Pancake with a side of salmon and poached egg. They also have a great selection of salads if you want something more leafy and green. Their menu changes seasonally, so there's always something new to check out.
Infinitea
Infinitea's food and tea menu has always been on-point, but we fell even more in love with their new offerings. Check out their new healthy section, filled with lean proteins like meats and veggies, and only a hint of added butter. They've also introduced some delicious smoothies — apples, beetroots and matcha green tea are just a few healthy ingredients you can expect to find!
Purple Basil
This one's an online-only delivery service, so if you're feeling a bit lazy after working out, you can still head home and eat something healthy! Their menu rotates daily, so there's always something new and delicious to try out! Try their juicy pulled chicken burger or Vietnamese Banh Mi, complete with a side salad. You'll also love their quirky drinks served in a clay jar — have you ever tried apple juice mixed with bell peppers, sweetened with honey and rock salt?
Cafe Thulp
Cafe Thulp definitely needs no introduction! Aside from their hearty, meaty burgers, they have excellent and healthy all-day breakfasts. Try the Kolli Dosa served with herbed potatoes and grilled tomatoes. They've also added a new keto menu which is heavy on the protein and extremely low on carbs!
Smoke House Deli
Serving up all-day breakfasts with favourites like granola, cereal and pancakes, Smoke House Deli also has a great selection of eggs. Poached, fried, scrambled, omelette — you name it, they make it! Paleo soups, low-glycemic sandwiches, gluten-free pasta, millet risottos, grilled seafood and chicken, and soy milk cheese cakes are also a few other yummy, healthy foods you can find on their menu.
Mad Teapot Cafe
This vegetarian cafe adjoins The Wishing Chair store, so you can shop 'til you drop and then get a healthy bite to eat! Try out their salads like the Forest Of Pumpkin Blossoms or the Enchanged Forest Salad if you're looking to snack on some delicious leafy greens. The cafe is inspired by the works of Enid Blyton, so you're also in for a good dose of whimsy here.
Comments