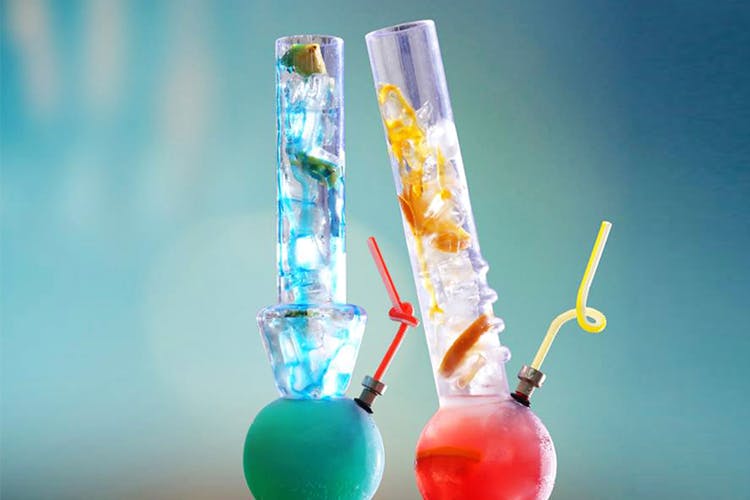 Pubs to Microbreweries: Drink Up At These Watering Holes in Whitefield
Whitefield folks, if you thought all the great pubs in the city were located in the rest of Bangalore, you might just have to give it a second thought. And, perhaps, take a closer look around. Because scattered across the expanse of Whitefield are bars, beer pubs and microbreweries, too. And, what's more, we've just put together a roundup of all the pubs in Whitefield! So, wait no more; pick your favourite and head out!
Amoeba Sports Bar
If you're longing to sit back with a mug of cold, cold beer after a tiring weekday (especially for those working in ITPL), Amoeba sports bar might be one of your best bets! Offering classic and special cocktails along with wine and beer, they also have short eats like fries, sandwiches and burgers to pair with your drink. And, quite a few options to help you unwind. Think a game arcade, a bowling arena and a pool table. Oh, and live screenings of cricket and football matches, too!
Barley & Grapes Cafe
If you're out shopping at Phoenix, take a break and head here for a nice, chilled beer (or ten). While the name may say cafe, this place should be bookmarked for their drinking deals. Head here to guzzle beer at INR 99 (yes, you read it right) or a Sangria Pitcher for INR 720. We quite liked the Peri Peri Chicken Burger and their Grilled Chicken with BBQ Sauce, too!
Harry's Bar + Cafe
A great place for when you're out with a group of friends, start off by picking from their long list of drinks, which includes everything from beer to gourmet martinis (up for some Caramel Popcorn Martini?). For nibbles, go for the Buffalo Chicken Wings or the Smokin' Hot Sausages, and you won't be disappointed.
Punjabi by Nature
What's not to love about classic Punjabi fare, especially when it comes with tall glasses of beer? And that's exactly what you'll get at this microbrewery. So, pile on those kebabs, koftas and parathas while you guzzle their German Pilsner Lager or Dark Special Roasted (with hints of coffee, caramel and cocoa). They have a few beer cocktails, too, if you're up for some 'brave concoctions'.
The Biere Club
Along with craft brews like lager and ale, flavoured options like stout and wheat beers are offered at this branch of the Lavelle Road microbrewery. Oh, and club and seasonal specials too! The Chilli Coriander Spicy Chicken and the Bacon Wrapped Sausages make for great side dishes with the beer. But if you're craving for more to gorge on, they have quite a range of platters to spoil you for choice.
Whitefield Social
Thanks to this relatively new Social, folks in Whitefield won't have to trudge all the way into the city if they feel like having some of the quirky drinks offered here. Be it the popular LLIIT (Longest Long Island Iced Tea) or the Acharoska, their drinks are actually innovative twists on classics and all-time favourites. Read more about Social's best drinks and dishes in our review here.
Windmills Craftworks
Yet another microbrewery in Whitefield, Windmills Craftworks is a must-visit if you're in the area. While Stout, Hefeweizen, Golden Ale and India Pale Ale are their regular beer offerings, they also have seasonal variants every now and then. And, dishes like Windmills Baby Pork Ribs and Onion Rings on the grub front. Regularly hosting jazz gigs by artistes from across the world, this is a perfect place to start off your weekend. Read more about it here.
Biergarten
With shades of teal and gold open-air seating, Biergarten is a pub that serves you great in-house craft beer and cocktails to unwind with your colleagues and friends after work gets you strung out. Their German-style beer brings Oktoberfest to Bangalore, all year round. The Hefeweizen is a no-brainer, well paired with their bacon-wrapped prawns. The icing on the cake, however, would have to be their Bailey's Cheesecake for a perfect end to your day.

The Irish House
With an ambience that is perfectly reflective of the name, The Irish House in Whitefield will have you feeling like you just entered a lively and welcoming Irish pub. Their wooden furniture, high chairs, couches and Irish photos on the wall really sets the tone. Their picture supported menu is easy on the eyes as it gives you an idea of exactly what you'd be getting. Their delectable range of drinks will let you get sloshed with your friends as you sing the night away, just like in the movies. Although the prices are on the higher end, let's just say if you were a leprechaun, you'd trade your pot o'gold for The Irish House experience.

The Beer Café
Located in VR Mall, the Beer Café has décor that will remind you of the brown and ochre tinges of beer. After a tiring day of scouting the mall, head to Beer Café to finally find something you like. Their Dutch Fries, Patata Bravas, and Chicken Nachos go great with their eclectic range of beers, cocktails and other equally inebriating drinks to forget about whatever drove you to go out of town for shopping.

Biere Societee
If you're looking to get dolled up and have a great night with your friends, Biere Societee in Whitefield brings you rooftop seating overlooking the city skies. The alluring music, grandiose lighting and a great range of cocktails will have you leading the upper end of society lifestyle. Be sure to try their pasta, noodles and tempura prawns, and wash it down with a nice Sangria; wine, fruit, and meat just the way God intended it to be done.
The Pallet
The Pallet is one of the largest resto-pubs in Whitefield and the wooden panelled ceilings and décor just give the place great brewery credentials. Their menu may seem like a lot to take in, with serving options of every cuisine from Indian to Mediterranean but you'll be more than happy to try everything out. Their freshly brewed beers, tequila cocktails, sparkling wine, and champagnes will set the tone for a night to remember. At the very least you walk out with some great pictures to parade on Instagram.

Comments