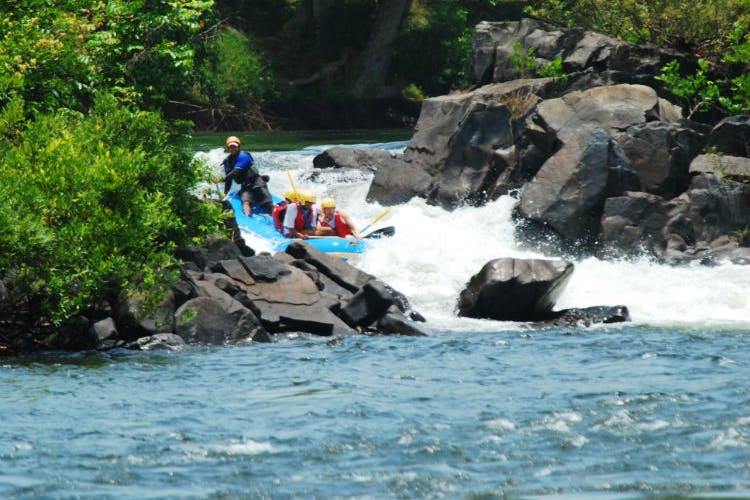 Ride The Rapids At These River Rafting Routes In Karnataka
Be it white water rafting of the more turbulent rivers or just rafting with milder rapids for the noobs, this adventure sport has taken over thrill seekers and how! We've also jumped onto this wagon, or rather this raft, and thoroughly love ourselves some exhilaration in navigating the waters. That said, neither our jobs nor our currently humble finances allow us to troop to the Himalayan region for this over and over again. So, we looked closer home and found plenty of river rafting places in good old Karnataka! And the best time in now when the monsoon ensures the rivers are full and with rapids. No wonder our tourism tagline is 'One state. Many Worlds'. Life vest on? Ready? Off we go.
Bheemeshwari
The river Cauvery gathers plenty of force here to give you're a great rafting experience. But don't worry about it being scary. There's a lot of flat grounds to give you less rapid. In fact, you can even hop off the raft for a quick dip in the water. When the monsoon hits, in full glory though, be careful. Rapids go up a notch or so to Grade 3 and can be quite a thrilling affair. You can check into Bheemeshwari Nature and Adventure Camp if you are planning to make it a holiday!
Distance: 120 kilometres
Drive time: 3 hours
Kondaji
Just a short way from Davangere, this course is not really for the rapids but for the lovely views. Though there's enough turbulence on the surface of the waters to give you an adrenalin rush, cruising through lush green forests, watching exotic birds on the banks is quite a treat too.
Distance: 260 kilometres
Drive time: 5 hours
Agumbe/Sitanandi
Looking for some serious rapids even going up to grade 4 and 5? You've got to go to Agumbe then! Unpredictable current, an ever-changing course and very vociferous during the monsoons, river Sita is a real treat for adrenalin junkies. July to August is the best time to go as the rains will make sure you have terrific levels of water, enough to intimidate even – after all its known to get the highest rainfall.
Distance: 350 kilometres
Drive time: 7 hours
Dandeli
Best to hit up this place in the mornings, more so during the rainy season. And that means now! Licking off at Ganeshgudi you'll start of cool as a cucumber and end up screaming as the quiet waters turn wild! Graded at about 3 for the most part, expect the unexpected as there are sudden dips and sharp slopes on the river bed. And that can only mean one thing – stellar rapids! About 9.5 kilometres, the route means business but unfortunately, it's very dependent on the rains.
Distance: 460 kilometres (It's only 2.5 hours from Goa's Dabolim Airport though)
Drive time: 8 hours
Coorg
Kodavas are known to be particular about things and they're applying that to rafting too. The sport is divided into two – still water and white water rafting. They've even made it easier by splitting the zone into Dubare river if you're in the north of the county -- that is Madikeri, Kushalnagar, Somwarpet, and Suntikoppa -- and the Barapole River for those holidaying in the south of the region (including Kutta, Gonicoppa, Ammathi, Ponnampet, and Virajpet). While still water rafting is almost therapeutic thanks to the calm river when the clouds burst, water levels rise and rapids are in full swing, it's a whole different and exciting ride.
Distance: 260 kilometres
Drive time: 5.5 hours
Honnemardu
Set sail (so to speak) on the marginally menacing river Sharavathi River. Seems familiar? That's because it is the river that forms the famous Jog Falls. Weaving through forests, grasslands and even gentle backwaters, there's ample opportunity to take adrenalin levels up. Islands are part of the river which automatically means the waters can get a bit rough in parts. Life vest on. Helmet check. Now row on! You can check into the Sharavathi Adventure Camp in the vicinity.
Distance: 400 kilometres
Drive time: 7.5 hours
Gokarna
Oh! So you thought you can only be a beach bum in Gokarna? No, Siree! Marvellous if you're looking for some excitement on a quick getaway, the river Kali, like the goddess it is named after, is wild, powerful and rather unpredictable. With rock formations, oodles of uneven terrain and thunderous waters rushing through gorges, you're up for one solid adventure when you bob down this river! Close enough to Dandeli, you can make it a two-nighter for maximum effect.
Distance: 460 kilometres
Drive time: 8 hours
Comments