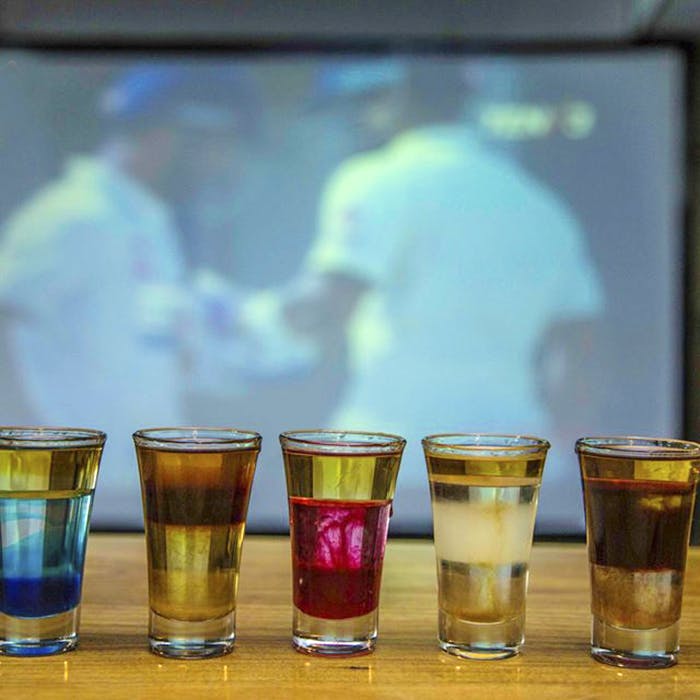 Watch The World Cup 2019 At These Sports Bars
While we do love those lazy match days at home, watching your favourite game just gets better when you have a group of friends, some drinks (think chilled beer!) and a charged atmosphere to keep your spirits up, no? And, what better place for that than at one of the sports bars in Bangalore? Being the sport that we are, we've picked out the best spots for you to make way to if a match and a relaxed evening is what you have in mind. With the ICC Cricket World Cup 2019 only days away, we suggest you apologise to your non-cricket friends, tell them you'll see them after a month, wear your jersey and join the rest of the cricket-loving hooligans at one of these hotspots!
The Open Box
This rooftop bar is a cool place to catch any sporting events including the ICC Cricket World Cup. With a pool table right under the giant screen, you can keep playing pool while watching everything from F1 and football to cricket and hockey. We love that they also have hookah, so if the game is pretty chilled out, you too can unwind. Plus, their quirky cocktails to spice things up even if the sports doesn't! We love that during the World Cup, the place is filled with people shouting and screaming for their own teams, and no one stops you. Monday matches will see you getting 1+1 on pizza and cocktails too!
Arbor Brewing Company
Granted that it's the official brewpub of Bengaluru FC, but Arbor Brewing Company screens all sporting events. And when beer, a long bar and screens all across the brewery, with one big screen at the far end, there's no reason to not go here. You can count on these folks screening the World Cup2019, and in fact, with three or four screens dotting the space, it is our favourite place to not miss out any action whether you're at the bar, on the balcony or at the large screen. We are going here to watch the ICC Match between India and Pakistan here!
Big Pitcher
The Big Pitcher is a five-floor behemoth which has everything, from parties to buffet lunches and dinners, to happy hours. You can come here and catch a live screening of your favourite team in action (we are guessing its Team India, right?). There are screens all over the place for viewing and with their food menu, you have a selection of game munchies as well, which sounds like a win-win!
Vapour Pub And Brewery
Vapour Pub and Brewery is the resident sports bar for Manchester United, Chelsea and Tottenham Hotspur fans, who flock here happily to cheer on their favourite teams every weekend. With huge space and a projector showing the match on the huge screen, the atmosphere here can very easily be heard and felt in the pubs UK! Pair the excitement and adrenaline with their selection of craft beers and bar bites including Nuts Masala and Vapour Fries. Watch India win (unless you are cheering for Australia or even England. No. We joke!), and indulge in solid banter here.
Xtreme Sports Bar
Apart from their regular screenings of games, this sports-themed bar is also known for their great parties (from EDM Nights and Karaoke Nights to Ladies Nights) and happy hours. And it's not just cricket and football that you'll get to watch. They also screen tennis matches, Formula 1 races and Mixed Martial Arts fights! Want more reason to head there? They have extended happy hours on match days! Oh, and Indian and Western specials to tuck into along with your choice of tipple. Once the ICC World Cup kicks off, expect plenty of drink and food deals for the whole month, as these guys really know how to pull in a crown.
Gilly's Restobar
If you're ever in Gilly's when there's an important match going on, you'll know how the atmosphere is — hundreds of people with their eyes peeled on all screens in the place, cheering their favourite teams on while munching on some good food and going through beers like nobody's business! Order a pitcher of the good stuff and a plate of Guntur chicken tikka and you're set for a sports-filled night!
Sports Bar & Lounge, Le Meridien
Don't be fooled by the laidback ambience here. Come match days or even Thursdays (when they have Ladies' Night), and you will see the place buzzing with energy. While you're there, don't forget to try some of their mango specialties for the summer. Or, perhaps, their Chocolate Shots, which comes with a good dose of pepper vodka, Grand Marnier and Baileys! This is perfect for fans who are more serious and don't really want to be dealing with non-fans or worse, fair weather ones.
Doffpub And Lounge
This is a bit of a classic spot for a night of sports, with TV screens all around, happy hours till 8pm and a killer ambience, you're in for a game night marathon here. Whether it's cheering for Messi, Kane, or Ki Sung-yueng, there's something for everyone here. The cane seating, artificial grass floors and endless mugs of beer that you're gonna order only make this a perfect sports viewing experience, do you not agree? And maybe catch a game of foosball at halftime, to keep the adrenaline pumping, huh? To eat, keep it simple with some peanuts and french fries, or go one better with their jalapeno cheeseballs!
Obsidian Sports And Music Bar
The plush decor, comfortable seating and the relaxed ambience promise you a great viewing experience. Add on some of their signature pizzas and you've just got yourself a perfect evening! And the best part? The place doesn't get too crowded like some of the other places in town, so you get to watch your game in peace. Oh, and they have a pretty outdoor seating area as well.
Cibo Esca
Probably one of the most popular hangout spots in the area, Cibo Esca has a selection of starters to fuel up on while you watch your game. Think of Chinese, Mangalorean, North Indian and Continental appetisers to spoil you for choice. And, some upbeat EDM music to add to the mood. Pocket-friendly rates, happy hours and the rooftop seating are other highlights here.
Comments