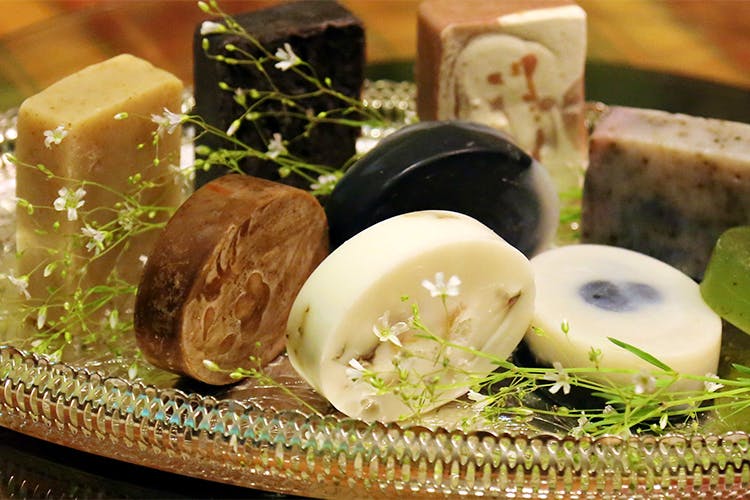 Avocado, After 8 Or Cinnamon: Suchi's Soaps Are Natural, Pretty And Cost Only INR 100
Shortcut
Soaps that look and smell so good you'll want to eat them, Suchi's Soaps are all kinds of yummy. Think saffron, almond, carrot or even activated charcoal, with no chemicals at all. And now you can even get lip balm, shampoo bars and body butters.
What Makes It Awesome
As we know oil is the base for all soap, it's important to first get that right, before experimenting with fragrance. Oh, and no parabens and sulfates, meaning they're safe for most skin types. We now have soaps that use pure vegetable oils such as coconut, rice-bran, olive, avocado, palm and castor, that won't damage your skin. To give the bars of soap appealing colour and fragrance, fresh fruit and vegetable juices, from cucumber and mint to beet and tomato, are added. Then, additives including saffron, activated charcoal (a great anti-toxin) and even rose petals, are thrown into the mix. We are in love with the new, After Eight Choco-Mint soap that is a bar of freshness, and the Mandaara Magic that is made from all things good from hibiscus flowers. These beautiful treats are handmade with care in our workshop in Bangalore, and wrapped to
Adding to the yummy collection, Suchita now has lip balms and body butter, that conveniently slip into your hand bag or back pack. Currently in two flavours — orange and lavender, it's like carrying an orchard around! And remember shampoo bars? She's doing those too! Made from traditional ingredients, and suited to all hair types (yes, it even tames those frizzy curls), these come with apple cider vinegar too. The price for the soaps start at INR 100 upwards.
Pro-Tip
Make sure to ask Suchita to tell you what she has up her sleeve for each new season. From little hampers and seasonal soaps, she loves to experiment. Perfect gifts these soaps are! You can even customise hampers, and have it gift wrapped to suit your requirement.

Comments