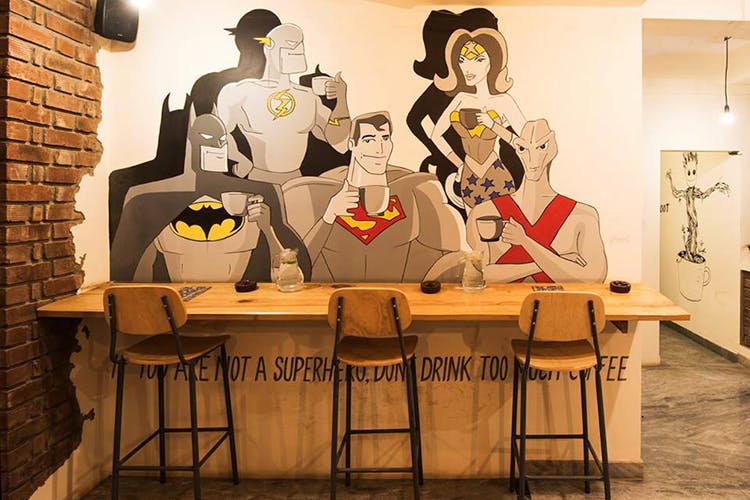 We Found The Most Instagrammable Cafes In Bangalore And They Are Gorgeous
OK, we'll admit it. Bangalore is beautiful. It's a place you can easily Instagram, and get plenty of likes on too. But since the world is upping their Insta-game, we thought you shouldn't be left behind either. So from art decor cafes with high ceilings to one that is straight out of Alice In Wonderland, check out these cafes for that perfect Instagram shot.
The Mad Teapot Cafe
If it's cute and quirky that you are looking for, it's The Mad Teapot Cafe you need to hit up. Located inside equally adorable The Wishing Chair decor store, this one's got plenty of spots for you to 'Gram. The store is a home decor one, with pretty pinks, blues, and florals dominating, so there's no reason to not take pictures. Also, the side of the store which the same is on houses potted plants and fairy light. We don't need to tell you it is worth a shot!
Cafe Pink Pajamas
Attention-grabbing bright pink and orange signage of Cafe Pink Pajamas in Kalyan Nagar will draw you into what is a whimsical set up straight out of Alice In Wonderland. With mismatched furniture, different kinds of tables and chairs (each upholstered in a different funky pattern), it's as if Mad Hatter himself has done the decor here. Bright blue walls with pop culture posters like Grease and Pulp Fiction and more for you to ID and IG, and plush blue couches and a proper cafe counter complete with a display case full of quick bites complete the space.
Bloomsbury
Take a trip to London the next time you are in Whitefield, thanks to Bloomsbury Cafe. This charming, quaint cafe goes all out in its London-theme with the skyline of London (the Tower Bridge, the Gherkin and of course, the London Eye) all painted on exposed brick walls. Pretty teapots hang from the ceiling and the iconic red telephone booth in the corner makes you feel like you are on Oxford Street. Comfy armchairs with floral patterns on them, like in Downton Abbey, complete this cool hang out place.
Amour Fine Patisserie
When you step into Amour, it'll feel as if you've walked into a Parisian boulangerie. Go here during the day time, when the natural light will highlight the pink and teal aesthetic they have going on. Plush floral sofas, a macron tower and a scale model of the Eiffel tower complete the French setting. Resist the urge to start speaking French, and go try their croissants and coffee. P.S. Their macrons have at least seven kinds of fillings and tart!
Enerjuvate
The Koramangala outlet of Enerjuvate (they have one in Jayanagar as well) is done up in splashes of colour and features quirky accents like mason jar hanging light fixtures and frame box light fixtures and plenty of DIY decor like framed planters. Alfresco seating with colourful benches and cushions make the whole space extra colourful. If you are going in the evening, you will love how bright and cheery this place looks.
1Q1
You might wonder why a fine-dine Pan-Asian restaurant is doing on this list. But hey, 1Q1 takes their coffee seriously and underneath the arches between high-ceilinged walls in striking green and red, the dining area makes for one of those fancier dates. Be sure to gawk at the Mesopotamian temple-style architecture and shippo tsunagi, the repetitive Japanese art deco form, that forms the interiors.
Hard Rock Cafe
There's no way that Hard Rock Cafe won't make it to our list. How could you not Instagram Elvis Presley's jumpsuits, Prince's guitar, and Elton John's quirky suits? Or the vinyl records that line the walls? And how could you not Instagram anything and everything from countless guitars to framed posters of Rock N Roll giants and iconic magazine covers of Rolling Stones? Just how. There's even a merchandise store for you to IG, but hey, the exposed brick walls and the balcony stage also make for nice pictures.
Cafe Down The Alley
All you comic book geeks, Cafe Down The Alley is your place to get your geek on as well as fill your feed with the superhero murals and posters that line the walls and pillars. Every nook and corner is filled with these Marvel and DC Comics artworks, meaning you will run into Joker as well as Wolverine. No Avengers assemble, but the League does come together in a mural depicting them having coffee. Our favourite spot of course. You will find a lot of comic book covers make their way to the walls as well.

Champaca
Named after the golden champak tree, Champaca is a bookstore, library and cafe that we've lost our hearts to. While the cafe is home to a lush garden, the book store boasts of a sizeable collection of books. Not to mention the quiet corners and huge, open windows that will give you #bookstagram goals. The cafe serves healthy and hearty food with locally produced and seasonal ingredients. All in all, a great way to spend a lazy afternoon.

Dyu Art Cafe
Reminding you of an old, Kerala-style house with their open courtyard, spots of greenery and red-oxide flooring, Dyu Art Cafe is perfect for the 'Gram. Head here when you want to sit back with a book or browse through all the artwork they have displayed on their walls (we did say it's Insta friendly!). The menu here includes salads, breakfast dishes, sandwiches and desserts. Plus, a long list of drinks to choose from, too.
Comments