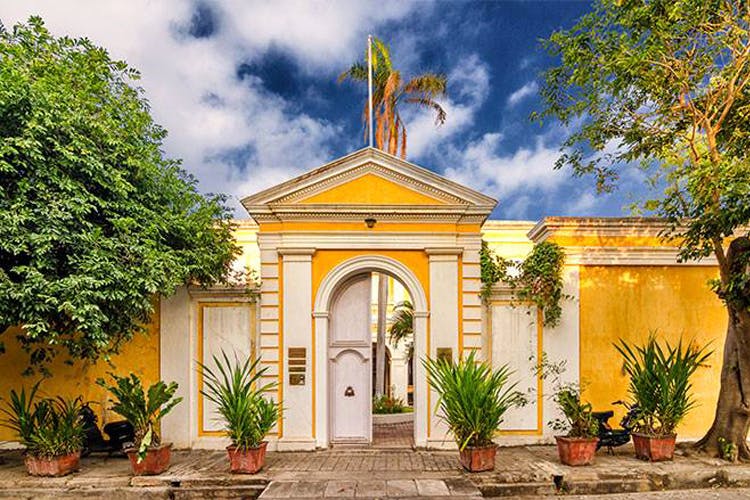 6 Reasons Why Pondicherry Should Be Your Next Getaway
The Union Territory of Pondicherry isn't the most ideal of destinations if you're looking to party for a week straight, but it's perfect for those looking for some peace, quiet and cups of coffee. Once you're done admiring the architecture of the colonial buildings, shopping at chic boutiques and taking the customary walk around Promenade beach, here's what your checklist should look like when at Pondy.
The French Cafes
Pondicherry was once under French rule, and we're happy to see that the French community is still thriving. Because they're bringing us quaint cafes offering delish baguettes, croissants, millefeuilles, crepes and coffee. Also, the pleasure of listening to rapid fire French and brushing up on our own language skills. Chief among these are Baker Street (MG Road), Le Cafe (White Town) and Coffee.com (Mission Street) where we came across a very interesting and yummy Irish Tea.
Hidesign
We're all acquainted with premium leather brand Hidesign, and some of us have had the pleasure to use their extremely sturdy handbags. The brand has its roots in Pondicherry. If you love leather, their headquarters might be worth a visit. Pick up wallets, handbags, and laptop bags, some for a fraction of the price you'll get them for in your city. They also have a pretty cafe on the rooftop which faces the sea and offers a vast variety of dishes including croissants, waffles, pasta and desserts.
Seafood
Given Pondy's location, this one's obvious. If you're a seafood enthusiast, you will have a ball here. With options like fresh prawn, crab, lobster, fish, squid, you might just go crazy. Whereas most restaurants have their seafood menu on point, if you don't have time to sift through, head to the tried and tested Rendezvous Cafe Restaurant or Blueline in White Town. If you're looking for more Indian flavours (think prawn biryani, fish fry and masala crab), Hotel Kamatchi (also in White Town) is a safe bet.
Auroville
Auroville is about 15 kilometres away from the city, in Tamil Nadu, but should be on your list for sure (you've made it this far, after all). It's an experimental township where men and women from all backgrounds attempt to live together in peace and harmony, overlooking creed, nationalities and anything else which causes conflicts in mainstream society. Also known as the City of Dawn, Auroville emphasises human unity and sustainable living. You can pick up an agricultural skill, enroll for a dance workshop, visit the beautiful Matrimandir or relax with yoga and therapy sessions while you're here.
Paradise Beach
The main beach in the city is a rocky one and not suited for swimming. We'd recommend going a little bit out of your way and taking a ferry to Paradise Beach (Chennai-Cuddalore highway) which is unpolluted and to a certain extent, untouched. There are huts to change at before you dive into the waves. The sea however, can get a little rough, so find out about the best time for a dip. You might also come across some locals preparing fresh seafood. If you're not up for the journey, Serenity Beach isn't a bad option.
Scuba Diving
If you're looking for a little bit of an adventure, scuba dive! Conducted by a company called Temple Adventures, you can choose to take the plunge at 20 different underwater sites. We hear they're extremely professional and are good even for beginners. They'll also click pictures of you making friends with the seabed and the sea creatures, so don't worry about your phone not being the waterproof variety.
Comments