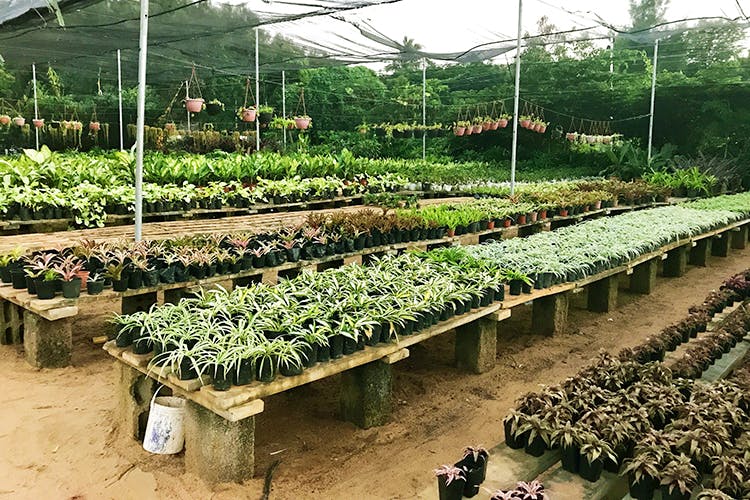 This Plant Nursery In Injambakkam Has All Kinds Of Exotic Plants To Decorate Your House! Check It Out!
Shortcut
For those plant collecting enthusiasts, this nursery in Injambakkam has the plants you could never get tired of gawking at. From INR 5 to INR 50,000 (say what?), there's a plant for literally every budget!
What Makes It Awesome
On entering 13 Degree North nursery in Injambakkam, you will be welcomed by huge palms and ingrown variegated Bamboos, all painting an alien world of lush greenery. We started with their shed, filled with hanging and indoor plants like Areca palm that you can buy at prices starting at INR 50. This shed has over 50 variety of plants to indulge in.
Now, who doesn't love a Bonsai? These miniature trees growing in containers are rare and 13 Degree North nursery has got some for us. Bonsais here can go up to INR 50,000! We definitely can't afford to buy the Sapota or Brazilian Rain Tree Bonsais, but they sure are pretty to look at. As you get lost in a world of shrubs, you will also stumble upon some antique pots which are worth a buy if you are looking for something different for that zen.
Apart from large Plumeria (flowering plants) and Ficus (woody plants) species, we were completely intrigued by the cacti. Starting from INR 50 (and going up to INR 5,600), we also found plants like the Euphorbia (many of which are succulents) and Agave that are perfect to jazz up your room If you're into exotic Cacti, then 13 Degree North nursery has a Pelecyphora Aselliformis Cristata (which almost resembles a brain!) which is a rare species. It isn't up for purchase but sure is lovely to see.
Pro-Tip
They will also give you a guide on how to make your own green wall in your garden. They have their own on display!

Comments