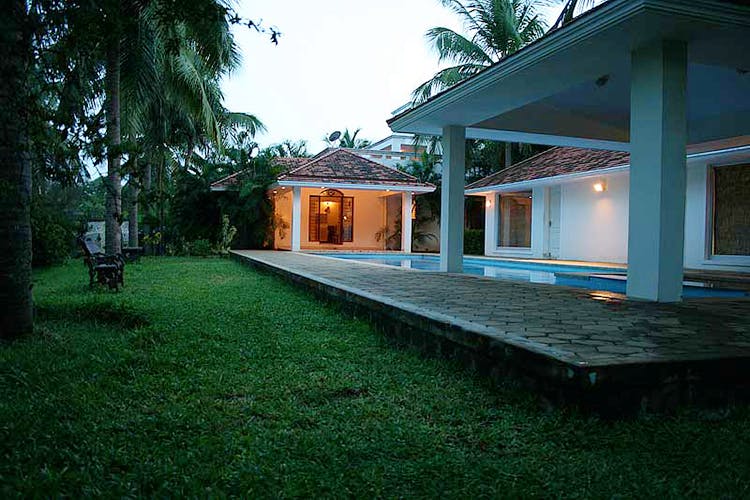 Party By The Bay: Gather The Squad To These Beach Houses On ECR Across Budgets
Why look for service apartments, when you are in a coastal city? Chennai's East Coast Road now has massive beach houses that you can rent out with your gang and party hard. From beach facing terraces to green lawns and inviting pools, here are the best beach houses to ring in special days. All the beach houses are equipped with parking lots, air-conditioned rooms and other basic facilities. The owners even provide catering services on request. But, of course, it is a BYOB deal!
Lakshmi Gardens
Just minutes away from the Madras Crocodile Bank, is this aesthetic beach house which can host up to 50 people. With a private beach and a sprawling lawn, Lakshmi gardens is affordable and gorgeous! You can sit around the swimming pool or just dive in – the perfect place to break free from work stress.
Price: Starting at INR 10,000
Parijatham Beach House
Further down, in Covelong right next to MGM is this cosy little holiday home. Parijatham. Apart from being an apt destination for a big bash is also a lit place for a surprise weekend getaway. Good enough for almost 20 people, the beach house comes with a compact pool, lots of greenery around and a private back patio which is just lovely to unwind in.
Price: INR 18,000 onwards
Beach Elegance
Located right on the shore, facing the sea is Beach Elegance. Just few kms from the city, this one is right on the Thiruvanmiyur coast. During your stay in this bungalow that can host 20 people,wake up to a beautiful sunrise accompanied by colorful boats and fishing nets – so Insta-worthy!
Price: INR 21,200
Temple Tree
Temple Tree is a paradise for outdoor game enthusiasts. The mansion faces an incredibly huge pool and is well equipped with basketball, table tennis and volleyball facilities. On one of the weekends, you could also get your family together for a movie screening in their very own conference hall.
Price: INR 8,000 onwards
Sagarika Gardens
Popularly known as Sneha Gardens among Chennai millennials, Sagarika Gardens, which can accommodate up to 100 peeps at a time, is one of the most spacious ones around. What's better? The mansion located right beside the shore is the perfect destination not only for parties but also weddings. With nets for cricket lovers, a scenic pool and Jacuzzi, you could also get a Karaoke setup on request and so much more.
Price: INR 35,000
B's Hive - Kadal
Surprises come the best when it's planned and with the people you love the most. For your next party, what location could be better than by the beach? B's Hive - Kadal is a serene villa bang opposite to the ECR beach. The white villa is one of a kind with an A/C dorm that can accommodate more than 10 people. Their outdoor verandah is vast and is filled with cane seating and plenty of hammocks which are perfect for stargazing at night!

Coral Seaside Villa
For those of you looking for a short staycation next to Chennai, check out the Coral Seaside Villa which is a luxurious designer villa on ECR. The architecture is very modern and it almost looks like a home from the future! What with the sharp angles, an abundance of white and plenty of glass windows. The property is valued highly thanks to its pool, well-maintained lawn and a private path to the beach nearby! The entire space can host up to 11 guests, so call the entire fam, maybe?

The Country Club Jade Beach Resort
Next time you want to unwind and take a road trip, hit up DakshinaChitra, The Crocodile Park, and then check into Jade Resorts on ECR. Haven't heard of it? (It is pretty underrated, we don't blame you.) You must go and here's why. First, the location, it is sea-facing so it's perfect for sunsets by the beach. Get your beachy vibes on with beers by the ocean and #lit campfires, too. The suites are single rooms or with a living room and are priced from INR 6,000.
Casuarina Drive
Casuarina Drive in Neelankarai, minutes away from the Palavakkam beach is truly a walker's paradise. Especially for those of you who love gazing at pretty villas, rustic doors and enjoy a scenic walk by lanes beside the beach. One turn into the lane and you're welcomed by vintage lamp posts and many metallic & wooden doors. Minutes into the drive, you are sure to be taken back to Casablanca, California or say closer to home, the posh villas from Banjara Hills, Hyderabad.

Comments