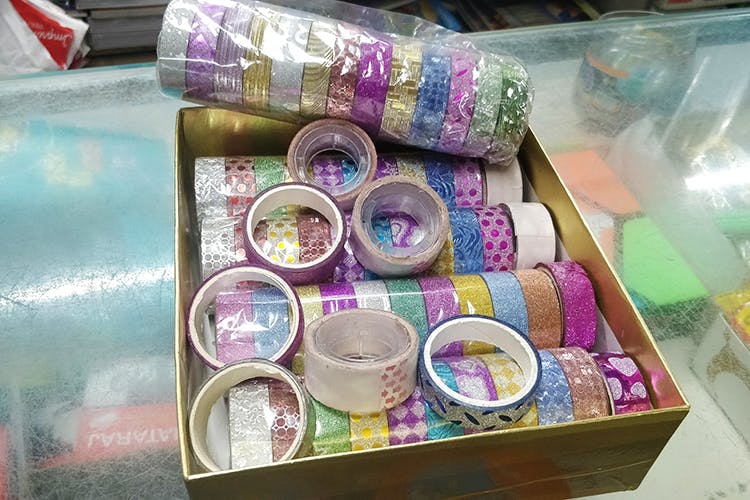 Cutesy Washi Tapes And Glitter Pens, This Stationery Store Is Right Out Of The 90s!
Shortcut
From their glitter pen collection to their budget painting sets, A Premier Stationery is still stuck in the 90s and we're loving it!
What Makes It Awesome
All you artists in the city who are constantly looking for cute decorations and stationery on a budget, check out A Premier Stationery on TTK Road. Now, before you get all excited, don't expect to find the new (and may we say, overdone) stationery items like big washi tapes and feather-based items. On the other hand, you will find yourself smiling at glittery stickers of popular cartoon characters and designs from the 90s - think Popeye and The Looney Toons.
We found tiny rolls of washi tapes that come with light glitter in plain colours, starting INR 10. There are washi tapes with different designs like moon, stars, flowers, and leaves, too. Just to see them neatly rolled up in a rack in itself is so soothing! You get us, don't you? You can buy individual bottles of paint here starting INR 20. We love that this store has both budget paints and brands like Camel and Faber Castle. You will also find some old-school wooden and plastic pencil boxes and pouches here.
There are cute satin post its, paper gift wrappers, markers in many colours with a neon-effect, and glitter pens. Are you into sketching? Then hit this store that has more than 10 types of pens for a different kind of sketching! There are some adorable diaries, pocket notebooks, and journals that come with a lock and key. Our fave was their satin ribbon collection (there are two sizes) with different shades of blue, green, and red starting INR 20, and the pink satin ribbons are a treat! Use them to wrap a gift or just decorate your room with it!
Comments