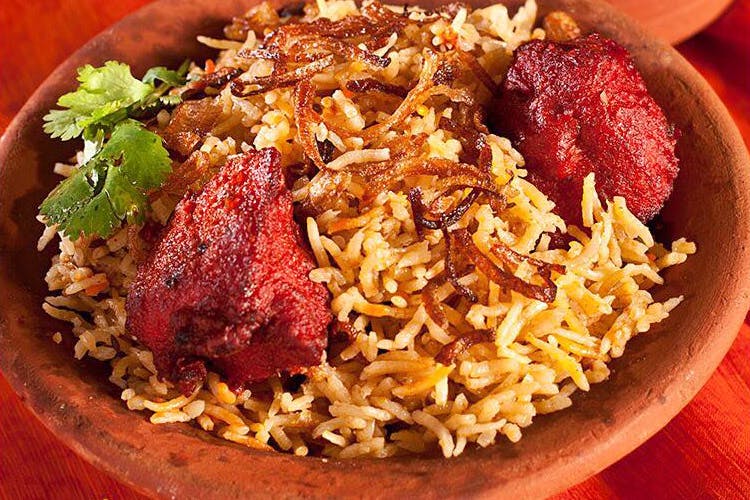 This Popular Biryani Joint Is Generous With Meat In Its Biryanis & Chicken 65
Shortcut
Aasife Biryani is a humble joint that has risen to fame in the last couple of years, thanks to its fragrant biryanis and non-vegetarian dishes.
What Makes It Awesome
Their menu is massive with separate sections for biryanis, rice & noodles, tandoori, grills & shawarmas, starters, breads, gravies (vegetarian, seafood, chicken, etc). Give the Chinese section and barbecue dishes a miss here and make a beeline for their biryanis, because that's what they are known for, followed closely by their meaty gravies and mains. The chicken and mutton biryanis are made with fragrant long grained rice in a Muslim style preparation, and are a must try especially because these guys don't skimp on the meat! There are several chunks of meat accompanying the rice and can be shared between two people if you have a regular appetite.
They also deliver in larger quantities in half and one-kilo (hello house parties!) portions. Their house recipe of Chicken 65 and their fish of the day are good accompaniments to your meal. We also recommend their parotta, kurma, and kothu parotta preparations as well. We often do takeaways, and the food is delivered very quickly because most of their biryani is prepared centrally every day, so if you need a quick and tasty meal during lunch breaks or at home, this is a good option. You'd also be pleased to know that their portion sizes are quite generous.Aasife Biriyani is a solid choice if you're looking for good biryani, that's not too expensive. A half plate of chicken biryani starts at INR 180.
Comments