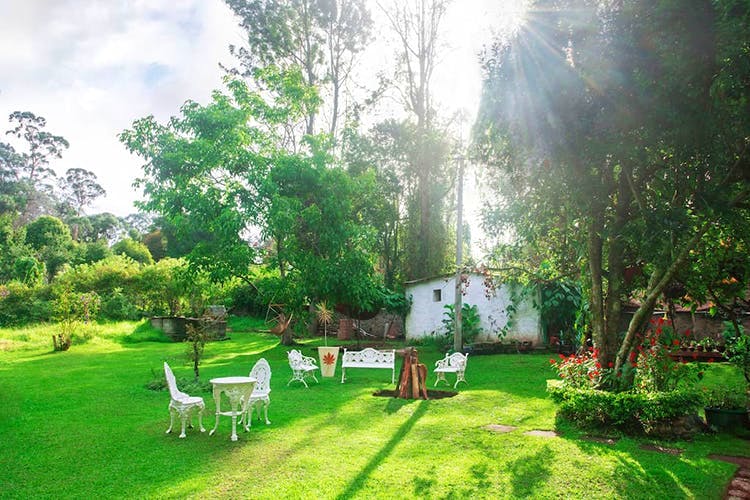 Farmhouses To Colonial Cottages: Head To These Airbnb Getaways Under 8 Hours From Chennai
There are tons of exciting holiday spots around Chennai but finding a nice place to stay can be tricky, so to help you out, we've found seven charming Airbnb getaways at popular tourist destinations, under eight hours from Chennai.
Yelagiri Hill Cottage
Yelagiri has good hotels like Hotel Landmark and Sterling Resorts that you can stay at, but if you're looking for a more private getaway, you've got to stay at this cottage in the hills. It has two bedrooms, a kitchen, a dining and living room, a terrace, a sit out and a lush garden with a space to make bonfires. There's a caretaker at the venue who can provide assistance when you require it, but for the most part, you're left alone to your devices. You'll need to book the entire place that can accommodate six guests.
Price: INR 2,796 per night (at the time of this publication)
Coral Seaside Villa
For those of you looking for a short staycation next to Chennai, check out this luxurious designer villa on ECR. The architecture is very modern and it almost looks like a home from the future, what with the sharp angles, an abundance of white and plenty of glass windows. The property is valued highly thanks to its pool, well-maintained lawn and a private path to the beach nearby! The entire space can host up to 11 guests, so call the entire fam, maybe?
Price: INR 6,502 per night (at the time of this publication)
French Colonial Penthouse In Pondicherry
This little gem is tucked away in a two-storey French colonial building in Pondicherry. The Airbnb is a private room on the top floor and has a view of the ocean along with a massive terrace that's furnished with seating areas and tables. The room is very spacious and has plenty of windows that makes it airy and bright. We really like that they're liberal and don't prohibit smoking and drinking. It's couple-friendly and there are two dogs too!
Price: INR 4,942 per night (at the time of this publication)
Nanilam Organic Farm House, Chittoor
This farm stay near Chittoor is the perfect place for you to stay if you love the outdoors. It can accommodate 2-4 guests and there's farming, biking (cycles provided), birdwatching, swimming (they have a pool!), trekking and plenty of farm animals to play with. The property has two separate villas with modern amenities we've come to expect, so you won't have to 'rough it out'. We love that the property is situated next to Tada (famous waterfalls) and Pulicat Lake as they're both beautiful places to visit.
Price: INR 2,471 per night (at the time of this publication)
Carlton House, Yercaud
Being a fairly popular hill station, Yercaud has a fair few places to stay, however, we liked Carlton House because of all the things it offers at a price of just INR 1500 per person per night. You will be sharing the residence with others as that's how costs are kept low but that doesn't mean it'll be less special. They have a basketball court, a badminton court, their own hillock to climb, a lush garden with a bonfire and a tiny playground and most importantly they're pet-friendly. The rooms themselves are simple with not much in the way of aesthetics and decor, but that's fine as the activities outdoors are what excites us.
Price: INR 1,500 per person per night (at the time of this publication)
Green Rooms, Kodaikanal
With summer upon us, a trip to this Airbnb in Kodi is exactly what we want to do. It's an ultramodern villa built on the side of a hill, with a huge bedroom, a beautiful glass balcony, all the amenities you can ask for, along with complimentary breakfast and dinner. Price wise one would imagine it is very expensive but because it's 6km from the centre of Kodaikanal, it's much cheaper than normal. Though do note that because it is in a slightly remote location, you will need private transport to get there.
Price: INR 2,500 per night (at the time of this publication)
Amherst Cottage, Kodaikanal
Built in 1963, this private bungalow adjacent to the lake in Kodai looks like it's straight out of a scene from Downtown Abbey. 44,000 sq ft in size, the property has a huge garden with plenty of seating, old-school wooden floors inside the house, a cosy fireplace, plenty of rugs and old décor adorn the floors and walls. The reason we added it to the list, is because it's the perfect place to go if you've got a large group who wants to go to Kodai as the property can house up to 11 people comfortably and in style. There's also a full set of staff, to take care of you and your needs, from security to cooking.
Price: INR 1,000 per person per night (a group of 10, at the time of this publication)
Comments