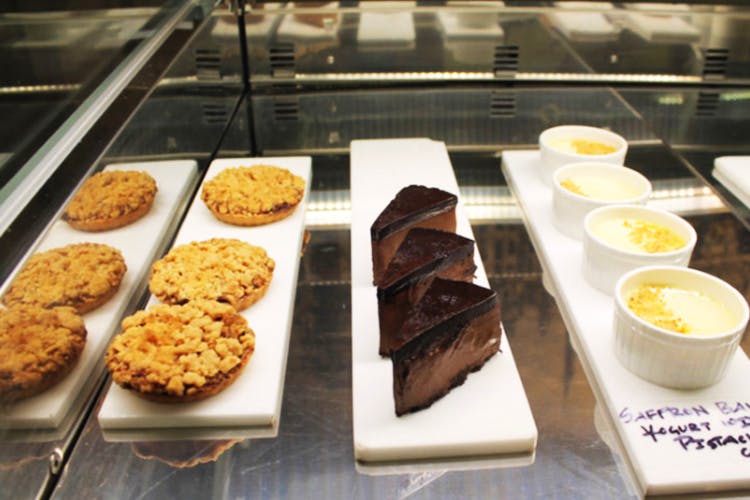 Goat Cheese Popsicles Or Chilli Popcorn Ice Cream? Amelie's Creamery Is At Your Service
Shortcut
Head to Amelie's Cafe & Creamery for delightful ambiance, a small selection of good food, and some absolutely mind-bogglingly delicious dessert.
What Makes It Awesome
Located in the upscale residential Venus Colony, Amelie's Creamery is housed in a charming bungalow that offers lots of parking space and even valet service. It is particularly lovely by night — its illuminated trees and twinkling lights lending the place a rather whimsical, fairy-tale like atmosphere. The menu has a small but tasty range of dishes to browse through.
The portions may not be very large though. Choose from all-day breakfasts, delicious baos, flatbreads, and interesting appetizers. We particularly enjoyed the unique flavour of the cottage cheese sticks stuffed with capers and gherkins. If you're only there for a quick revitalising drink, you won't be disappointed either. The mocktails range from a refreshing cucumber-apple green mojito to the curious-sounding jalapeno lemonade. Amelie's truly surpasses itself with its impressive array of fine cakes and desserts plated with the perfection of the Michelin-star chefs we keep hearing about on our favourite cooking shows.
Be sure to try the goat cheese and strawberry popsicle and savour the explosion of flavour on your tongue. Or enjoy the sensation of the saffron baked yogurt with pistachio crumbles melting in your mouth. The tiny but incredible dessert, Textures of Dark Chocolate with olive oil and sea salt anglaise is out of this world – an explosion of flavours! And you have to try the chilly popcorn flavoured ice cream here. The thrill and disbelief that follow the coolness on the tongue when the spicy aftertaste of authentic popcorn hits your palette is something worth experiencing!