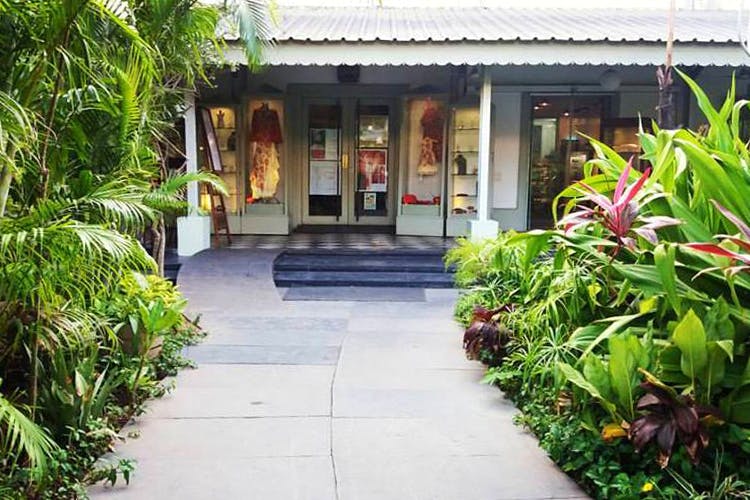 From A Charming Café To A Swanky Boutique, Here's Why Amethyst Will Always Be A Favourite
Shortcut
If you're new to Chennai or if you're visiting, you must absolutely include Amethyst in your itinerary, for both eating and for shopping. If you're from Chennai and haven't been here yet, well, what are you waiting for?
What Makes It Awesome
If you've lived in Chennai long enough, you'd have been to Amethyst, an old-world colonial-style mansion flanked by lush greenery, housing a cafe, a boutique and a flower shop. A green oasis, right in the heart of the city (Whites Road), this place offers seating both in the garden and inside the building which is air-conditioned. The cafe, called the Wild Garden cafe, is tastefully decorated, with its chessboard style flooring, antique wooden chairs and marble-topped tables. If you choose to sit outside, all you can hear is birds chirping, making it a great romantic spot for some quiet time with bae.
As for the menu, there's juice, coffee, sandwiches, pizza and pasta, apart from a daily special menu and a selection of delicious cakes, brownies, cheesecakes and other baked goodies. Their food portions are very generous, and their service, while attentive, is also relaxed, making it a perfect place for unwinding and indulging.
If you're in the mood to shop, you can head to the boutique upstairs (aptly named Upstairs At Amethyst) for some retail therapy. Featuring a curated collection of designer labels like Anavila, Masaba, Nachiket Barve, Vrisa, Sanjay Garg (of Raw Mango), Bandhej, Vaph, Amprapali, you can pick some great, statement accessories and clothes here. There's also an attached tailoring unit called The Blouse Room where you can get blouses stitched in any style or design that you want (stitching rates begin at INR 2,500).
Their selection of books (by CMYK) is equally interesting, featuring books on design, cooking, travel and fashion. If you've been on the lookout for a coffee table book, you should definitely make a trip here. And as if this isn't enough, Amethyst also treats you with a gorgeous flower shop where you can buy handmade arrangements made with some of the freshest and the most exotic flowers available in the city!
Read more about the best cafes in Chennai here.
Also On Wild Garden Cafe - Amethyst
More Information
Wild Garden Cafe - Amethyst
Ask Lavanya a question