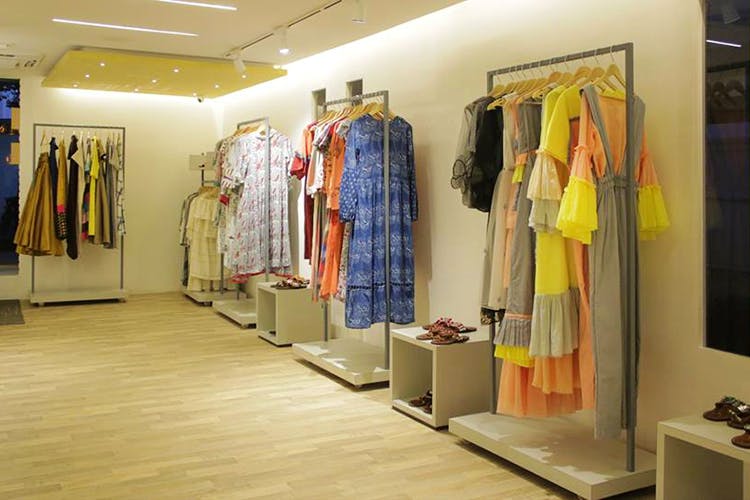 The Boutique At This 50-Year-Old-Bungalow Is All About Chic Desi & Western Outfits
Shortcut
On the quest for well-designed apparel for your everyday wardrobe? Unlike most multi-designer boutiques that showcase more elaborate, high-end designs, Amortela focuses on affordable, pret-a-porter lines in contemporary silhouettes.
What Makes It Awesome
Far, far from the madding crowd, Amortela lies nestled among the quiet, leafy lanes of posh Poes Garden, in a charming, inviting restored bungalow. With its minimalist decor and soft lighting, the space forms the perfect canvas for the clothes on display. Started with the intention of showcasing the works of newer (and more affordable!) designers who make clothes for all body types, Amortela comes as a breath of fresh air to the Chennai audience that has so far only seen dressier, more high-end, and more expensive designs.
In the boutique, visitors can browse through the collections of more than two-dozen designers – both upcoming as well as more established – from across the country, each boasting a distinctive aesthetic. There's fun, embellished footwear, statement handcrafted jewellery (including by Kerala motif-inspired designer Razia Kunj), upcycled clothing from Doodlage, summery pastels by Pushpak Vimaan, and Amortela has hosted designs by The Meraki Project, Mati, Miuniku and others.
Amortela also has a separate section for more ethnic clothing, including Indo-Western designs and silhouettes. This segment, called Navalya, is home to festive, intricate kurta sets, embellished gowns, peplum jackets with an Indian touch, and some breezy separates as well. Celebrating tradition in modern cuts and cosmopolitan pieces are designs by Aharin, Mint Blush, Abhi Singh, Indian August, and many more. Saree lovers have a range to choose from as well – think linen, khadi, gicha, muga in a delectable array of hues, sporting various traditional forms of embroidery.
In keeping with the slow fashion movement that has recently taken wings, Amortela, which incidentally means "for the love of fabric", is committed to ethical, sustainable fashion – the boutique showcases a lot of designs in organic, ecofriendly fabric, promote handloom, and work with local artisans. Also, new collections are in the store every two months, so there's always something new to fawn over and take home!
Comments