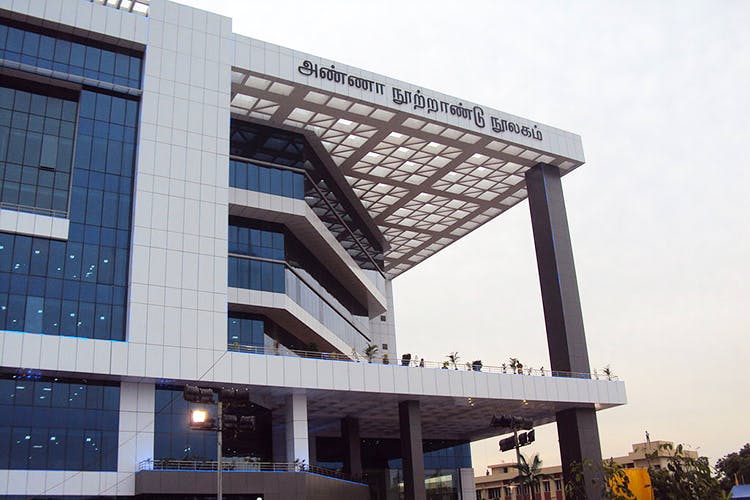 Bookmark This: Read Books For Free At This Eight-Floored Library In Kotturpuram
Shortcut
The Anna Centenary Library is an absolute joy if you are a bibliophile. Although the library doesn't lend books, it is undeniably a fantastic resource with which you can feed your literary desires!
What Makes It Awesome
The Anna Centenary Library is spread across a massive 3.75 lakh square feet of land and houses eight floors of books, books and more books! They currently have five and a half lakh books in their library that are available for public access. You can only read the book in the library though.
The library has an 'own book' section that is air-conditioned and furnished well for readers who are looking for a calm space to read. They allow laptops in this area, so it's a pretty awesome space if you're looking to work in peace as well. If you've been wondering about a place in the city where you can take your young child (or even your nephews and nieces), do plan a trip to the Anna Centenary Library. They have a beautifully decorated Children's section complete with an artificial tree under which they can read! Their catalogue of children's books is vast as well. You can find pretty much every book from Amar Chitra Katha to books by Dr Seuss there.
The library stocks close to every kind of non-fiction and academic title there is, in subjects like architecture, design, engineering, medicine, history, geography and environmental sciences to name a few. They also stock a variety of books in languages like French, German, Spanish and Italian and have a separate floor dedicated to Tamil books.
The library also has a section dedicated to magazines and journals. Anna Centenary Library even does orientation programmes for IAS and IPS aspirants, fun weekly classes for kids and also have book launches. The best part about this awesome facility? It's free!
Comments