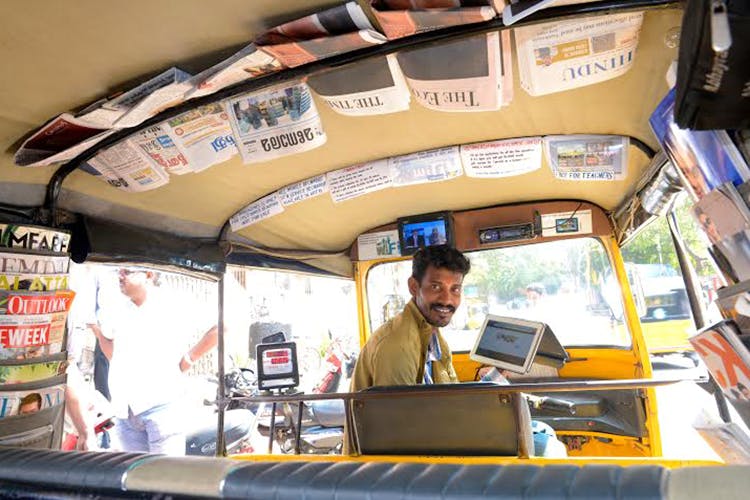 Have You Taken a Ride With Chennai's Favourite Auto Anna In OMR Yet?
Shortcut
Anna Durai's famous Amazing Auto riding around OMR with free WiFi, magazines, newspapers, a laptop and tablet (and more!) is all you need for a ride to remember. Oh, and he's also come out with an app for Chennai commuters.
What Makes It Awesome
Our auto drivers usually get a bad rep for haggling and charging us way over the meter. While some of them still don't go by the meter, there are others who'd do anything to keep their customers happy. About four years ago , I remember getting onto a share auto that was quite unlike any other. There were magazines, newspapers and even a video screen where a Tamil music video was playing. My ride lasted five minutes as I got dropped off near my house in Thiruvanmiyur but it's one auto ride that stuck by all these years.
Now Anna Durai (and his amazing auto) are so famous that he's even conducted TEDx talks and offers his customers the option of availing a laptop and tablet (apart from magazines and newspapers) and there's free WiFi too! Got no cash on hand? You can even pay by card or through Paytm. And no matter where you're from and what your mother tongue is — let him know and he'll greet you in Tamil, Kannada, Telugu, Malayalam! He even plays music from other parts of the country if you'd request him. It really is about customer satisfaction in this auto.
This high-school dropout, now in his 30s, hasn't let anything stop him from being a socially conscious entrepreneur. He's even come out with his own app (similar to Ola and Uber) for auto-hailing customers where they will be charged according to the meter rate. You can track where he is and book a ride with him! He even offers free rides to techies on the birthdays of their company's CEO. He really has thought of everything, hasn't he?