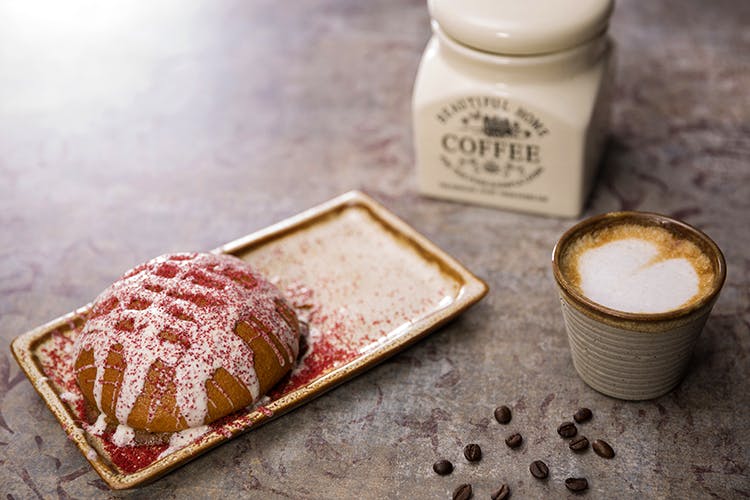 Delivery Available

Wi-Fi Available
Love Buns, Hun? Bite Into The Warmest Mexican Coffee Buns At This Cafe
Shortcut
Antari is a small café on the same premises as Soul Garden Bistro in Kilpauk, and is serving up freshly baked, crusty coffee buns with a variety of toppings. How did it taste? We'll tell you!
What Makes It Awesome
In the same restored bungalow as Soul Garden Bistro and 196 Degrees Below, comes the quaint Antari café which has a seating capacity of around just five people. With naked brick walls, and a shelf of baked goods like bread and cookies, the place is small but you get a sweet whiff of delicious baked dough as soon as you walk in. Vegans, fret not, you'll get vegan options here too!
I take a look at the menu and ask for a cinnamon crust bun (the other option is coffee) and the staff pipes on creamy swirls of cinnamon icing on to the dough. It takes 10 minutes to bake, so you're always guaranteed fresh buns. I choose the Coffee Sauce with Butter Biscuit Crumbles. You can choose anything from White Chocolate with Red Velvet Crumbles, Chocolate Fudge with Fudge Brownie to Condensed Milk and Pistachio. While the bun costs INR 119, the toppings come at an additional price, anywhere between INR 30 and INR 60. We suggest making it a combo at INR 249 and getting a beverage along. I asked for the Mexican Hot Chocolate. So, how was it?
Just… yum! Once I bite into the bun, I'm in love with the textures. Crusty on the outside with hints of cinnamon, topped with a light coffee sauce and a soft centre, the bun is a win in my book. The Mexican Hot Chocolate too, tastes so fresh, with subtle hints of spices. A strong, delicious brew. And rest assured, everything made here is 100 percent organic. We're definitely coming back for more, for our next coffee break. What about you?
Psst, they even serve Churros! Double yum!

Comments
Delivery Available

Wi-Fi Available