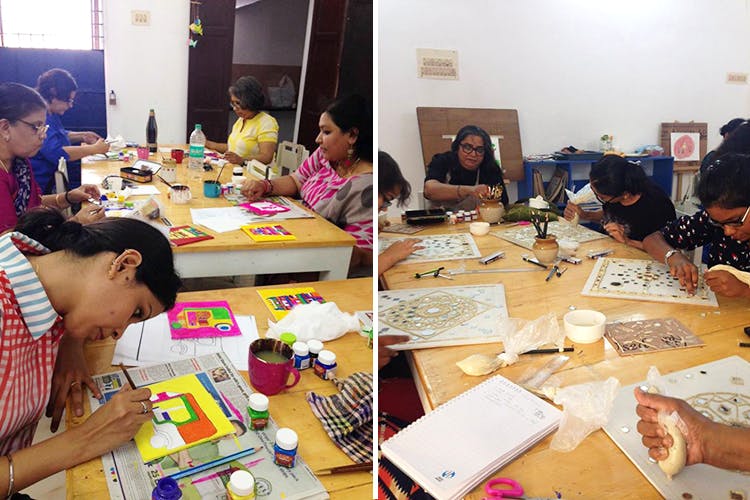 Calligraphy Workshops & Studio On Rent: Make Masterpieces At This Art Space
Shortcut
Whether you're a hobby painter, an amateur artist, someone with no background but a passion for art, or a professional who'd like to dabble in and discover new artistic mediums, Art Room Chennai is for you.
What Makes It Awesome
A much-needed artform-agnostic space in the city that works to stimulate artistic exploration, expression, and growth, Art Room gets a standing ovation from us. A vibrant, colourful space (beautiful art by children adorns the walls), it offers classes, workshops, and a studio space on hire for art enthusiasts.
If you're interested in learning to draw, sketch, shade or paint (whether with watercolour, acrylic or oil paints), Art Room offers mixed-age lessons for children and adults depending on their standard and ability. These classes are lauded for their detailed, nuanced and patient instruction, allowing for space and time for students to uncover their potential and at the same time draw joy and satisfaction from learning and producing art. It costs INR 1,200 for eight hours a month – either two-hour sessions every weekend or two one-hour slots twice a week. If you don't have the materials, fret not; they are available for sale at the space itself.
Workshops are conducted on weekends (sometimes even spread over two weeks) on a diverse array of art forms. Diwali saw a cardboard lantern workshop for adults, while the festival of Navaratri was celebrated with decoupage and clay doll workshops.
Learn also how the famous mirror-and-mud Kutch art of Lipan is produced, dabble in tie-and-dye, and practice your calligraphy skills. The aim of these workshops is also to spread awareness of the country's rich artistic heritage – whether it's Madhubani, Warli, Gond or Patachitra – and its innumerable geographically-specific artistic traditions. Also offered are workshops on handcrafted art like the mosaic, pottery, woodcuts and ceramic art.
The price depends on the topic but includes the cost of all materials.
Pro-Tip
Perhaps the most exciting of all its offerings is Art Room's studio space on rent (either on a monthly on hourly basis). For closet artists, students of art, or even professionals who suffer a paucity of comfortable and large enough space, Art Room provides a quiet, inspiring space with easel boards and canvases of all sizes – the perfect setting for the genesis of many a creative masterpiece!
Psst! Discounts are available for students, so don't forget to ask.
Comments