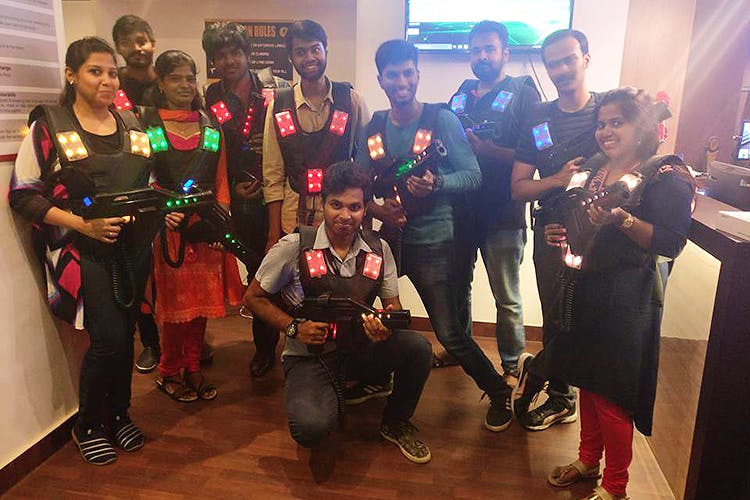 Gather Your Squad And Head To Asgard Entertainment In T-Nagar For A Game Of Laser Tag
Shortcut
Spend an hour (or a day) at Asgard Entertainment for a fun game of laser tag (you'll need at least four people and a whole lot of energy). You can host events here and there's also a place to recharge with snacks and coffee.
What Makes It Awesome
We tried our first ever game of laser tag here (shame, we know) but hey, we finally did it. Six of us, phasers (the "guns") ablazing, equipped with glistening vests set off to destroy our enemies for about 15 minutes (INR 250 per person). You may think it's a short period of time, but oh no my friend. If you're an unfit potato like me, it feels like an eternity.
There's a lot of running around, hiding behind walls, shooting at frenemies, and more. Before the mission, the Laser Referee briefed us on what to do, how to use the equipment, and more. After that, we were shoved in a dark room and had to "shoot" at the opposing team. We were on the red team, and the other team was wearing blue-lighted vests. Once we 'hit' them their vest's power goes off. There's smoke, black lights and some crazy sound effects. It's an insane rush (no matter how old or how unfit you are, verified by yours truly), and an incredible amount of fun.
There's more than just laser tag here. Doesn't matter if you're a kid or a 30-something, this space makes sure everyone has a good time. Friend's birthday? Host a party here. Are colleagues putting together an event? Here's the space for it. So if you're planning a birthday party you can try their two-hour package which includes board games, foosball, darts, PS3 and PS4 and laser tag, of course. For a group of 15-18 people, it would come up to about INR 12,000. You can also order finger food like French fries or sandwiches and drinks like mocktails and milkshakes. Weekends can get busy, so do book in advance.