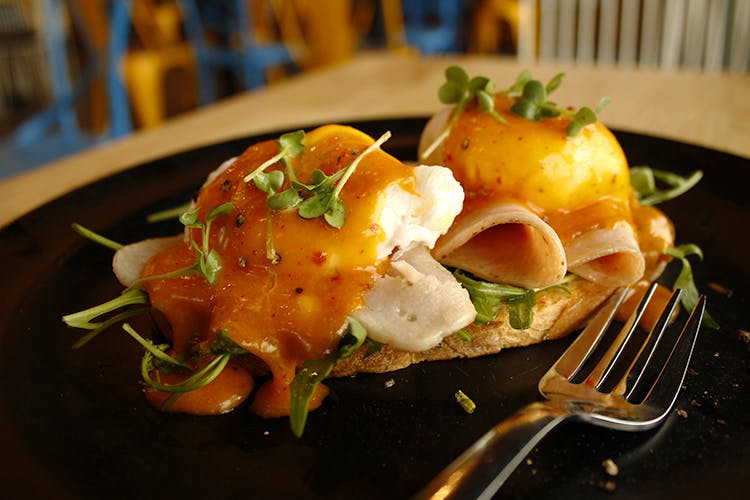 Price for two: ₹ 1200

Wi-Fi Available

Delivery Available
Kaya Toast To Thai Style Eggs Benedict: We Want Asian Brekkie All Day, Thanks To This Restaurant
Shortcut
Want to try something other than usual suspects like a south Indian or continental brekkie? If yes, then your need for a breakfast of champions should lead you to Asian canteen Nasi And Mee on KNK road.
What Makes It Awesome
Situated on the first floor of a building on the bustling KNK Road in Nungambakkam, Nasi and Mee is here to help you start your day on a happy note. We dropped in to check out their Asian Breakfast menu. The place isn't too big but has enough sunshine coming in through the big glass panels. With quirky wall art and the warm, hospitable staff, we were off to a good start.
We decided to start with the Sambal Cheese Toast. Vegetarians, this one's for you — with sambal, Cheddar and Parmesan on sourdough. This goes great with the spiced tomato relish that comes along with it. Next, we tucked into the Thai Style Eggs Benedict. Gooey, runny poached eggs on chicken ham and sourdough with a special Tom Yum Hollandaise, that has a slight kick of lemongrass. Absolutely scrumptious! The only problem was cutting the bread with a knife required some effort.
Just when I thought this would be my main recommendation to you guys, Chef Aravind served me something special — Kaya Toast. I'm glad I didn't politely refuse because this had to be the best dish of them all. This was creamy, traditional coconut spread (done in-house) with butter (the Malayali in me was screaming with joy) served with toast, It tasted sweet and coconutty, and simply divine.
The chef also recommended that I try the kaya toast in a traditional way. Oh yes! He brought two soft boiled eggs and added some soy sauce and white pepper in it. He then asked me to dip the kaya toast in this. He said it may have an unusual taste but oh my god, it absolutely worked. The sweetness of the spread blended oh-so-well with the saltiness of this soy sauce-egg mixture. If you love experimenting, you have to try this!
For drinks, you can choose the healthy Green Juice (too healthy in our opinion with apple, cucumber, celery, broccoli and ginger), ABC which was sweeter and more refreshing with apple, beetroot and carrot and a hint of ginger. We loved Kopitiam Teh Tarik, which literally means pulled tea and is popular in Singapore. It's pretty similar to our chai but this one's made with condensed milk. Sweeter and creamier and quite yum!
All in all, this place has had us wanting Asian Breakfast all day. The menu here is an absolute win and such a refreshing break from the usual breakfast options in most restaurants and cafes in the city. Come in between 8.30 am and 11 am and you're set! As for the price, it's INR 700 for two (for breakfast).
More Information
Price for two: ₹ 1200

Wi-Fi Available

Delivery Available
Comments
Price for two: ₹ 1200

Wi-Fi Available

Delivery Available