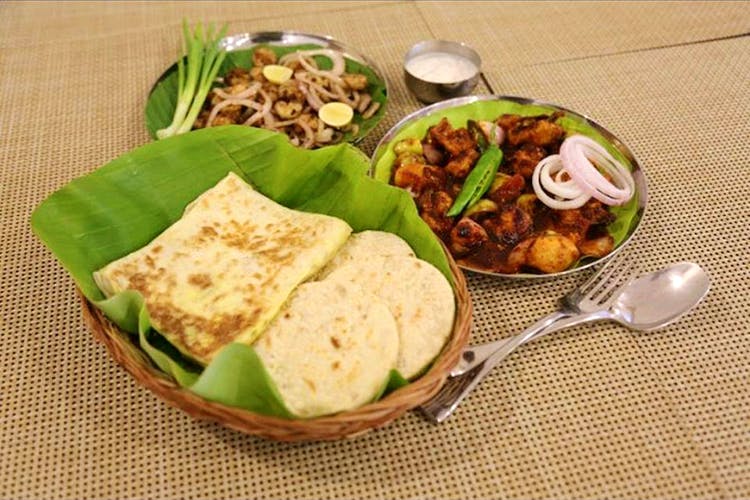 Ceylon Tea, Appams & Sambol: Your Search For Authentic Sri Lankan Food Ends Here
Shortcut
As someone who's fallen in love with the "Pearl of the Indian Ocean", I'm excited that Chennai has its very own Sri Lankan Restaurant, Foodwalk-Flavours Of Lanka, in Mogappair.
What Makes It Awesome
Having visited the beautiful island country of Sri Lanka sometime ago, I've fallen in love with the gorgeous beaches, serene hill-tops, and the friendly locals. And not to forget pots and pots of delicious Ceylon Tea that warmed my soul and the food? Absolutely scrumptious. How do I describe this? As a Malayali, Sri Lanka felt so much like home but at the same time, it was completely outlandish… just like its food.
Rice, coconut milk, jaggery, tea familiar ingredients from our own kitchens but put together in quite interesting ways. Which is why I'm excited to know that we have a restaurant in Chennai serving authentic Sri Lankan food, Hello, Foodwalk – Flavours Of Lanka!
The ambiance seems pretty simple with white marble floors, brown wooden chairs, and big windows bringing in enough sunlight. But that's not what piqued our interest in this place. Have you had maalu miris before? That's capsicum stuffed with spices, egg, and dried fish. Or sambol that's made of coconut shavings and spices- a yummy accompaniment to soft puttu, fluffy appams, and stringy idiyappam! Also on the menu is a variety of kothu like cheese kothu, puttu kothu and noodles kothu mixed with chicken mutton or prawn starting from INR 179 onwards. Coastal dishes like squid masala and fish kolambu are also on offer. Oh, and they also serve Ceylon porotta, Lankan pol roti, and egg dishes too.
Dessert consists of the famous vattalappam that is a pudding made out of coconut, egg, and jaggery. And hot beverages include Ceylon tea, of course, which we're keen to try. We're excited to check this place out for some coast to coast love! Will it match up to what we had in Sri Lanka? Let's find out; watch this space for more.
Comments