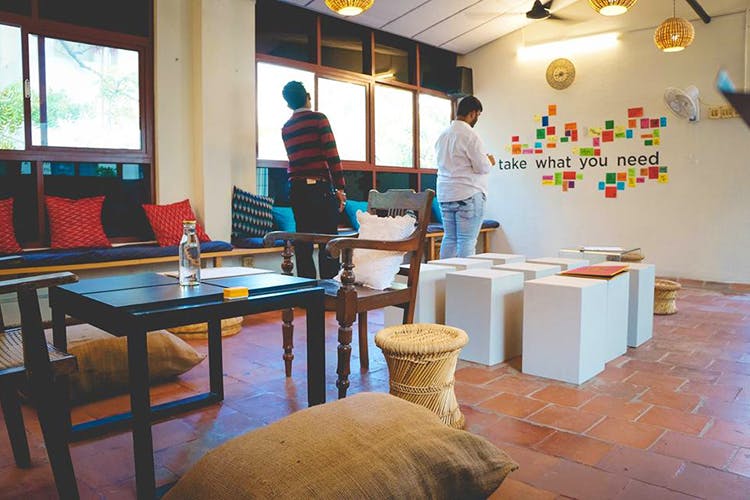 There's Unlimited Coffee And Free Wi Fi At This One-Of-A-Kind Anti Café
Shortcut
Backyard is an anti café in Adyar where you pay for your time instead of the coffee. Here you can jam, chill, work in an informal setting, meet new people and eat food by home chefs and bakers too!
What Makes It Awesome
Whether you want to practice for an upcoming play, jam with some mates, play board games or just unwind in a creative setting, Backyard ought to be your ideal go-to spot. It is set up in the quaint backyard of an independent house in Adyar, hence the name.
Started by Nithya and Akshaya, two young architecture grads and friends, the idea came to them while working on their thesis. Akshaya worked on co-ideation while Nithya worked on storytelling through spaces and since their ideas were in sync, they put them together to start something of their own. The idea behind it is to bring people together by creating a space that enhances the little joys in life that are otherwise overlooked.
At Backyard, you don't pay for the coffee or ambiance but for the time you spend within its artistic walls. It blurs the boundaries of a conventional café where everyone's on their own and nobody mingles with people from across the table, hence making the Backyard an anti Café. You can feel free to drive your passion at this anti café, be it playing your favourite instrument, creating art on the walls, meeting like-minded strangers or even just curling up with a book on a lazy afternoon.
Backyard has two levels and is spread over 900 sq ft. The top floor is generally used for workshops, events, jam sessions, and rehearsals. The ground floor, however, is an open space with many interactive walls, like the Express Wall where budding artists can display their work, be it art, poetry, or design. for a maximum duration of one month and it's absolutely free of cost! They also have a Brainstorm Wall that has butter tracing paper flowing out of the wall onto tables where people sketch or write down their thoughts and a Converse Wall that features questions where people are free to pen their answers.
They've had workshops and events on the upper level such as Narrative that was a personal storytelling event, TedXSalon Napier Bridge, a conversation and brainstorming session on what makes us citizens, Makery – a pop-up and exhibit by three artists and many more interesting events. Backyard also has a menu that is pocket-friendly and diverse, it changes every day as they encourage home bakers and chefs to showcase their culinary skills. The dishes on the menu range from burgers to biryani, desserts and juices. So if you're a budding home chef or baker, feel free to bring over some of your creations.