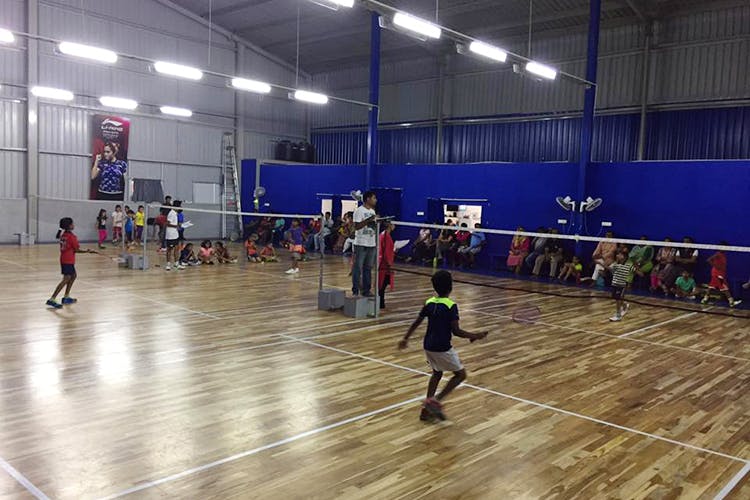 Shuttle Service: Get Back To Badminton At These 5 Facilities Across Town
Smash your way back to a healthy lifestyle by picking up a badminton racket and heading to one of these amazing badminton courts in Chennai, pronto!
Rush Madras
The most centrally located court on this list, Rush Madras is a badminton court that is open 24/7! That's right, if you and your night owl mates want to get back to baddy, this court could be your solution. Having said that, because of their extended timings, central location and plenty of amenities, they are the priciest court on the list at INR 1,500 per hour per group. Speaking of amenities, they've got central air conditioning, showers, toilets, mineral water dispensers, WiFi and plenty of parking space. They also have other sports you can play like futsal and basketball too.
Read more here.
Acers Badminton Academy
This entry to the list is a little different because Acers Badminton Academy has three separate locations in the city and is coming up with a massive fourth. They have five International standard courts across the city, with the most central being the court in Nungambakkam, just next to VBJ Jewellers on Mount Road. Their rates are a third of the price of Rush, with an hour of play setting your group back INR 500. If you're clear about sticking on, you can sign up for the monthly package at INR 1,500 (with an INR 500 registration fee).
They have badminton coaching facilities as well in case you're looking for help. Before you decide to pop over, call them to check if slots are free (preferably two days in advance as it can get busy).
Pluma Badminton Court
Located in Virugambakkam, this badminton court is like Acers Badminton Academy. There are plenty of coaches and trainers who train kids for badminton professionally during the week. So there's bound to be good competition here if you're hoping to play new people. Rates are quite similar as well, with an hour of play being INR 500/group of six. They have three courts with synthetic mats made to Badminton World Federation standards, with lines for singles and doubles play. They're open at 5am and close at 9.30pm daily.
Herkley Badminton Arena
This gem of a badminton court is just next to ECR in Kottivakam and has three shock absorbent wooden floored BWF standard courts. Their rates are the same as the others with an hour costing INR 500 per group. However, unlike the other courts, these guys have house rackets, shuttles, and shoes as well, in case you've forgotten to bring yours. The space resembles a big warehouse and while not too spacious has adequate room to move around between courts and watch matches as well. They have badminton coaching for kids and adults through the week. If you're hoping to play with your own squad, we recommend you pick weekend evenings as mornings can get quite busy and that's taking in to account their 4:30am start! In the evenings they're open till 9:30pm.
Smasher Sports Academy
Located in Kandanchavadi OMR, Smasher Sports Academy, like Herkley has three wooden floored badminton courts along with LED lighting. Like the others, this badminton court has coaching classes as well. The idea behind the sports academy is to spread health and fitness through sport, to that end, the founders also have Table Tennis, Martial Arts Classes and a Fitness Studio that you can make use of. Rates for the badminton court is on a membership basis with rates starting at INR 1200 for a month per person. We like the facility for the bright lights and dark coloured walls, as it's super easy to see the shuttle. They've also got a sports shop too, in case you're looking to purchase equipment.
Comments