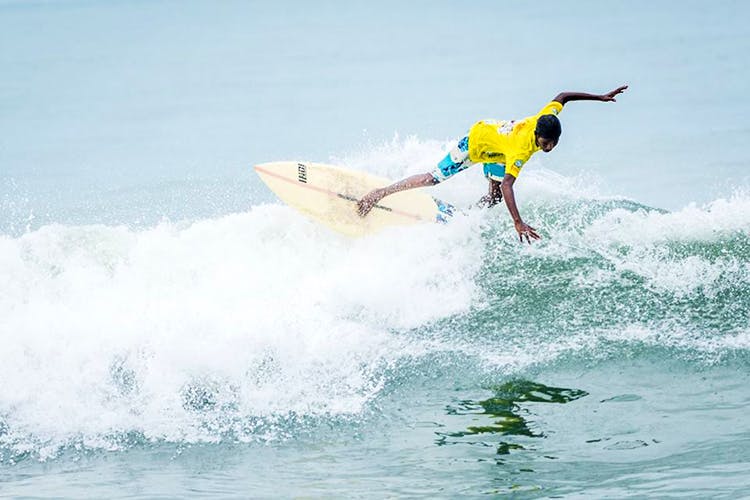 Chennaite You Say? Have You Tried All These Beach Activities?
We, Chennaites love our beaches. Well, that is the one thing that sets us apart from the other Southern counterparts. We pride in the fact that Chennai has one of the longest coasts. But other than the usual pattani-sundal, horse rides and spiral potatoes, there's a lot more that our beaches have to offer. We have listed a few activities that take place throughout the year? Have you tried them all? If not, what are you waiting for?
Surf Ready?
Get your surf board out, coz it's summer time! While surfing takes centre stage at Covelong beach, you also have other options like yoga, slacklining and stand up paddleboarding. Combined with great food, this is the perfect way to spend the weekend with your gang.

Camp By The Beach
There are several travel groups popping up in the city that offer unusual experiences in a budget. One such group is Tent N Trek that offers a beach camp experience at Mugaiyur, which is only 10 kilometres from Mahabalipuram. Besides camping by the beach, you also get to star gaze, enjoy a bonfire and wake up to a beautiful sunrise. The tents, food and other amenities will be provided. How does that sound for a quick romantic getaway?

Say Hello To The Turtles
Chennai's coast has become a breeding ground for several Olive Ridley turtles. During the season, which is generally February and March, one can spot several student volunteers and professionals participate in the turtle walk. The walk usually begins at 1 am and goes on till 4 am. The Chennai coastline is one of the best for these walks, so don't miss it the next season.

The Culture Box
Chennai is also having several cultural activities that are being planned by the beach. One of them being the Urur Olcott Kuppam Vizha which generally takes place in front of the Ellaiamman Temple which is located in the Urur Olcott Kuppam. Every year the vizha sees newer audiences and the idea is to take music to as many people as possible.

One For The Sporty You
Are you the kind who likes anything sporty? Then head to either Marina or Besant Nagar, where you can indulge in a game of Frisbee, volleyball, throwball or just cricket. Our beaches are the most fun places for these games. In fact, getting a spot to play become a task during the weekends, so get there early. Gather your squad and head there!

Cruise The Waters
Always wanted to know how it feels like to be surrounded just by water? Then opt for a catamaran ride that takes you almost two kilometres inside the sea. Let the sea water splash on your face while you enjoy this ride. The ride lasts for about half an hour and during that time you could help the fishermen catch their daily fish. Early mornings are the best time to go for this ride as you can only hear the sound of the waves.

Kings Of The Sand
Like that rush when you ride your machine? Get yourself an all-terrain vehicle and rule the sands at Off Road Sports located on East Coast Road. Their track is one of the best and you can head there to grab one of these monsters.
Clean'Em Up
The downside of having pristine beaches is that they also get dirty very soon. Several organisations like the Chennai Trekking Club organise beach cleanups every week. So sign up for one of those and help keep the beach clean and neat.

Comments