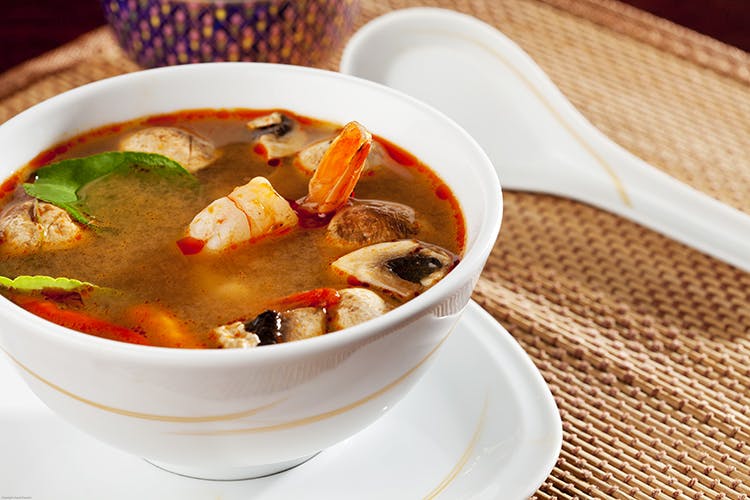 Here's Why Benjarong Is Chennai's Most Iconic Thai Restaurant
Shortcut
A favourite of celebs like legendary maestro AR Rahman, this popular Thai restaurant (that's been around for nearly two decades!) in TTK Road is a must-visit for authentic Thai food at its best.
What Makes It Awesome
As you enter Benjarong's little door situated beside the bustling TTK road, don't expect grandeur. Instead we like how they've kept their décor simple with wooden chairs and Thai sculptures and paintings around. Quite a few tables offer enough privacy, so if you're here with bae, there's enough cosy corners to choose from.
We started off with this amazing starter (don't call it paan!) served on a Spinach leaf. You've got to mix peanuts, chilli, lime, dried shrimp, onions and a sweet Thai sauce over it and place it in your mouth and OMG the explosion of flavours is just incredible. Honestly, I wasn't expecting it to taste so good! Clearly, this was a sneak peek of what was in store. Chef Ram hosted us and was ready to satisfy our appetites to the brim, and we weren't complaining! The Siam Sparkle is a refreshing drink made with ginger cardamom and Thai spices if you want to start off with something nice and cold but if you like it hot, have the classic sour and spicy Tom Yum soup. We had ours with prawn and it was packed with flavour.
One of the most popular starters here is the Gai Hor Baitaey. Difficult to pronounce? Just ask for the succulent chunks of chicken in pandanus leaves. A signature dish here and for good reason. Those who like seafood can opt for the Thai Grilled Fish, so flakey and soft it just falls off easily from the satay stick. Vegetarians try the classic Raw Papaya Salad (you can ask them for a plate without dried shrimps)– simply delicious and there's also the baby corn starter tossed in chilli paste and served on rice tartlets – a star of a meal!
For mains, we had fragrant jasmine rice and Thai green chicken curry… again, just scrumptious. And the Pahd Thai was one of the best I've ever had! The best part was that it wasn't dry and was packed with flavour and juicy bits of prawn. We had a complimentary cup of Thai lemongrass tea that was oh-so-refreshing and is supposedly very good for digestion (which we clearly needed) but hey, we still had room for dessert. We tucked into Tub Tim Grob – a coconutty concoction with water chestnut rubies – such a fun and delicious dessert. We liked! All in all, we had one of the best meals ever at this Chennai restaurant – every dish was a hit and we can't wait to come back again. And since it's the mango season now, they might even have a special mango-based menu (sweet and savoury, guys!) and we simply cannot wait to try it.

Ask Shruti a question