The information in this post might be outdated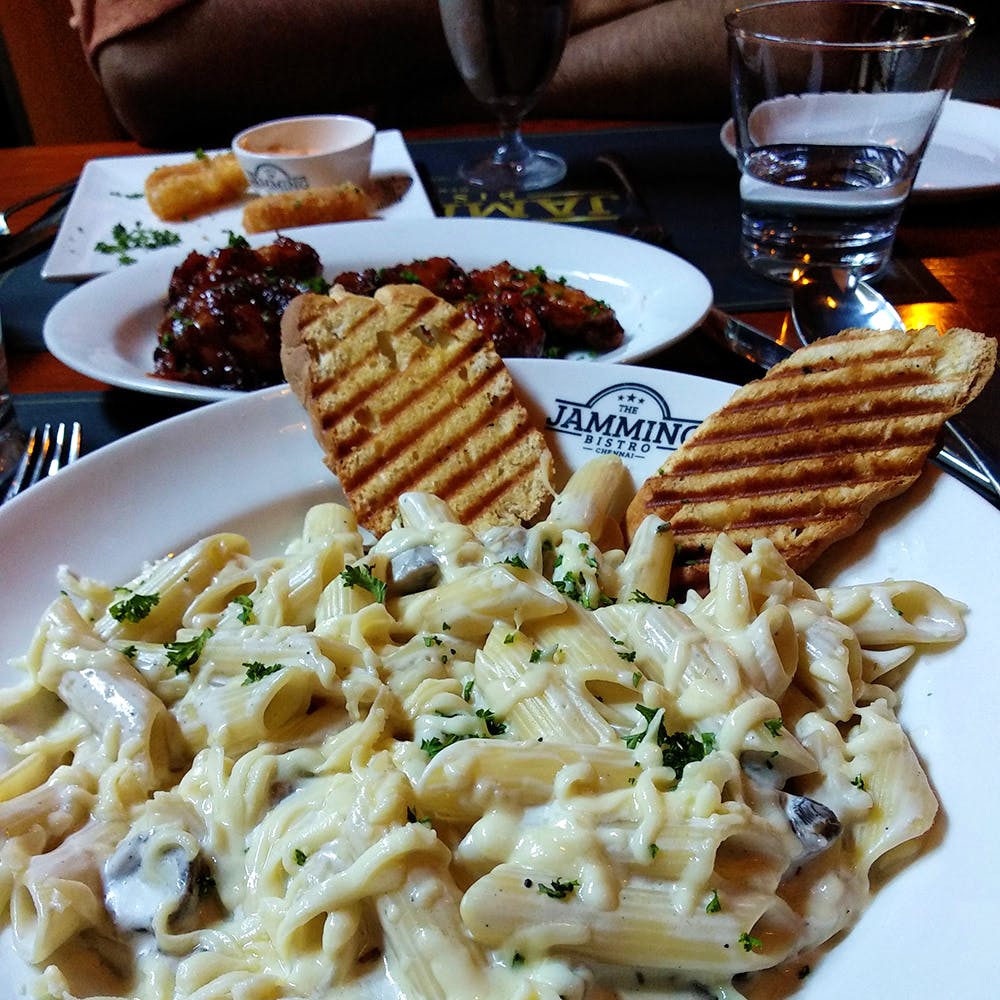 Besant Nagar Has A New Cafe And We Are Super Excited!
What Makes It Awesome
Adding to the list of cafes and restaurants in Besant Nagar is The Jamming Bistro. Step inside the cafe and you will get impressed by the old world charm of the  cafe. Think vintage telephone, record player, retro high backed single seater sofa, and vintage wooden dining table, that transports you to a cafe in Europe.  You also get to see a glimpse of this in their food. They serve authentic filter coffee in a copper tumbler and davara set.   We started with mozzarella sticks that were every bit cheesy and came with a mayonnaise dip. The chicken wings were not disappointing and were juicy and spicy. They also have other starter options like cheese fries, potato wedges, mozzarella waffles, etc. Choose your pasta carefully as they come in huge quantities. We took the safe route and tried alfredo and thankfully were not disappointed. They also have a few steak options like Pesto paneer Steak, Veg Cutlet Steak, and Beef Steak.  Are you a burger fan? They have quite a few options like Fondue Chicken Burger, Beef Steak, Mushroom And Herbs, and the classic Grilled BBQ Chicken. Save yourself the trouble of choosing from a long list of rotis and sides. Here, they have simple combos of roti that comes with gravy and rice.  Choose any Herculean Shake and we bet it is going to get difficult finishing it all by yourself. We suggest you try the Tender Coconut Souffle for dessert as it melted in our mouths and was the perfect end to the meal.
What Could Be Better
The restaurant is a tad expensive. The staff seemed to be spaced out so speak to the manager if you need anything. They don't have too many tables for two. Most of their seating is for larger groups so don't head to this place if you're on a date.
Comments