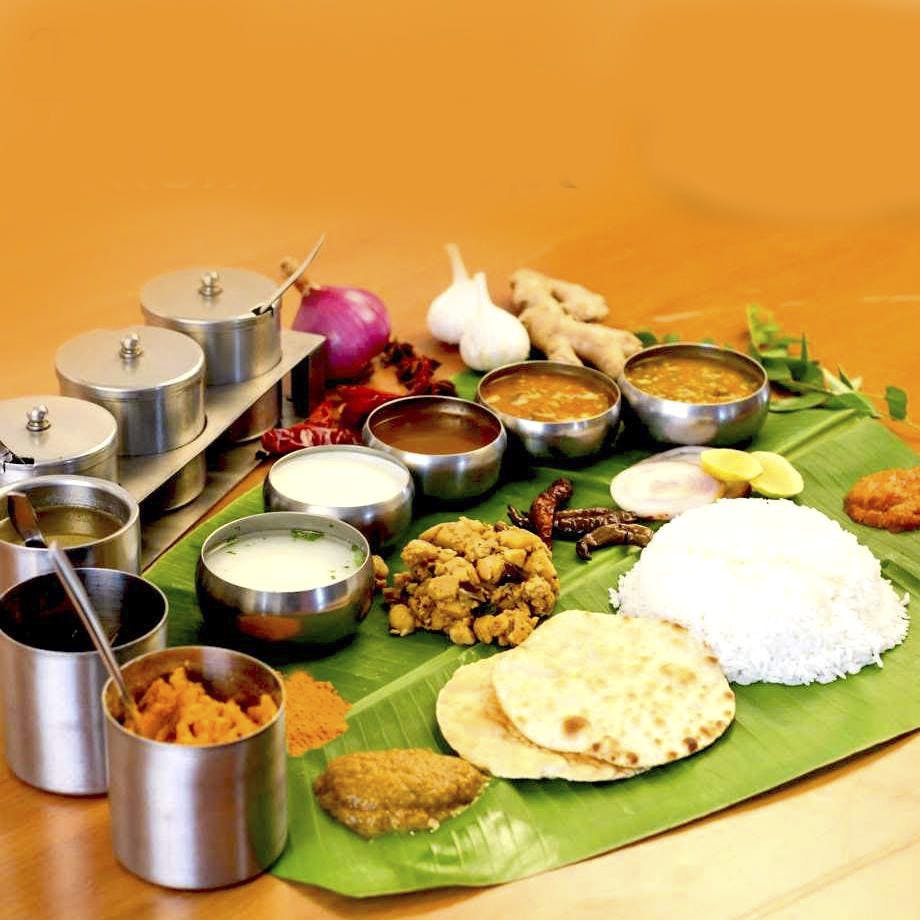 Podi, Pappu, Gongura & Fish Fry: Where To Get Your Fix Of Best Andhra Meals In Chennai
For all you Andhra peeps (and those who love their Andhra meals fix), Chennai has more than just one spot to dig in to for the most filling and delicious meals ever. From fish fry to Gongura Chicken and several kinds of podi (gunpowder), these Andhra thali places are as authentic as it can get, and most meals here start at just INR 200.
New Andhra Meals
Located right at the beginning of the busiest street in T Nagar, New Andhra Meals in Pondy Bazaar is every Andhra food lover's paradise. Their non-veg meals begin with the ultimate spicy chicken and fish gravy, accompanied by the standard sambar, pappu, koottu, and rasam. Here is what we recommend you order along with your bottomless thalis. Gongura Chicken and Prawn Fry are the winners at this Andhra food joint. Priced at around INR 250, their chicken is layered with green gongura gravy and the meat is juicy and melts in your mouth.
Price: INR 180 for veg or non-veg meals
National Lodge
This one is for the vegetarians who love their meals to be simple but the real deal. Tucked in the busiest lanes of Sowcarpet, National Lodge is known for its unlimited Parcel Meals, that easily serve more than just one. Their meals consist of dal, gongura chutney, tomato pappu, sambar, rasam and varied curries. The best and most recommendable part of this thali is their More Kozhambu (Majiga Pulusu) and the Paruppu Podi. National Lodge is one of the few places which serves thick More Kozhambu on most days and their podi with extra ghee is to die for. They serve meals starting at just INR 90 but the mess is really small and can get crowded on most afternoons. National is best known for its Parcel Meals available at INR 200.
Price: INR 90 upwards
Amaravathi
This is one of those restaurants that serve super spicy Andhra food. We have literally teared up at how spicy the biryani from their a la carte menu can get. Now the same Amaravathi serves Special Meals traditionally on the banana leaf. This Andhra meal has the usual rasam, sambar, keerai, and poriyal. The highlight of the meals is the Gongura Pachadi and kootu. Their kootu is loaded with vegetables and the pachadi is the closest you can get to the flavour of Andhra. It is spicy and has the right amount of red chillies. Don't forget to have the Butter Chillies along with your meals!
Price: INR 250
Mana Andhra
Located right below the Belgium Embassy, Mana Andhra, is a treat for the eyes and taste buds. They offer three kinds of meals — Mana Thali, Nindhu Bhojanam, and Raju Gari Bhojanam. While their Mana Thali has the routine pachadis and veg curries, their Nindhu Bhojanam is worth a mention.
Start off with Majjige (buttermilk), and then you will be served the Nindhu Bhojanam with Kodi Pulao (Andhra chicken pulao). Yes, the East Godavari district dish is a part of their large thali and has tasty chunks of chicken cooked with Basmati rice. The Bhojanam goes on to serve mouth-watering fish, mutton and chicken curry. Don't forget to satisfy your sweet tooth craving with their milk payasam. Though this meal is priced at INR 595, higher than other thalis, the variety of dishes is the perfect Andhra meal to dig into.
Price: INR 295 upwards
Dakshina Puram
Imagine five pickles to go along with your unlimited meals? Dakshina Puram's meals offer a mixture of Andhra and Tamil Nadu delicacies. While their More Kozhambu and Kara Kuzhmabu stand out, the Aavakai Rice (Pickle Rice) is a must try. It is both tangy and spicy and definitely breaks the usual meals routine. Apart from the six kinds of pickles, their Gongura Pachidi is also what pulls the crowd to this aesthetically perfect South Indian restaurant.
Price: INR 155
Comments