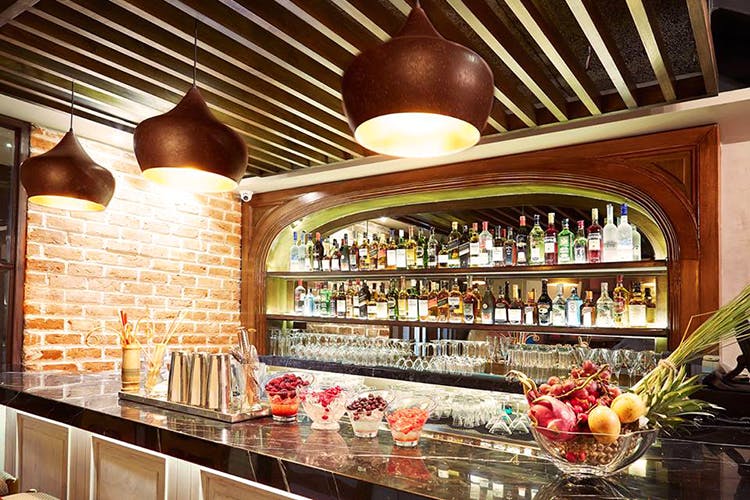 In Need Of That High Life? Get Set For Some Boozy Nights At These Bars And Pubs In Chennai
Chennai, once a town that used to retire to bed early, is now finding its groove as a night owl. From Santhome to T Nagar, old and new pubs are wooing party-heads with heady bar offerings and delicious food to go with it. There is no way better to flush out the week's tensions than with some icy drinks, good food and some chill time with your squad. Here are the best bars and pubs in Chennai you have to hit up when you are painting the town red.
Bay 146
Part of Savera Hotel in Mylapore, Bay 146 has served generations of party-goers in the city. The place is usually buzzing and is perfect for when you want to unwind with your friends. The bar menu lists all the all-time favourites, from LIITs to pints of beer. The food is definitely something to look forward to. Mushroom & Roasted Garlic Crostinis, Fried Squid Rings, Lamb Sliders, and the spring rolls are high on the bestsellers list. They have a special Sunday brunch menu as well.
Price For Two - INR 1300 and INR 260 for a pint of beer
Bike & Barrel
Styled like an old school pub, this bike-themed watering hole is a local favourite. Bike & Barrel in T.Nagar is always buzzing with drink lovers and is the perfect place to let yourself go with drinks and music. Vroom by for their potent cocktails that include Cosmopolitans, Margaritas, and Mai Tais. Pair these with Butter Fly Prawn (crumb fried prawns), Honey Chilly Lotus Roots, Malai Broccoli, or Crab Croquettes.
Price For Two - INR 2500 and INR 325 for a pint of beer
The Velveteen Rabbit
No diligent drink lover in Chennai worth his/her tequila salt dares to give The Velveteen Rabbit in RA Puram the cold shoulder. They have an excellent bar stock to choose from and their selection of cocktails (available in small and tall versions) is among the best in the city. The Skin Horse (made with bourbon, martini rosso, and black raisin syrup) and Fire Truck (Campari, ginger soda, dry white wine, and pressed raspberries) are a must-try. With these, chomp down the Zucchini Fries, Mushroom Arancini, Beer Battered Seafood, and their Bruschetta Platter. To know more about the best drinking deals in pubs, click here.
Price For Two - INR 2000 and INR 200 for a pint of beer
10 Downing Street
If you consider yourself a true Chennaite, then, there's a very good chance you've spent at least one booze-filled night at this iconic bar. Popular with the young crowd (especially on the days they roll out offers), 10 Downing Street in T.Nagar comes with a fully stocked bar including all the classic cocktails like Long Island Iced Tea or a Margarita. With your tipple, you can nibble on Butter Garlic Prawns, Chicken Nachos, and 10 D Special Chicken Kababs. They have karaoke nights as well along with a dance floor. To know more about budget bars in the city, click here.
Price For Two - INR 1000 and INR 150 for a pint of beer
Big Bang Theory
The popular sitcom by the same name might be going downhill for the fans, but the Big Bang Theory bar in Kodambakkam remains one of the high points of the city's F&B scene. Their Adult Oreo Shake comes with a good hit of vodka mixed with oreo cookies, chocolate syrup, and ice cream. The Hot Maria (includes tequila, mint leaves, and red chillies) is also a hot favourite. When the tummy begins to growl, choose the No Rocket Science (banana chilli fritters), the Buffalo Soldier (chicken tenders done in Jamaican Jerk Chicken spices), and the Pork You (caramelised pork ribs) to provide solace. They often have ladies night on Wednesdays where they give the first shooter free. Searching for the best karaoke nights in the city? Click here.
Price For two INR 1500 and INR 250 for a pint of beer
The Vault - Bar Stock Exchange
Want to add number crunching to your night out on the town? Don't look further than The Vault in T.Nagar. They follow the bar exchange format, that's all the craze in India right now. Once you download their app, you can place your bids on your favourite drink and it will be brought to your table. From the food menu, the Kung Pao Masala Potato, Mongolian Beef, The Vault Burger (available in vegetarian, chicken, and beef versions), and the Smoky Pan Grilled Pork Chops are worth sinking your teeth into. If you are looking for a spin around a lively dance floor, this place is a must on a Saturday night. Wait for the prices to hit the low to win your goal.
Price For Two - INR 1500 and INR 111 for a pint of beer
Sera
At one point, Zara's in Gopalapuram was by far Chennai's most happening watering hole. And when it shut down, many were disappointed. But Sera, that opened up in its place has managed to capture the old tapas bar, and that makes us happy! Head here for a chilled out evening that you can spend sipping on their Elixir (made with white wine, fresh strawberry puree, and creme de fraise) or their Love at First Sight (orange vodka mixed with Cointreau and chocolate syrup). Along with this, you can slurp up their tapas, including, the Fried Bocconcini with Basil Aioli, Lamb Meatballs with mint, and the Serrano Ham & Chorizo Platter.
Price For Two - INR 1600 and INR 250 for a pint of beer
Radio Room
One of the hippest spots in the city, Radio Room in Santhome is a riot on Saturday nights. The edgy decor and the top-notch service add to the place's charm. In between wearing out your soles on the dance floor, you can try the bar's Radio Room signatures. The boozy list includes B&B (bacon washed bourbon!), and Smooth Criminal (rum infused with lemongrass, lime, ginger honey, ginger ale and a hint of chilli). When you want more than just liquid sustenance, turn to the Mozzarella Stuffed Molaga Bajji, the Bacon and Cheese Fondue, and Vodka Egg Fritters to bail you out.
Price For Two - INR 2000 and INR 200 for a pint of beer
Missed out on your favourite? Recommend them in the comments below.
Comments