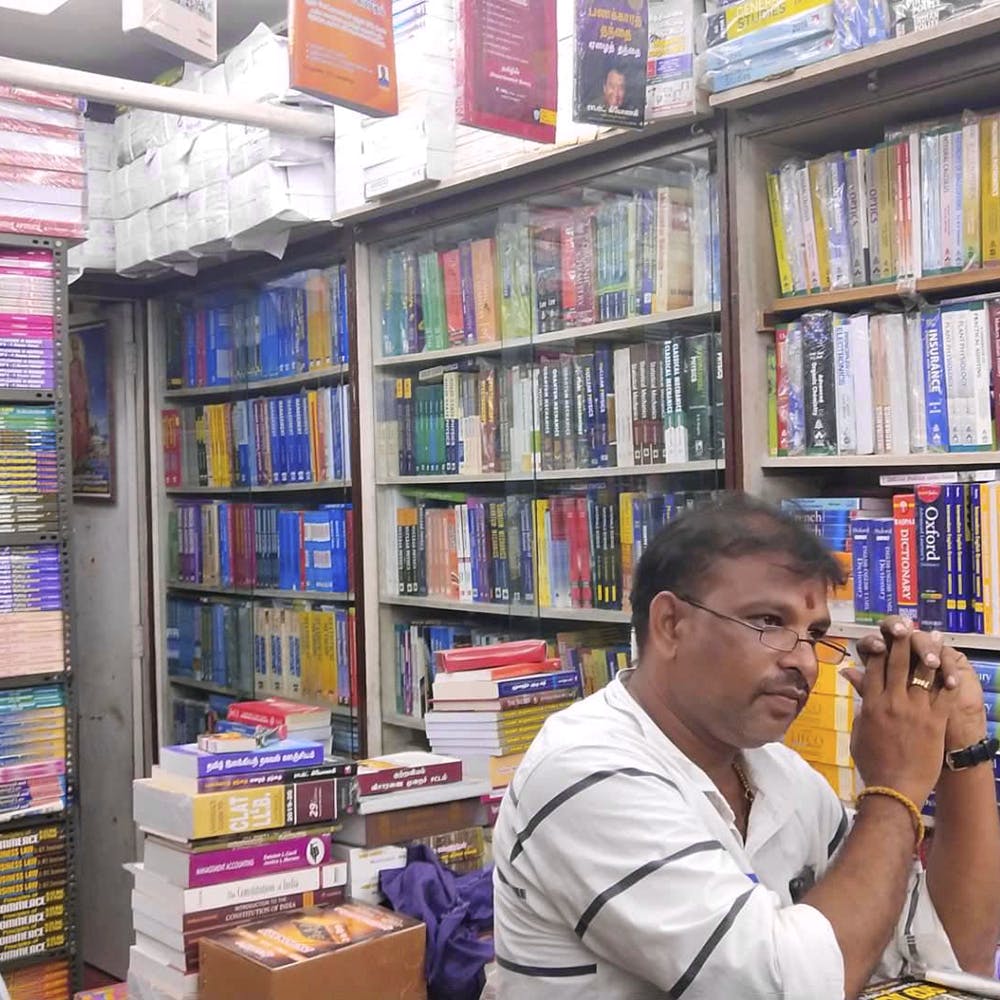 Calling All Bookworms To These Book Stores On Pycrofts Road In Triplicane
OMG! Do we have a treasure box for you! Take a walk down Pycrofts road in Triplicane and find all your favorite books and authors at dirt cheap rates starting at INR 35.
Book Palace
Stacked to the ceiling with books on everything ranging from mystery novels to college publications, this book store is a mecca for all you literary lovers. Primarily the best place to shop for second hand textbooks, the Book Palace stocks of all publications from Penguin to S.Chand. This shop also offers stationary as well as notebooks and other supplies.
Vijay Book Store
Another one for students looking to buy cheap second hand textbooks in mint condition, Vijay Book Store offers textbooks on all subjects from coding to biology. The owner, as a personal preference, collects textbooks on poetry as a hobby and you will find poets from the 17th century until the 20th century.
National Book House
The National Book House on Pycrofts road offers a range of literary works on engineering, medicine, computer programming and General Knowledge. Their collection of encyclopedias and atlas' is quite big. Do not forget to check out their collection of maps while you are there too. They have books on maps from the mid-century that caught our eye.
Book Marks
Looking up an author? Be sure to find them at Bookmarks on Pycrofts road. Apart from books on engineering, medicine and programming, this shop also stocks books on literature, arts and science, B.Ed syllabus, IAS and general knowledge. They also keep a collection of competitive exam papers as well as study guides for all you 10th and 12th graders.
Triplicane Book Store
With a huge collection of books in regional languages, Triplicane Book House is a haven for readers from all walks of life. From titles like Shantaram by Gregory David Roberts to 'Amar Shonar Bangla' by Rabindranath Tagore, there is an entire section dedicated to regional titles. Their Tamil authors collection is on point with plenty of books authored by Kalki Krishnamurthy and M.V Venkatram.
New Students Book House
This bookstore houses the largest collection of books in the area. With titles like 'Animal Farm' for children at INR 75 to 'Inner Engineering: A Yogis Guide to joy' by Sadhguru at INR 94. They further store literary books and language guides too. They have a huge collection of titles on english literature and grammar.
Ayyapa Book Center
This tiny hole in the wall is a temple for Old magazines. They keep tamil and english magazines dating from the 1970's and include titles like 'Stardust' in english and 'Ananda Vikatan' in tamil. They also store childrens' magazines too which includes Tinkle comics and Amar Chitra Katha comics. They also store Tamil comics like Muthu Comics and Rani Comics.
Let us know in the comments if we have missed something!
Comments