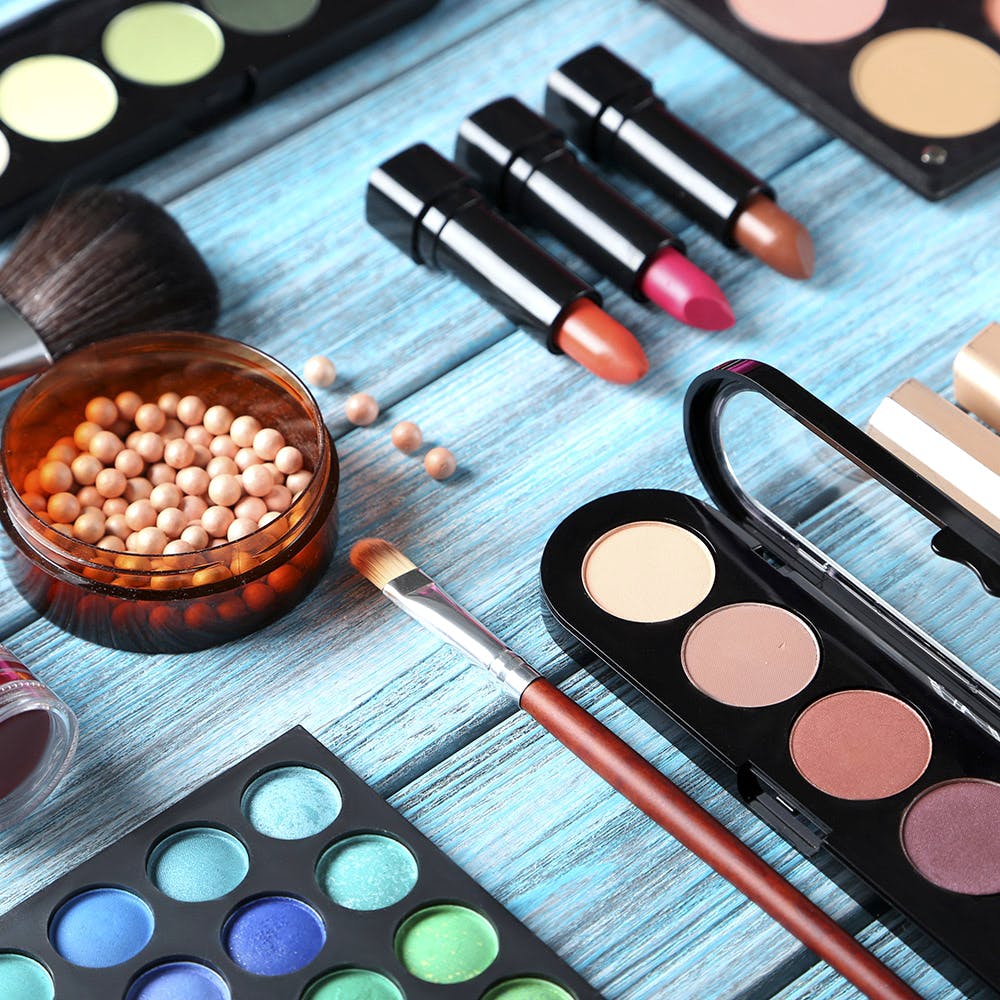 Slay Those Looks And Save Big With This List Of Budget Makeup Stores In Chennai
If you know makeup, then you know that it is magic. Making you shine like a diamond with highlighters, giving you the natural blush or winging that cat-eye, is there anything makeup can't do? Believe it or not, makeup is an art. But damn, those totally burn a hole in your wallet! But, why go for premium brands when you have cheaper yet good quality alternatives for those looks? Check out our makeup haul guide for the best budget makeup stores in the city.
Monica Beauty Centre
All under one roof, Monica Beauty Centre in Sowcarpet brings known brands under one place to give you a variety of options to choose from. You can find internationally known brands like Lakme, Kryolan, Color essence, Colorbar, Faces and Revlon. Along with it they have Lotus cosmetics, Make Up Studio cosmetics, Blue Heaven cosmetics and Olivia. We kid you not, we tried Coloressence mascara and the flick is the swiftest of the lot at INR 200 onwards. They have Blue Haven's eye-liners and beauty blenders starting at INR 70. Tip And Toes has some shiny colours for your nails as well!
Oriflame Natural Cosmetics
In love with that au naturale look? Oriflame Natural Cosmetics store in Adyar and Kodambakkam has the beauty essentials for that subtle natural look. They have mascaras, lipsticks, eyeliners, blushes and foundation to give that glow to your personality. Go for their nude and pale pink eye shadows starting at INR 250 or their mousse concealer starting at INR 300. They have matte lipsticks which come in both solids and liquids - vintage brown or pretty pink or sensual nude, you pick your look. They have pearls which can be popped for highlighting as well!
Pixies Beauty Shop
Pixies Beauty Store In Thorraipakam and Anna Nagar is your one-stop for good vibes and pretty face! They have a range of multi-branded cosmetic range. From brands like Kryolan, Maybelline, Miss Claire to a herbal range of makeup products, they have got something for every skin colour and type. They have something for your face, lips, eyes, brows, lashes along with illuminators, brushes, blenders, contour palettes and value boxes. You want to go crazy with blues and yellows? Throw in some colour eye shadow and lipstick! Want to be subtle for workspace? Go for a nude lipstick and some mascara or kajal. The prices range from INR 80 to INR 700.
Health And Glow
Your ultimate saviour for any occasion, you will find a Health and Glow in every corner of the city. You can get Matte lip crayons from Faces and add in some depth to your eyes with Maybelline's colossal kajal. If you are feeling a little bold, Loreal has got some blue and olive green shades of lipsticks as well. Highlighters, contour sticks, types of mascara, compacts, nail paints and primers along with beauty blenders and puffs, your ultimate makeup haul lies here. Prices start at INR 120.
PAC Cosmetics
Serving you your matte dream is PAC Cosmetics store in Vadapalani. Never heard of them? Well, high time you do because they have some red carpet-worthy colours and materials. From gel eyeliners of vibrant blues and reds to matte lipsticks of fluorescent pinks, oranges and reds, they have a drool-worthy range starting at INR 300. They have hippie matte coloured eyeshadows as well in green, brown and yellows. Bright as a daisy! But if you want some muted tones, they have metallic shades and translucent powdered concealers as well.
Liara Unisex Organic Cosmetics
Looking for some organic options? Liara Unisex Organic Cosmetics in Nungambakkam serve you with their ayurvedic and vegan range of makeup products. They have face whitening serums of papaya and strawberry which smell delicious! Along with that, they have organic kajal and gel-based eyeliner. They have lipstick shades in mostly pinks and red with prices starting at INR 450. They have a chocolate nude shade of lipstick as well with a shiny finish. You can also go for their rose base make up setter for a polished finish.
Allure Suds
Allure Suds in Pallikaranai makes handmade soaps and skincare products out of garden ingredients. They have a collection selling handmade lipsticks as well. These lipsticks are naturally coloured with fruit and vegetable colouring. They have shades of brown with Mocha Latte and chocolate, pinks with Rosy Posy and reds with Vineyard! Priced at INR 250, these are naturally scented with cookie and chocolate fragrances as well.
Miniso
With stores in T.Nagar, Anna Nagar and Vadapalani, Miniso is rocking its way through adorable Japanese designed stationaries and aesthetics. But did you know that they have a makeup and skincare range as well? With pastel packaging, they have green tea and honey-infused CC cream and hydrating BB cream. Along with it, they have everyday wear shades of subtle reds and pinks that we love. They are smooth and super soft on your lips and start at a price of INR 200. They also have nude eyeshadow palletes! But the best yet are their make up brushes and beauty blenders in muted hues.
Comments