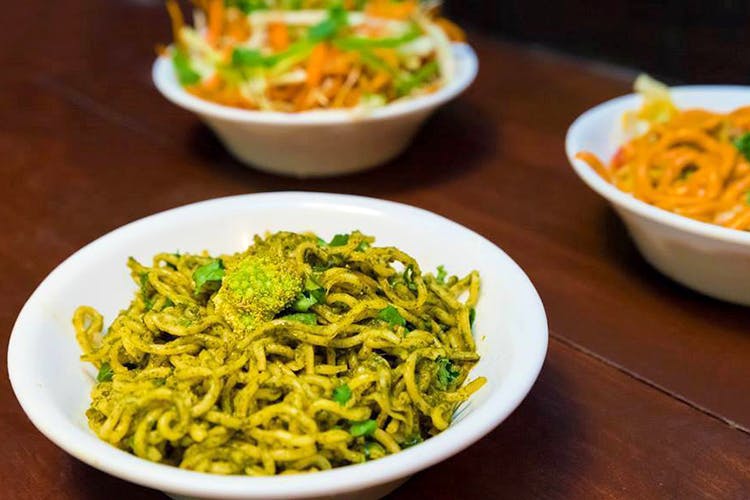 Maggi Masala, Momos & Moru, Here Are The Best Budget Restaurants In Chennai
We do love whiling our time away and gorging on food at our cafes here in Chennai, but when living on a budget, affordable food is the goal. Without compromising taste and good serving portions, here's a list of the best budget restaurants in Chennai you can swear by if you're living on a budget. Also, have you eaten at the best restaurants in Chennai yet?
Fusili Reasons
Pocket-friendly Italian is the mantra here at Fusili Reasons. You can eat (and drink) everything from beetroot mayo garlic bread and pink sauce pasta to lemon iced tea starting INR 40.

Paradise Biryani
Biryani is bae, and if you can't do without biryani once a week, Paradise has all kinds of biryanis starting INR 130. And the portions are pretty great, so two people can share.

Maggevala
More than 65 types of Maggi starting INR 116, is this even real? Choose from Mexican Fries Maggi, Cheese Balls Maggi, and Mgg Biryani, OK we're already hungry.

Agraharam
Agraharam is the best budget restaurant in Chennai for good South-Indian food. You can get a combo of Ghee Podi Rice, Appalam (papad), and potato fry for just INR 80. They've also got yum vadai and starters for less. Less truly is more!

Royal Sandwich
Over 70 kinds of sandwiches with and without Lays, chicken, mayo, and Nutella, we can't get over how delish and budget Royal Sandwich is. Sandwiches start from INR 40 and the maximum it goes up to is INR 80.

Bombay Lassi
Bombay Lassi has hot piping snacks starting just INR 14. Kachori, Carrot Halwa, and oh, Lassi, all these are under INR 20. The Jalebi is a must-have while here, it will melt in your mouth and get you to food coma faster than anything else.

Amelie's
Soups, salads, and gooey ice creams, eat everything all at once starting INR 130 at Amelie's. The decor is incredible, service impeccable, and now, it's totally within budget!

Andhra Mess
Yum Andhra food at just INR 60, Andhra Mess is definitely a place to go for lunch frequently without denting your bank account. Gongura chutney, rasam, and chicken, get the whole thaali deal here.

Onesta
If your go-to food is pizza, Onesta offers unlimited pizza deals starting INR 299. These wood-fired pizzas will surely fill you up without emptying your wallet. Love pizza? Check out these best pizza places in Chennai.

Gujurati Mandal
Aam ras, dhokla, papad, get your Gujju meals sorted at Gujurati Mandal. Their thalis are extensive and priced from INR 100, they are sure to fill you up. Don't forget to try their sabudana vada while there.

Karthik Tiffin Center
For the Dosa lover, hit up Karthik Tiffin Center for good old Podi Dosa (INR 30) that is sure to lift up your spirits. Whether you order meals or stand alones, you won't spend more than INR 100 here.

Rotiwala
Get budget North-Indian food at Rotiwala, where you can munch on hot parathas, rotis, and side dishes starting INR 30. If you want to make a quick stop for lunch and be on your way without spending many hundreds, this is the right place for you.
Did we miss something? Tell us in the comments! Or click here to recommend.
Comments