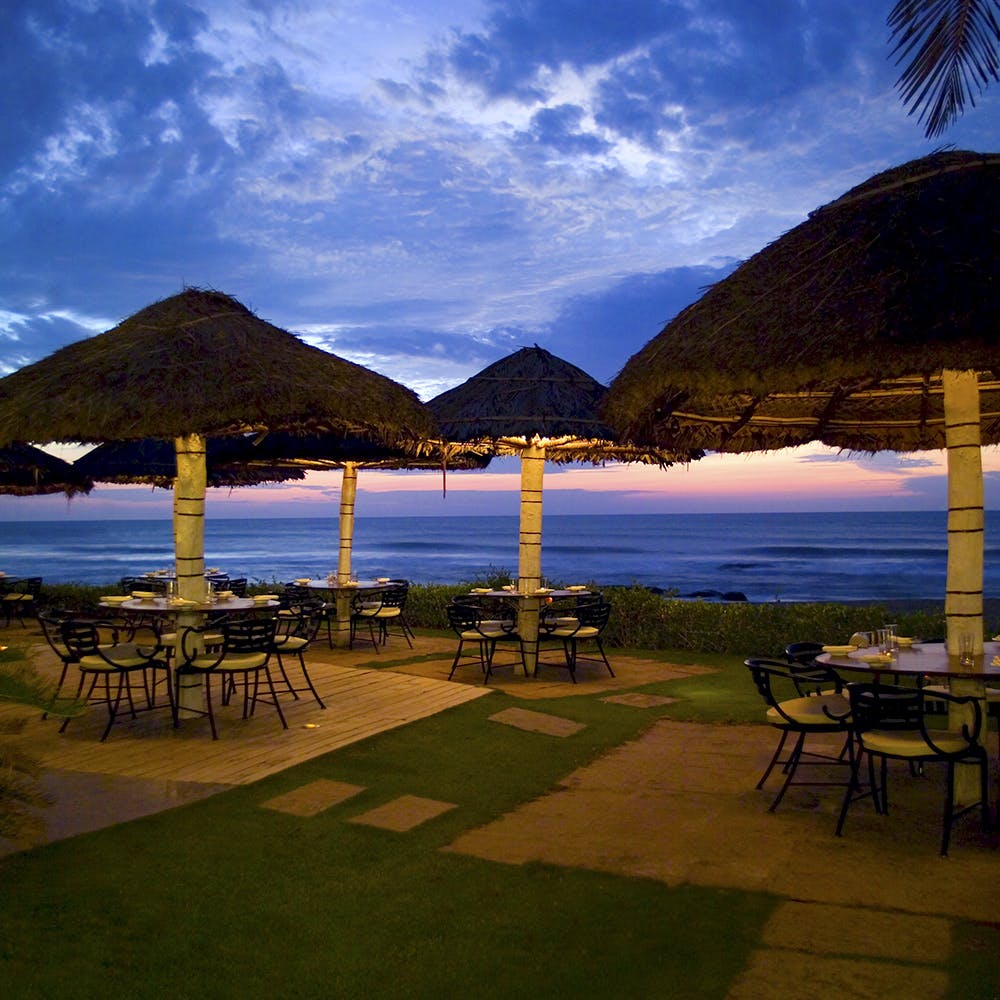 Step Up In The Game Of Hearts With This List Of Best Restaurants In Chennai Offering Candlelight Dinner Scenes
With the drudgery of summer fading, it's time for some love in the air. While the beach is a ready getaway for lovebirds, some restaurants in the city can really help you take your romantic rendezvous to the next level with elaborate candlelight dinners. If you're trying to go on a date, impress your partner or are celebrating a relationship milestone, refer to this list of best candlelight dinner restaurants in Chennai.
Kipling Cafe
A drive to the suburbs doesn't deter people from heading to this pretty little getaway by the ECR. Make sure to reserve a little cabana for yourself and your better half as Kipling Cafe gets crowded even during weekdays. Choose from their Balinese or Malaysian satays. If you're in the mood for some continental fare, try their spinach ravioli or the classic Aglio Olio. Feel free to go dip your feet in the sea and come back for some sticky toffee pudding at the end. All against the heady of the glow of candles, of course. Click here to know more about romantic restaurants in ECR.
Price For Two - INR 2400
Kefi, Taj Club House
Kefi is Chennai's own slice of the Mediterranean. Designed along the lines of a warm, rustic Greek neighbourhood, Kefi is an ideal spot to go on a first date or to celebrate an anniversary! Try the Mezze Sampler (vegetarian /non-vegetarian) and you have four different mezzes you can choose from. Take a bit into deep red brizzolas (Greek-style pork chops) under a starry night sky. Candle, you, bae and no one to disturb you - triple whammy we say.
Price For Two - INR 3000
Shiraz Art Cafe
Far removed from the bustle of the city, this little Iranian spot is really popular over the weekends. If you want to steal a quiet night with your special one, swing by on any weekday, and we guarantee you an evening to remember at Shiraz Art Cafe. You could dine al fresco or in the restaurant. The Esheneh and the Chicken Berry Pulao are to die for. Between courses, you can take a stroll by the beach and come back for more. If you're a sucker for sweet endings, remember to order some lovely Shiraz Tea after your meal.
Price For Two - INR 1100
Winter Palace
With our kind of weather, that name is tempting enough. Winter Palace at the Russian Consulate here offers something no other place in the city does. Not sure where to start off your Russian culinary adventure? We'd recommend trying some blini — a traditional pancake with fillings such as caviar, chicken, salmon or mushroom. If you're feeling a bit more adventurous, try the Stroganina, a Russian style beef carpaccio.
Price For Two - INR 110
Bay View
What's better than just a candle-light dinner? Surely a candle-light dinner as you gaze at the sea. That's what Bay View at Vivanta by Taj Fisherman's Cove offers. That's only as far as views go. Rated one of the best seafood restaurants in this coastal city, this place offers some mouth-watering South Indian fare. Choose from a Kovalam Fish curry or a slow-cooked Nandu Kozhambu (crab curry). If you don't feel like going local, give the Apple and Thyme Grilled Pork Chops a go.
Price For Two - INR 3500
Up North, Raintree
Overlooking the cityscape, take a corner spot under the open sky as you enjoy a delightful conversation against the light of the candle. Up North in Raintree offers some exotic North Indian finds. India couldn't be romantic...HAH! Have you watched Delhi 6? Try their American merlot alongside their spiced mutton sheekh kebab. If you are looking to go vegetarian for the night, their paneer options are worth a look. But, out of everything, start with pani puri in a shot glass.
Price For Two - INR 2500
Azzuri Bay
Sitting above with a view of the Adyar river, Azzuri Bay is the spot for that breezy night with candlelight. Thai, Italian and Mediterranean, it is the perfect spot to impress bae or your family. If you are confused about what to eat, just open up the seafood menu, that is our favourite. End the night with a cup of Tiramisu! Nothing could feel more perfect. They even have small water fountains and zen buddhas for you to lay back and breath in as well.
Price For Two - INR 1000
Aqua
Lounge, drink and eat them delights at Aqua in The Park. Take a spot on their rooftop. If you are lucky, you will get a place by the pool with the light of candle reflecting. It couldn't feel more romantic. Along with that, order up some cocktails and if you want a recommendation then go for the classic Long Island Iced Tea. They make some strong yet delish ones. They have some great tandoori staters to get as well but if you are in the mood of continental with our drink, perhaps a pizza will suffice. They have hookah as well. Click here to find more hookah places in Chennai.
Price For Two - INR 2500
Basil With A Twist
Oh, the twist is real! Basil With A Twist serves you with one of the finest European cuisines in the city. With simple wooden decor, the heat from the roasted pumpkin soup feels like nirvana. Salad may sound like a no-no, but their goat cheese and pear salad is totally salivating. If you are confused much, then you can opt for their lunch buffet! With music in the background and your love in the front, your romantic game will be spot on.
Price For Two - INR 1500
Have we missed out on any? Mention them in the comments below.
Comments