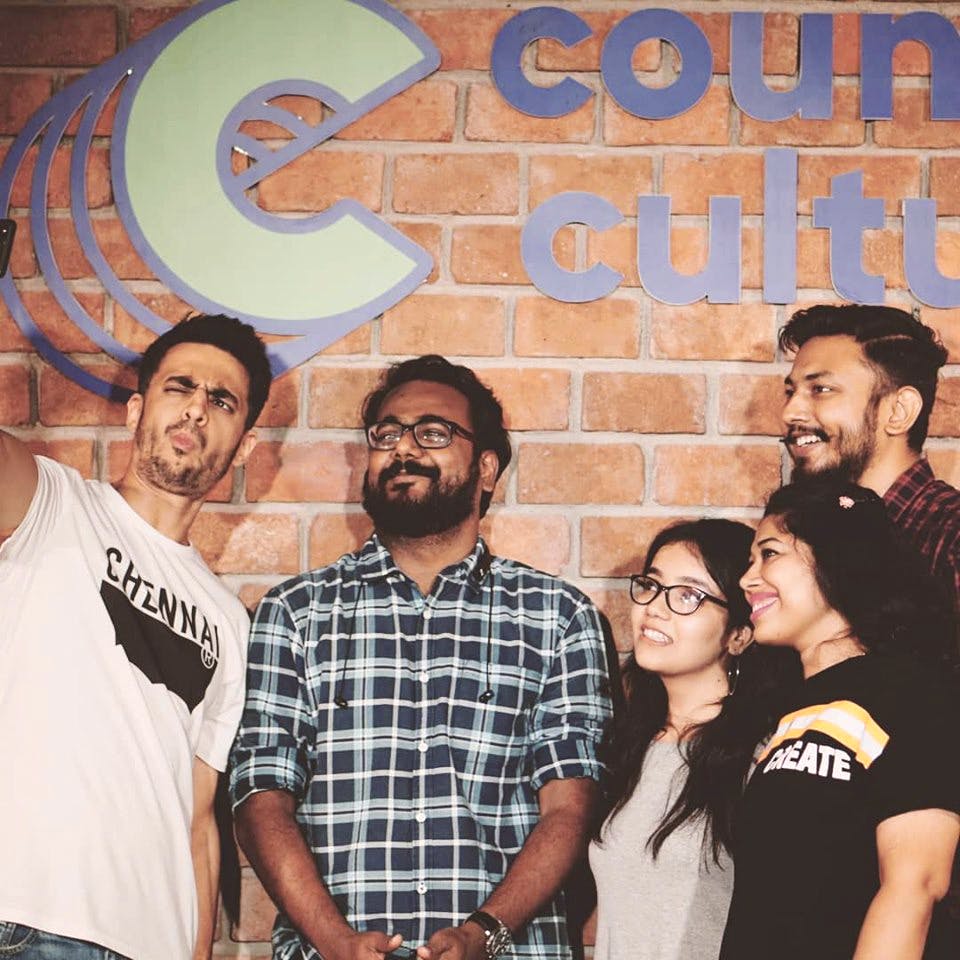 HA HA HA! Laugh Your Guts Out With The Best Comedy Clubs In Chennai
Laughter is the medicine. Isn't that what the old quote says? We definitely agree! There is no youngster now who wouldn't have snorted with laughter along with Kenny Sebastian or Biswa Kalyan Rath. In our parents' time, it was probably, Raju Srivastav and going to even older times, it was probably jatras or clowns to provide us with that direly needed dose of laughter. While comedy has changed its face through the years, the feel of laughter hasn't and Chennai is home to some of the best comic artists. Check out our list of the best comedy clubs in the city and head out for that jaw aching chuckle.
Counter Culture Comedy Club
Providing you with round-the-week entertainment, Counter culture Comedy Club in Alwarpet is your hub for playfulness! They have hosted a number of celebrity stand up comedians such as Kanan Gill, Sumukhi Suresh and Rahul Subramanium. Along with the same, they believe in providing a local touch and so, host open mics events as well! From Thursday to Sunday, their space is always open for you to join in. No kitchen, no alcohol but just seating and hilarious times!
Evam Stand Up Tamasha
Evam Stand Up Tamasha is said to be one of the largest South Indian comedy movement for and from young comics. With their head office in R.A Puram, they have done shows across Chennai, other cities and even across countries. They have a team of 10 comedians who not only perform but also identify and mentor upcoming comedians. Their jokes are so relatable and local, the madrasi in you will resort to just laugh out loud! They also partner and host open mics in various different locations across the city.
Humour Club International
Humour Club International is all things local! Started in 1983, this Chennai based club hosts and conducts open mics and shows with their veteran comedians. Catering to a huge audience from young to old, they mostly do meetups and events in Tamil. During their meet up, they allow anyone to come up on stage and crack jokes except there is a code of conduct for no adult jokes or political jokes. You can also be a subscribed member of the club. They host meetups every second Sunday in Mylapore and for the first 80 minutes, you are free to go up the stage and joke your way!
Big Mic
Big Mic is a creative platform which revolves around hosting open mics on comedy, poetry, cinema and even rap across 5 states including Chennai. Their aim is to search for budding talents and give them a platform to express themselves. You can often find them hosting their comedy events in the Backyard! Check their website to know about their upcoming events. You can even form a community of your own of comedians, rappers, poets and so much more.
Tanglish Comedy
Tanglish Comedy is an English cum Tamil stand up comedy movement, focused on boosting up budding comedians. It has its own set of comedians who reflect the younger crowd and are adept at performing in both the languages. Along with that, they host open-mics and have mentoring sessions for those rising stars who want to give it a try as well. Go for your own stand-up comedy script or a comedy sketch! They also host private gigs and college shows across the city.
Chennai Comedy
Chennai Comedy club focuses and specialises in organising stand up comedy events throughout the city. They host a number of celebrity comedians as well as other comic groups like Evam in spaces across Chennai. They even have open mic events and offer corporate gigs to rising stars. They've even had events focusing on the rising comics! Check out their Facebook page if you are keen on finding new comic material.
If you think we have missed out on any, do recommend them in the comments below.
Comments