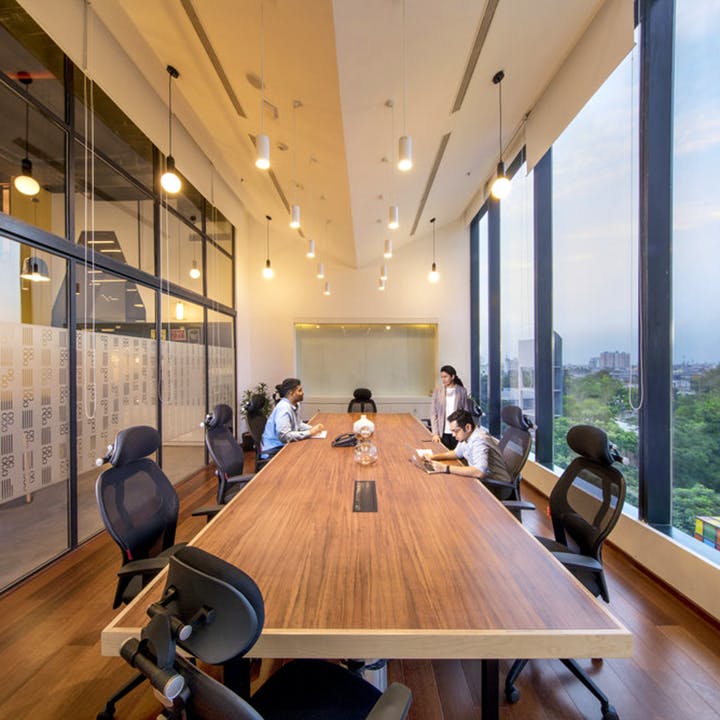 Forget Cafes, Check Into The Best Coworking Spaces In Chennai To Work Out Of Instead
Want to experience the luxury of a fully functioning office without actually having to set it up and take on those huge costs? Need a quiet space to get your creative juices flowing? We've got you a list of the best coworking spaces in Chennai each cooler than the next! Take your pick.
Karya
Karya, is centrally located at R K Salai in Mylapore. It has an amazing spacious feel to it. It's tastefully designed in an open layout, perfect for freelancers and start ups. Being two floors up, you can actually even enjoy a great view while you work. Their team's service standards are very well spoken of by their members. Karya already has a very tight-knit community and following in Chennai!
iKeva
iKeva Chennai is located at OMR inside Agnitio Tech Park, hence has a more formal touch to it. Space is apt for teams that require traditional cubicle styled, high tech offices on rent, although they do have a hot-desking facility available as well. Some extra perks we noticed here are that you can use the space 24 x 7 and you also get a dedicated phone number with a customised call for answering and reception service.
AtWorks
AtWorks OMR is a two-floored, 5000 sq ft space that can house up to 70 people at one time. Their USP is their extremely flexible seating and furniture arrangements that allow easy customisation. They also have very flexible packages like a daily pass and a 10-day pass. The terrace hammock is a popular break spot, and we've got inside scoop that they're working on turning the terrace into a rooftop garden.
WSquare
This unique coworking space has been created only for women, so it comes with some very exclusive services like a crèche, a doctor-on-call and furniture that's comfortable for pregnant women. WSquare even gets groceries delivered to your desk. If you're a mom resuming work, or a mom-to-be working from home, check this out.
The Grid
The Grid is one of the prettiest places to work in, to be honest! It is a 1970s house refurbished into a co-working space. Just from the looks of it, it's easy to know that this is not a traditional working space; it's splattered with creativity in the form of wall art, furniture and décor! With options from community tables, single desks to a verandah seat, it is for those who crave inspiration in the space around them.
Backyard
Backyard is Chennai's only anti-cafe, also a coworking space, that has the reputation of a fun, friendly and comfortable community centre amongst Chennai freelancers. You can pay by the hour at this place with unlimited coffee and WiFi. Backyard has a terrace that you can hire for workshops too. Space is bright and full of energy in the day, and by evening gives off a very cosy vibe.
Workafella by Workenstein
If you need a modern space with luxurious interiors and high tech equipments, Workafella would be a good choice for you. It has a combination of coworking spaces, private office rooms, a meeting room as well as a virtual office option. Workafella provides some extravagant services like runner boys, mini fridges and shower cubicles too. They also have three more locations in Perungudi, Thoraipakkam and Sholinganallur.
The Hive
With bright lighting and aesthetics, The Hive in VR Mall boasts of 'work and play' ideology. With the availability of work stations, private cabins and board, it also has an amphitheatre for hosting events and snooker tables! Each of their rooms is named after the historic ruling dynasties of India and walls are adorned with Athangudi tiles. What a pretty place!
Doxa Business Centre
With three branches across Chennai, Doxa Business Centre aspires to be a hub for startups. It has private studios, and the workstation cubicles make it perfect for a business meeting. Additionally, it also hosts a virtual station and customisable cabins! The flexible timing makes it an ideal destination for graveyard shifters as well.
The Executive Zone
Get your business mode on because The Executive Zone is a corporate dream. With private studios and aisle desks, it boasts of modern and minimal decor. Not only do they have conference rooms, work stations and meeting rooms but they even have night shift workers book on an hourly basis. They can help you host events with catering as well and even have a lounge for you to lay back with your clients in a more casual environment.
The Mayflower
The Mayflower is T.Nagar won us over with its totally Instagrammable decor. Along with pastel walls and a huge open space, it features a cafe and WoCo which is the co-working space. If you are tired of staring at the computers then you can always head outside your space of work and chill on their hammocks and swings. The facility also includes beverages, a lounge with free TV. It's pet-friendly as well, so you can always get your BFF along. Vintage furniture and dream catchers in the event space will have you clicking away!
Cowrks
With two centres across the city, Cowrks in OMR can host up to 1500 people. Forget the boring cubicles because they have flexible desks that are an aisle of desks and private studios with glass enclosure. Through their app, Cowrks connect, which is their very own social network, you can track your packages, get your access card, book conference rooms and print your documents. Along with their health club, they also have an amphitheatre for events, infinity pool and an art gallery. Woah!
Comments