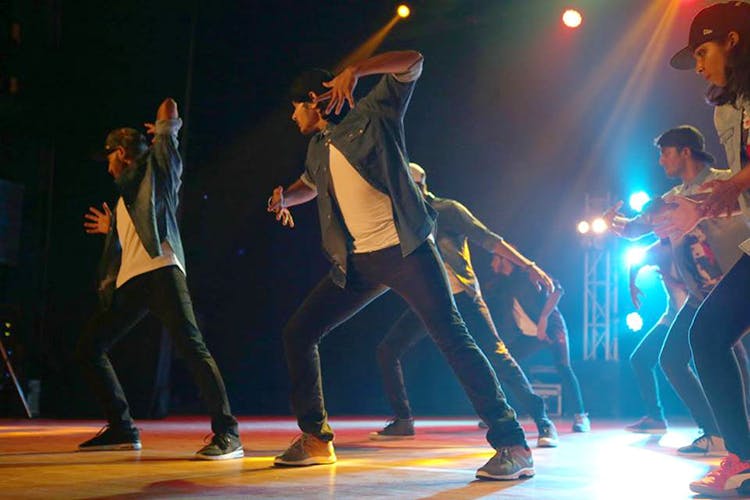 Move Like Jagger Or Shobana: We've Picked Out The Best Dance Classes In Chennai
Chennai's a great place to learn how to dance because many of the top dance schools in the city have been in business for more than a decade. So we've picked the best dance classes from across the city that we think everyone into dance, should know about.
John Britto's Dance Company
The first Western Dance school in Chennai, John Britto's Dance Company was setup in 1995 and currently has over 9000 students coming in annually! They have six centers across the city, along with tie-ups in educational institutions and other organisations. Their size comes from the fact that they've been teaching Jazz, Hip Hop, and Salsa very well, for many years now. If any of you reading this are fans of dance movies like Step Up, you'll be pleased to know they have a professional dance team that takes part in competitions across the globe. They're super beginner friendly and have classes for different age groups at flexible timings.
Swingers
The second biggest dance school in the city, Swingers was started in 1998 and like John Britto's is known for its hip-hop, jazz, ballet, and salsa classes. You can sign up for individual dances, or you can be a part of the newly launched certificate program, where for 10 weeks you can get a taste of all the dance forms they teach. That's something we haven't seen too many other dance schools do. They have professional, non-professional and personal coaching classes at flexible timings in their four centers in Chennai.
Kalakshetra Foundation
This age-old arts and cultural academy in Besant Nagar is arguably the best place to learn Bharatanatyam in Chennai. Classes are available as both part time and full-time courses in their massive sprawling campus. Teachers here are professional dancers who've spent their lives learning the art, and what you learn here is said to be of gold standard. What's more? The large campus setting means that dance classes here won't have to deal with the cacophony of city and traffic noise like other dance classes.
Salsa Madras
Started by a seasoned salsa dancer called Arun Srinivasan, Salsa Madras has done much to bring to Salsa (and now Bachata and Kizomba) to Chennai. Their courses are split over four levels, with their introductory level course being the foundation to what they teach. The social side of Salsa Madras is a big reason why they're so popular, their regular socials and salsa nights take place in popular watering holes in the city like Sudaka and others. In case you were wondering, yes you can sign up for classes by yourself and not just as a couple.
The Movement Studio
The Movement Studio is a smaller outfit than the rest on this list. Started a while back, The Movement Studio is a Pilates and Dance school and have made it to this list because of their Ballet classes. They pride themselves on their instruction and coaching and their ballet classes are very highly rated. They have classes for kids as well as adults, with flexible timings. If you're really interested in learning ballet, you can ask them for a trial!
Raack Academy Of Dance
With academies across Chennai, this dance academy is popular for the excellent shows that their dancers put on. The Academy offers classes to all age groups starting from 2.5 years. For kids, they have Zumba, Jazz and Hip-hop while for adults they have Hip-hop, Bollywood, Zumba and Freestyle dance classes. They charge INR 1300 for 8 classes in a month for children and INR 1500 For adults. So, practice your high kicks and get ready to set fire to the stage!
Leo's Dance Academy
This dance studio is the place for you to sweat it out! With classes in Ballet, Jazz, Tap, Salsa and many more, this studio is constantly buzzing with activity. They recommend you take a three or six-month course to become fluent in the style. They offer weekend classes as well as weekday classes. On weekdays, the classes will be post 5:30 pm, so all you working dancers can still live out your passion post your 9 to 5 jobs. They also give personal classes at a cost of INR 300 per class.
Step 'N' Tap Dance Studio
This dance studio in Vadapalani offers Freestyle Dance classes for kids and adults alike. They radiate positivity and happy vibes which reflects off in their colourful studio. They ensure that their students de-stress and completely let loose when they shake it. They conduct classes from 6:30 am onwards and shut shop at 9:00pm.
Viscosity Dance Academy
This Academy in Sastri Nagar is popular for churning out some of the city's best dancers. From Bollywood to contemporary, they cover most styles and ensure that you bring out your inner dancer. Led by Jagashish Kumar, this Academy ensures that dance brings out the best in you. Along with classes, they also conduct regular workshops so don't forget to check out those too for a demo session!
Zero 6 Dance And Fitness Company
Led by Harish Karthik, this dance studio is the place to enroll if you want to learn contemporary dance from the best. They have their studio set-up in Velachery and take students above the age of 4 years. Zero 6 Dance and Fitness believes that dance is a way to connect and invite anyone with a deep connection to the art form into their family. Hit them up to learn some cray contemporary moves.
Comments