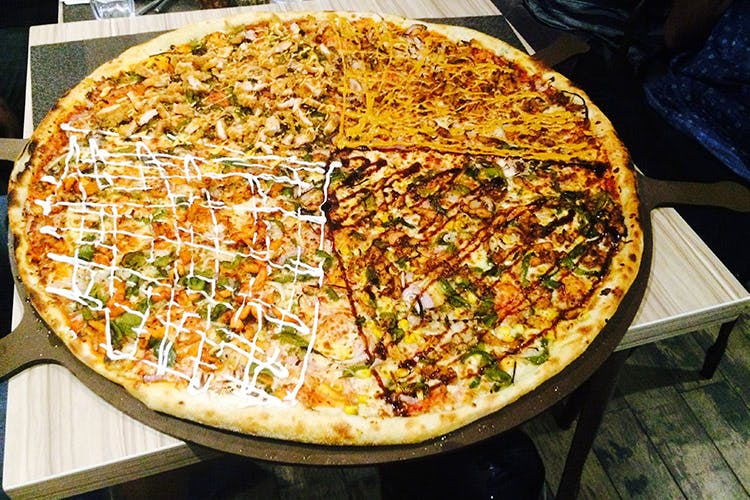 30-Inch Pizzas To Crab 65 : Best Dishes In Chennai Worth Breaking Your Diet For
Started a new diet (again)? We say ditch it and treat yourselves! Dieting can wait, try some of Chennai's best dishes on offer instead.
Fillet Mignon With Blue Cheese Sauce At Basil With A Twist
Oh yeah! One of our favourite dishes comes from this lovely European restaurant in Habibullah Road. Say ciao to the chatty Chef Bogdan and tell him you're there for the best tenderloin steak on the menu and this is what he'd recommend too. Dig into a filling portion of succulent beef with the distinctive flavoured, creamy blue cheese sauce, served with silky mash potatoes or herb rice or grilled veggies (if you're feeling too guilty about breaking that diet). A bit steep at INR 790, but absolutely worth it!
Mutton Biryani At Dindigul Thalappakatti
Craving a fragrant pot of authentic Thalappakatti biryani? You've come to the right place. Try the flavourful mutton biryani at this iconic restaurant or the biryani in a bucket which is filling enough to be shared (unless you're like Joey and the LBB crew — we don't share!. Click here to know where else you can get epic biryani.
Meal On A Leaf At Maris Hotel
We confess, we love the traditional south Indian meals at this iconic hotel. Head to Anandam, the vegetarian restaurant and dig into unlimited heaps of rice, kose poriyal (cabbage), monstrous appalams, and urulai podimas (spicy potato) to avial and kootu, in addition to sambhar, rasam, cucumber raita, and more kolambu all served on a plantain leaf. Hello, happy belly!
Crab 65 & Kothu Parotta at Amma Chettinad Restaurant
For crispy nandu (crab) fry, you've got to try the Nandu 65 at this T Nagar restaurant. Pair that with yummy Kothu Parotta and your Chettinad cuisine cravings are sorted! They even have kadai (quail) fry and pepper rabbit fry, if you want to experiment. And when you're here you'll probably notice a lot of portraits of the late MGR, ex-Chief Minister of Tamil Nadu and Veteran Actor. Why? Because the restaurant is owned by his ex-chief cook! How cool, is that?
That Really Tiny Chocolate Cake At Sandy's
Anything but a tiny piece of cake, really. We all know that the desserts at Sandy's are absolutely lethal, but this one takes the cake! A massive slice of Belgian chocolate between soft, airy cake layers – do not miss! Also let us know if you can finish this in one sitting!
Jalebis At Bombay Lassi
YAS! Starting at just INR 12, dig into hot, scrumptious , swirly bites of heaven. Served on leaf plates, this tiny shop, that's been around for over over 40 years, behind Devi Theatre is famous for its special lassi and samosas but don't miss out on their long string of melt-in-mouth jalebis too. The best part? They make great pics for Instagram.
30-Inch Monster Pizzas At The Padrino
Massive thin crust pizzas that you can customise? Yes, please! Who wants 9-12 inch pizzas (unless you're kind of on a diet. Maybe?). Move onto the mother of all pizzas and even add seafood toppings like fried calamari! The Padrino also has BBQ and Punjabi Tandoori flavours too. Yum yum yum!
Offal Starters & Veg Thalis At Amaravathi
For INR 250, get the special meals at Amaravathi (you can order for lunch and dinner) which includes rice, dhal powder, ghee avakai pickle, chutney, rasam, curd, and beeda. Ask for a couple of offal starters Mutton Liver Fry and Brain Masala and you're set! Bangaloreans in Chennai? You can even ask for ragi balls here!
Dim Sum Art Platter At Tao of Peng, Intercontinental's Chinese Restaurant
This one's probably too pretty to eat. But we're obviously going to eat it anyway! Placed on a black stone slab, gorgeous swirls of sauces, fish roe, toasted sesame, fried garlic, micro greens and edible flowers form the base. What's on top you ask? Mouth-watering scallops, lobster, chicken and vegetable dim sums! You get eight kinds of dim sums, both vegetarian and non-vegetarian, and it comes up to about INR 2,500 for two people.
Ghee Podi Dosai At Murugan Idli Shop
Because you deserve the breakfast of champions and there's nothing better than a big, crispy dosa smothered in ghee and spicy podi with an array of delicious, colourful chutneys to go with it. Top that with a tumbler of filterkaapi and you are set! If you're all about the ghee, Murugan Idli Shop even has ghee pongal and ghee-soaked idlis.
Didn't include your favourite Chennai dish? Tell us in Comments and we will include it in our list.
Comments