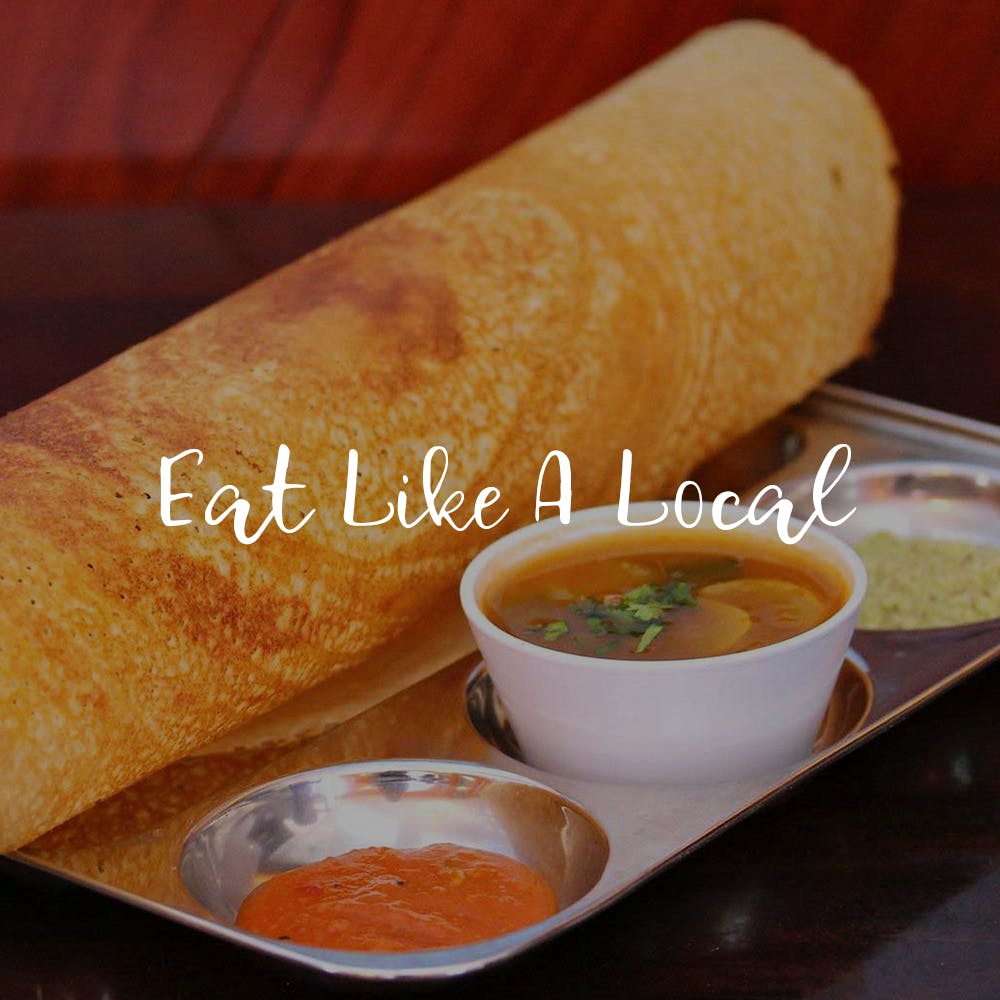 Pizza Dosa & Chocolate Dosa, Dig Into The Whackiest Dosas In Town!
Whether you're from here or not, for most of you dosa is bae. Why? Try saying no to light, fluffy, ghee-filled treats you can pick apart and relish with spicy powders and chutneys. Now that you've worked up your appetite, scroll down and check out the most unique, quirky, and whacky dosas you can try in Chennai.

Pizza Dosa
When two of the best dishes come together, it's like a dream. At Tosai, which has 99 kinds of dosas (it's the motherload!), their Pizza Dosa is super famous. You've got everything that a pizza has, but on a dosa base. With veggies like corn, onion, mushrooms, bell pepper, and gooey cheese,… okay, we're hungry, TTYL.

Mushroom Masala Dosa
This one's a delight for mushroom lovers. Stir fried mushrooms sautéed with a bit of garlic and masalas and sprinkled over the piping hot batter - make room for mushroom! You can get these at ID at Sathyam.

Chocolate Dosa
If you're going 'ugh' reading this, let's remember the heart wants what it wants. Dosart has amazing chocolate dosa and we can't tell you more about it, you've got to try it yourself. They've also got more than fifty kinds of artsy dosas including a whole section for Schez art!

Ghee Podi Onion Rava Masala
If a dosa has five words in it, you'd better be sure to try it. At Krishna's Dosa Kadai, they've got this dosa specially made with their rava masala finished with spices and herbs. If you're someone who has trouble deciding between Onion Rava, Ghee Roast and Podi Dosai, get the best of all worlds with this dosa!

8-Feet Dosa
This massive 8-feet dosa at Annachi Dosa Kadai will have you trembling. It takes three waiters to serve and eight people to devour. And once you eat it, you'll notice the stuffing - paneer, corn, chicken, potato and mutton masala among others. You can get veg and non-veg versions of this dosa.

Italian Bread / Gobi Manchurian Dosa
Kanappa's is the go-to place for quick South-Indian food, and their Gobi Manchurian Dosa is divine. You can relish the tiny fried florets (with or without the sauce) on crunchy dosa. They've also got Italian Bread dosa, an imitation of bread, finished with cheese, herbs, and surprises!

Red Rice Butter Dosa
For those looking to eat whacky dosas with health benefits, here's a great option. This dosa at Eating Circles is made from red rice, one of the healthy rice options with great fiber content. As against what some people say about red rice (that it tastes weird), this dosa combines health and yum, and the drizzle of butter makes it heaven.
Did we miss anything? Tell us in the comments!
Comments